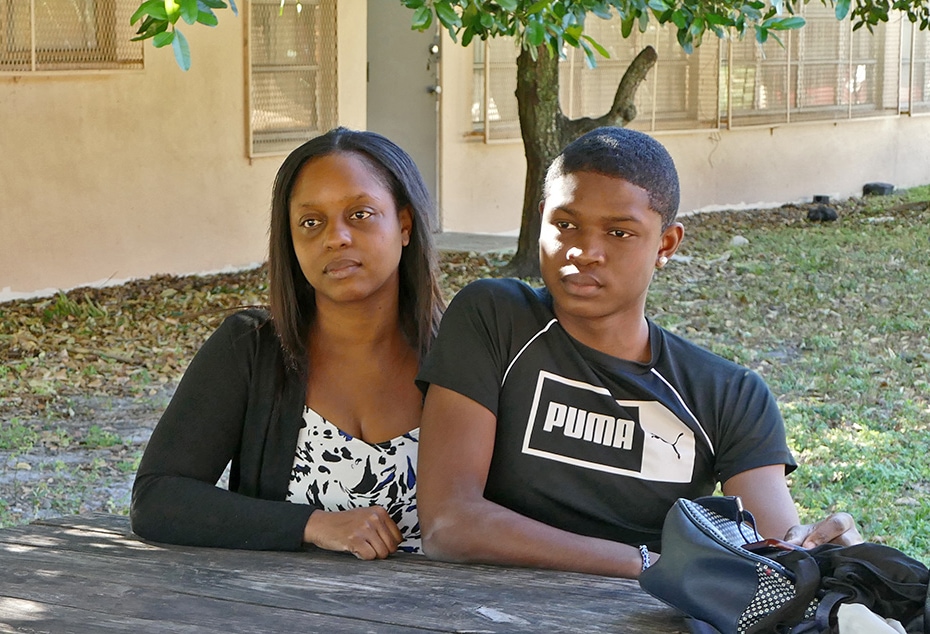 "It's like all love here. It's really all love."
In fourth and fifth grades, Marquavis Wilson was tormented because of his sexual identity. In public schools, he was taunted with repeated slurs, teased for how he walked and talked, told he was going to hell. His life was a blur of fights and suspensions. "I am not the type of gay boy who takes stuff," Marquavis said. "I stuck up for myself."
But the bullying and battling took a toll. Marquavis no longer wanted to go to school. His grades fell to D's and F's. He told his mom, Lamisha Stephens, he wanted to kill himself.
Stephens knew she had to make a change. First, she secured a Florida Tax Credit Scholarship, a school choice scholarship for lower-income students. Then she enrolled Marquavis in West Park Preparatory School, a tiny, faith-based private school she concluded would be the safe haven he needed.
It was. Now 16 and in 10th grade, Marquavis is no longer fighting. His grades have improved to B's and C's. He's thinking about college and careers.
He said the scholarship and the school changed his life.
His mom said they saved his life.
"If Marquavis hadn't come to this school," said Stephens, a part-time supervisor at a delivery company, "he would probably be a dropout. Maybe in jail. Or he wouldn't be here with us."
"He would probably have taken his life," she continued, "because he was tired of the bullying."
Marquavis's story reflects the tragic reality of hostility and intolerance for far too many LGBTQ students. At the same time, it offers a strong counterpoint to misleading narratives pushed by opponents of education choice. In Florida and other states, some religious schools have come under fire for policies adhering to their faith. But LGBTQ students themselves tell a more complicated story.
The most recent survey from the LGBTQ advocacy group GLSEN shows LGBTQ students in public district schools experience bullying, harassment and assault at higher rates than LGBTQ students in private religious schools. (For the details, go to survey page 119.) Given that backdrop, it's no surprise that schools of choice aimed at LGBTQ students are springing up (see here, here and here) and that LGBTQ students are among those using — and in some cases, being saved by — education choice scholarships.
In Marquavis's prior public schools, Stephens said she was having conferences with school officials every other week. Students weren't the only problem.
At one point, a school security guard asked Marquavis if he had been molested, suggesting a link between molestation and sexual identity. "No," Marquavis responded, "God made me this way." Stephens complained to the principal. Eventually, she said, the guard was disciplined for inappropriate remarks.
Marquavis is athletic, confident, reflective, honest. His words sometimes roll out in torrents before he punctuates them with a "so" … or a "you know" … or, sometimes, a quick smile.
He said he was nervous when his mom told him he would be going to West Park Prep. The K-12 school is predominantly Black, with 110 students, nearly all of them on choice scholarships. He wondered if he'd have to fight there, too.
But his new classmates embraced him.
"On the first day," Marquavis said, "all the kids were coming up to me. They were talking to me, asking what school I was from. They were friendly. All of them. It was unexpected."
The school feels like a family, Marquavis said. The founder and principal, Jovan Rembert, encouraged him to be himself. He said no bullying or disrespect would be tolerated, ever.
"He was like, 'Don't let people get in your head,'" Marquavis said. "I told him about my past, and he said that's not going to happen here. He kept his word."
Marquavis said there was only one incident involving his sexual identity at West Park. A new student called him a slur and was quickly suspended. The student apologized to Marquavis when he returned — and the two have been friends ever since.
Tragically, Rembert died in March, struck by a car when he went to check on an accident involving some of his students. But the warm, welcoming culture he established lives on, said teacher Billy Williams.
Last December, Williams said, Marquavis and other members of the dance team were set to rehearse for the holiday show when they veered into a little freestyling. Marquavis, comfortable among friends, poured his personality into a few new moves. "His body language and freedom of expression was so different," said Williams, who worked in public schools 13 years before joining West Park full time. "But what was so magical was all the students embraced it. They hyped him up."
The safe space allowed Marquavis to focus on being a student again. "He has more confidence in participating in group activities," Williams said. "He's more vocal. He speaks up. He asks questions."
He's thinking about the future, too. A diploma. Then college, maybe. Then, maybe, a career in fashion.
Marquavis said without the scholarship and the new school, the fighting would have continued until he got expelled or dropped out. But West Park Prep won't let him fail, he said.
"It's like all love here," he said. "It's really all love."
___
Ron Matus is the director for policy and public affairs at Step Up for Students and a former editor of redefinED. He joined Step Up in February 2012 after 20 years in journalism, including eight years as an education reporter with the Tampa Bay Times (formerly the St. Petersburg Times). Ron can be reached at [email protected] or (727) 451-9830. Follow him on Twitter @RonMatus1 and Facebook at facebook.com/redefinedonline.