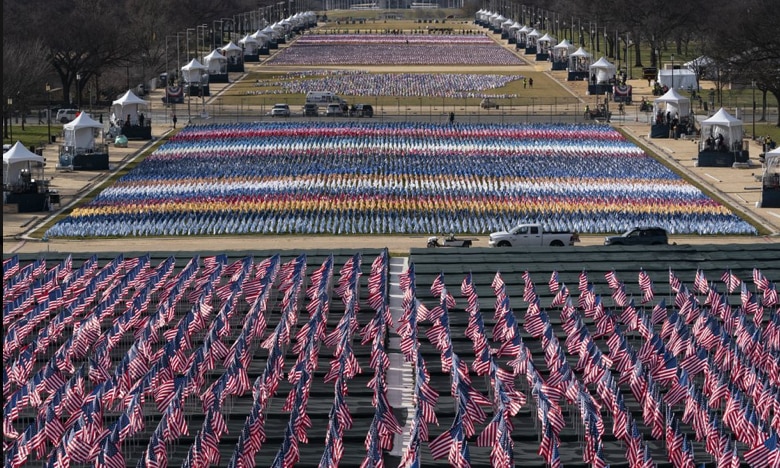 You too can attend an inaugural ball ... online.
Democratic President-elect Joe Biden is to be sworn in as the 46th President of the United States at noon Wednesday amid unprecedented security and health measures that have made online viewing a must.
The 20th Amendment commands, "The terms of the President and Vice President shall end at noon on the 20th day of January … and the terms of their successors shall then begin." That's eastern time.
Coverage for the swearings in for Biden and Vice President-elect Kamala Harris and Biden's inauguration speech starts at 10:30 a.m., and the transition is set by the U.S. Constitution, according to the official schedule from the Presidential Inaugural Committee.
This will be an extraordinary inauguration taking place during multiple crises, most notably the violently-divided America that has led to unprecedented security measures involving 25,000 National Guard troops and thousands of police; and the COVID-19 pandemic that has led to the replacement of hundreds of thousands of attendees with seas of flags.
As with so much in the past year, particularly for Democrats, everything is being reimagined for small in-person participants and big online crowds. Many broadcast and streaming media will carry events live. The committee's website will stream everything.
After Biden's inauguration speech, he, First Lady Jill Biden, Harris, and Second Gentleman Doug Emhoff will review the traditional U.S. military's Pass in Review parade.
Biden, Harris and Emhoff will then go to Arlington National Cemetery for the traditional laying of a wreath. They will be joined there by former President Barack Obama and Michelle Obama, former President George W. Bush and Laura Bush, former President Bill Clinton, and former Secretary of State Hillary Clinton.
At 3 p.m. the Bidens will receive a presidential escort to the White House, escorted by The U.S. Army Band, a Joint Service Honor Guard, and the Commander-in-Chief's Guard and Fife and Drum Corps from the 3rd U.S. Infantry "The Old Guard."
The presidential escort to the White House will be followed by a virtual performance, "Parade Across America," set to begin at 3:15 p.m. The Parade Across America is billed as featuring "diverse, dynamic performances in communities in all 56 states and territories. The University of Delaware drumline and the Howard University drumline, from Biden's and Harris's alma maters, will join the presidential escort.
Events have been underway all week so far.
Tuesday night there will be three mostly-virtual balls celebrating diversity in America, the Asian American Pacific Islander Inaugural Ball from 7-8 p.m. Tuesday; the We Are One ball celebrating America's Black community from 8-9:30 p.m. Tuesday, and the Latino Inaugural 2021: Inheritance, Resilience, and Promise ball, from 9:30-10:30 p.m. Tuesday. All three will be live-streamed through the committee's website.
The Florida A&M University Marching 100 will be featured during We Are One. The ball will feature a battle of the bands, between FAMU, Grambling State University World Famed Marching Band, Jackson State University Sonic Boom of the South, Louisiana Leadership Institute All-star Marching Band, South Carolina State University Marching 101, Southern University Human Jukebox Marching Band, and the Tennessee State University Aristocrat of Bands.
Wednesday, around the time preceding, during and following the swearing ins and inaugural speech, the committee will livestream separate coverage for young Americans hosted by Keke Palmer, in a program called "An Inaugural Celebration for Young Americans," from 10 a.m. to 12:30 p.m.
Wednesday night there will be a nationally televised virtual celebration, "Celebrating America," hosted by Tom Hanks, from 8:30 to 10 p.m., and carried by ABC, CBS, CNN, NBC, MSNBC, and PBS.
The show will feature performances by Lin-Manuel Miranda, Jon Bon Jovi, Ant Clemons, Foo Fighters, John Legend, Demi Lovato, Bruce Springsteen, Justin Timberlake, Tyler Hubbard, Tim McGraw, the Black Pumas, and DJ Cassidy's Pass The Mic, featuring Ozuna and Luis Fonsi. There also will be appearances by Kerry Washington, Eva Longoria, Kareem Abdul-Jabbar, José Andrés, Dolores Huerta, and Kim Ng.
There will be celebrations of several "American heroes" of 2020, including UPS driver Anthony Gaskin of Virginia, 8-year-old Cavanaugh Bell, kindergarten teacher Mackenzie Adams of Washington state, Vanderbilt University football kicker Sarah Fuller of Texas, 8-year-old Morgan Marsh-McGlone, and health care worker Sandra Lindsay of New York.