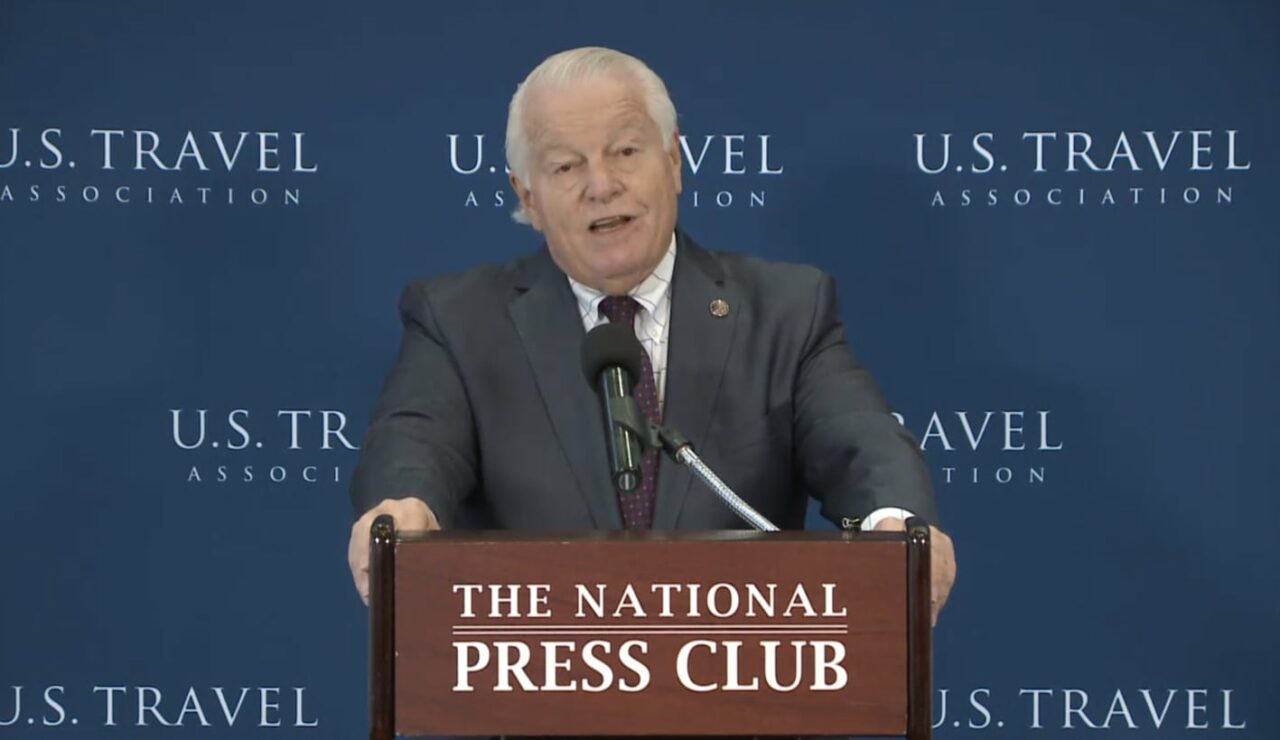 Doing so would be logistically challenging and perhaps detrimental to domestic travel.
America's travel industry is embracing nearly all that President Joe Biden is doing so far to control the pandemic and rebuild the economy, but it is urging him to stay away from suggesting any COVID-19 testing for domestic travelers.
In his state-of-the-travel-industry speech to the National Press Club Wednesday, U.S. Travel Association President Roger Dow stressed it is imperative to the industry's recovery that America recovers, and it is imperative to America that the travel industry recovers.
That will require more comprehensive plans for controlling the pandemic, vaccines to be widely and rapidly distributed, and federal promotion of "sound health and safety practices — especially wearing masks and physical distancing" — universally, including in travel, Dow said.
Still, in a news conference after his speech, Dow and Tori Emerson Barnes, USTA's executive vice president of public affairs and policy, insisted that should not include any requirements for COVID-19 testing of domestic travelers getting on airplanes or other forms of mass transportation.
They argued that such testing would be too disruptive and difficult to enforce at domestic airports. They also stated opposition to any quarantine requirements for visitors.
Barnes said those messages have been conveyed strongly and at multiple times to the Biden administration.
On Tuesday, the United States began requiring international visitors to America to be tested for COVID-19 before getting on planes.
"We are very much in favor of international testing for opening up international travel. It will be the thing that will open up international travel around the world. We're opposed to domestic criteria for testing prior to a domestic flight," Dow said.
Dow, Barnes, the U.S. Travel Association, and America's travel industry as a whole are in a bind.
No industry has been hit harder by the coronavirus crisis. At its worst last year, unemployment in the industry was 51%, Dow said. Last year, the American travel industry lost $500 billion. Florida, being one of the world's top travel destinations, felt that as much as anywhere.
Yet the industry, the association and Barnes see opportunities with Biden they did not see with former President Donald Trump, most notably federal assistance, and aggressive federal programs to combat the pandemic, thereby raising Americans' flattened confidence in travel. Barnes spoke glowingly about early initiatives by the Biden administration.
In his state-of-the-industry address, Dow even seemed to borrow Biden's language, essentially saying that the travel industry must take the opportunity now to build back better.
"We have a real opportunity to modernize infrastructure … spur new modes of transportation … and facilitate recovery by finally committing to a national infrastructure plan," Dow said.
His organization represents destination marketing groups like VISIT FLORIDA and Visit Orlando as well as businesses in the travel, tourism, and hospitality fields.
He argued the travel industry must be made a high priority for recovery efforts because it has a key role to play both in America's economic recovery and its societal recovery.
Travel heals, he insisted.
"The first step is to revive travel so our industry can play its historic role in leading America's economic recovery. Simply put, a broad-based economic recovery is impossible without a revival of the travel industry," Dow said.
On the industry's to-do list for the Biden administration and the new Congress:
— Ensuring travel businesses have access to grants, loans and programs to help them get back on their feet
— Policies and incentives to safely bring back meetings and events
— Making transportation infrastructure investments a priority, proposing $550 billion for highways, transit systems, passenger rail and airports over the next five years
— Funding for national parks so they can tackle deferred maintenance projects and welcome visitors in a sustainable way
— Investments in new modes of transportation, and encouragement of state and local planning organizations to do the same, offering tax credits and incentives for greater investments in more sustainable transportation solutions