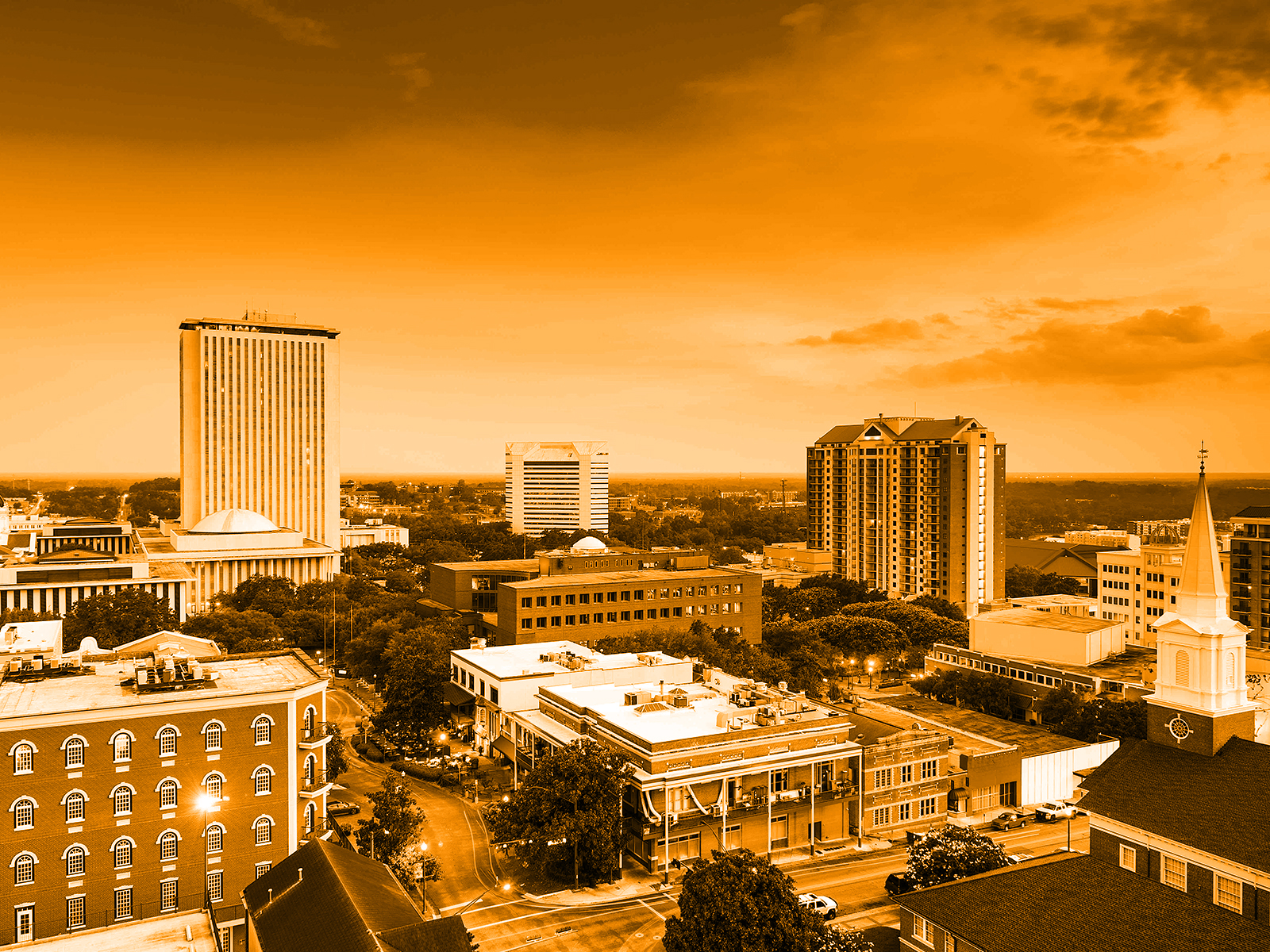 Don't miss your first look at stories driving today's agenda in Florida politics.
Good Tuesday morning. It's gonna be a busy day. Let's get into it.
Punxsutawney Phil saw his shadow this morning and predicts there will be 6 more weeks of winter.
___
Agriculture Commissioner Nikki Fried will unveil and detail a state-federal partnership plan during an 11 a.m. news conference Tuesday.
The plan will outline areas where the Florida Department of Agriculture and Consumer Services can collaborate with The White House and federal agencies such as the U.S. departments of Agriculture Energy, and Commerce, the Environmental Protection Agency, the Food and Drug Administration, the Federal Trade Commission and others.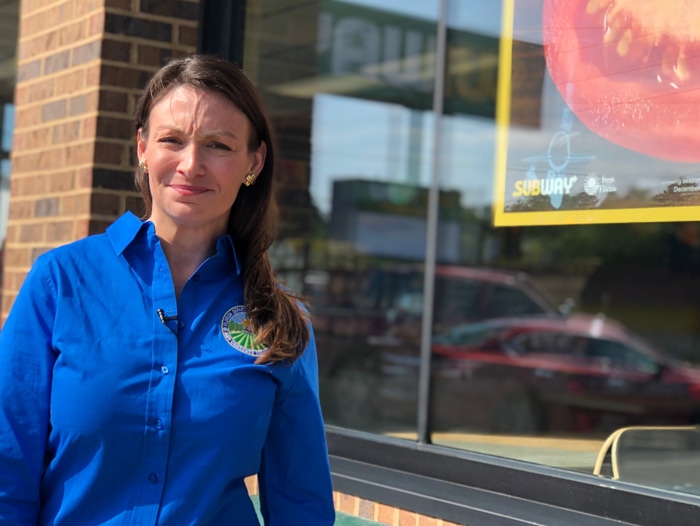 The FDACS Office of Federal Affairs and Office of Strategic Initiatives developed the plan with input from the department's 19 divisions. It will be the first public plan from Florida's state government shared with the Joe Biden–Kamala Harris administration.
It is expected to cover several policy areas, from cannabis and water quality to diversity and climate change. It will address nearly 40 areas of partnership in all.
___
The Florida Chamber of Commerce will unveil its priorities for the 2021 Legislative Session at 1 p.m. today.
The 2021 Jobs and Competitiveness Agenda will be delivered by the top brass at the Florida Chamber, including President and CEO Mark Wilson, board Chair Charley Caulkins, policy council Chair Chas Bailes III, government and political relations EVP David Hart and governmental affairs VP Frank Walker.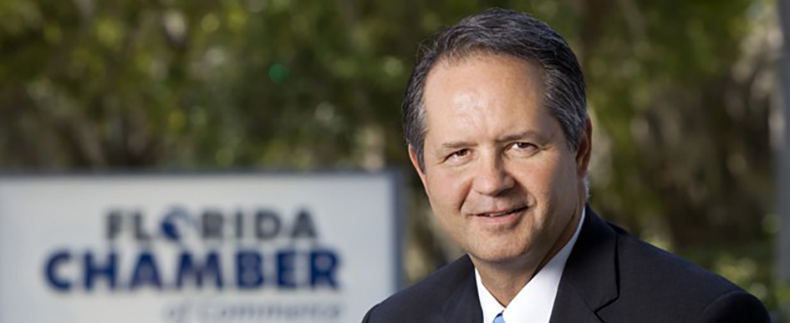 The Chamber said, "Florida's economic relaunch and future hinges on the right policies passing that will help Florida's economy continue to recover after the harmful impacts caused by a global pandemic. The impact of COVID-19 on our state, economy and the business community will serve as the lens through which the Florida Chamber evaluated the legislative priorities it identified for the 2021 Legislative Session."
The group said the agenda would ensure Florida remains on the path toward becoming the world's 10th largest economy by 2030. The organization has already signaled some of its priorities, including support for COVID-19 liability protections for businesses.
The conference will be livestreamed on Zoom. Attendees may also dial in via (646) 876-9923.
___
The Sadowski Coalition today will release an economic study that shows using affordable housing funding for housing would create thousands of jobs and put millions into state and local coffers.
"An Economic Analysis of the Florida Housing Programs," produced by the Regional Economic Consulting Group, analyzed the economic impact of using the state and local housing trust funds solely for housing, as it relates to Florida's GDP, employment, output, state and local taxes, and personal income generated through direct, indirect and induced impacts.
"This study shows us that using the Sadowski trust fund money for housing creates revenue for Florida," said Jaimie Ross, facilitator of the Sadowski Coalition and president of the Florida Housing Coalition. "With every dollar spent, there's a 40% return on investment, in addition to producing desperately needed housing.
"The impact of using these funds for housing is significant. It's clear that the benefit of using all the money in the trust funds for housing is not just for those that need housing; it's also for the state. More than $167 million in taxes would be collected and returned to Florida by using $423.3 million for housing. The same can't be said if those funds are swept and used for other purposes, and that substantial of a return shouldn't be ignored."
Overall, the study concludes the full allocation would house 47,845 people, create 33,286 jobs and have a $5 billion economic impact.
"New housing construction creates tremendous benefits for Florida workers, businesses, and the economy as a whole. The Florida Chamber and the Sadowski Coalition have always known that building new housing options for our growing communities would lower the cost of living and increase the number of jobs in our state," said Christopher Emmanuel, director of infrastructure and governance policy at the Florida Chamber of Commerce. "Now, through the work of the Sadowski Coalition and the researchers at REC Group, we have a better idea of the economic impact of these important funds."
___
The LeRoy Collins Institute released a research report Tuesday to help legislative budget crafters get the most bang for their buck.
The report, "Better Choices: Evidence-Based Policymaking Can Improve Florida's Outcomes," looks at Florida's current policy and budgeting decisions and the success of evidence-based policymaking in other states.
It outlines strategies and techniques to help policymakers direct resources toward proven programs and save some cash by eliminating poor performers.
"With the coronavirus pandemic continuing to strain the state's resources and economy, it is vitally important for Florida to take advantage of these recommended policymaking techniques in order to spend existing resources more strategically," LeRoy Collins Institute Board Chair Lester Abberger said.
"Since Florida is unlikely to raise new revenues to address the state's economic challenges, the best path forward is to spend what we do have more effectively by implementing evidence-based policymaking techniques."
"Better Choices" is something of a follow up to the institute's "Tougher Choices" reports. Florida trails many other states as a low tax/low service state in key social and economic indicators.
Despite improvements, the state's tax revenues continue to grow more slowly than the overall economy, and Florida faces a multibillion-dollar budget shortfall due to the COVID-19 pandemic.
Relying on Federal funds is not a long-term solution, the LeRoy Collins Institute said.
"Our hope is that the techniques outlined in this report will encourage Florida's leaders to spend the state's already limited resources on more effective programs to better serve the state's residents," said LeRoy Collins Institute director Carol S. Weissert, Ph.D. "Strategically allocating Florida's existing resources will generate positive outcomes and is a step in the right direction to ensure that agency programs are being implemented as intended and producing positive results."
___
LSN Partners expands in South Florida — LSN Partners announced Adele Valencia, Lisa Castillo and Joshua Freeman recently joined the firm's South Florida practice.  Valencia comes to LSN Partners from Llorente & Heckler, P.A. as a partner based in the Miami office. She brings a wealth of knowledge and advocacy, legislative, and management experience to clients.  Castillo was brought on as chief of staff of the Ft. Lauderdale office and will focus on Broward County matters. She former chief of staff to the Broward County Sheriff. And Freeman will serve as associate in the Ft. Lauderdale office, where he will provide advocacy and assistance for clients in Broward County. Freeman most recently served as Chief of Staff to Broward County Mayor Steve Geller.
___
Kevin Akins is now a partner at ALG Research, a top Democratic polling firm that polled for President Biden's campaign.
Akins has nearly fifteen years of experience working in opinion research, and ALG says he has been a major contributor to the firm's growth in the South and Heartland since he came on board seven years ago.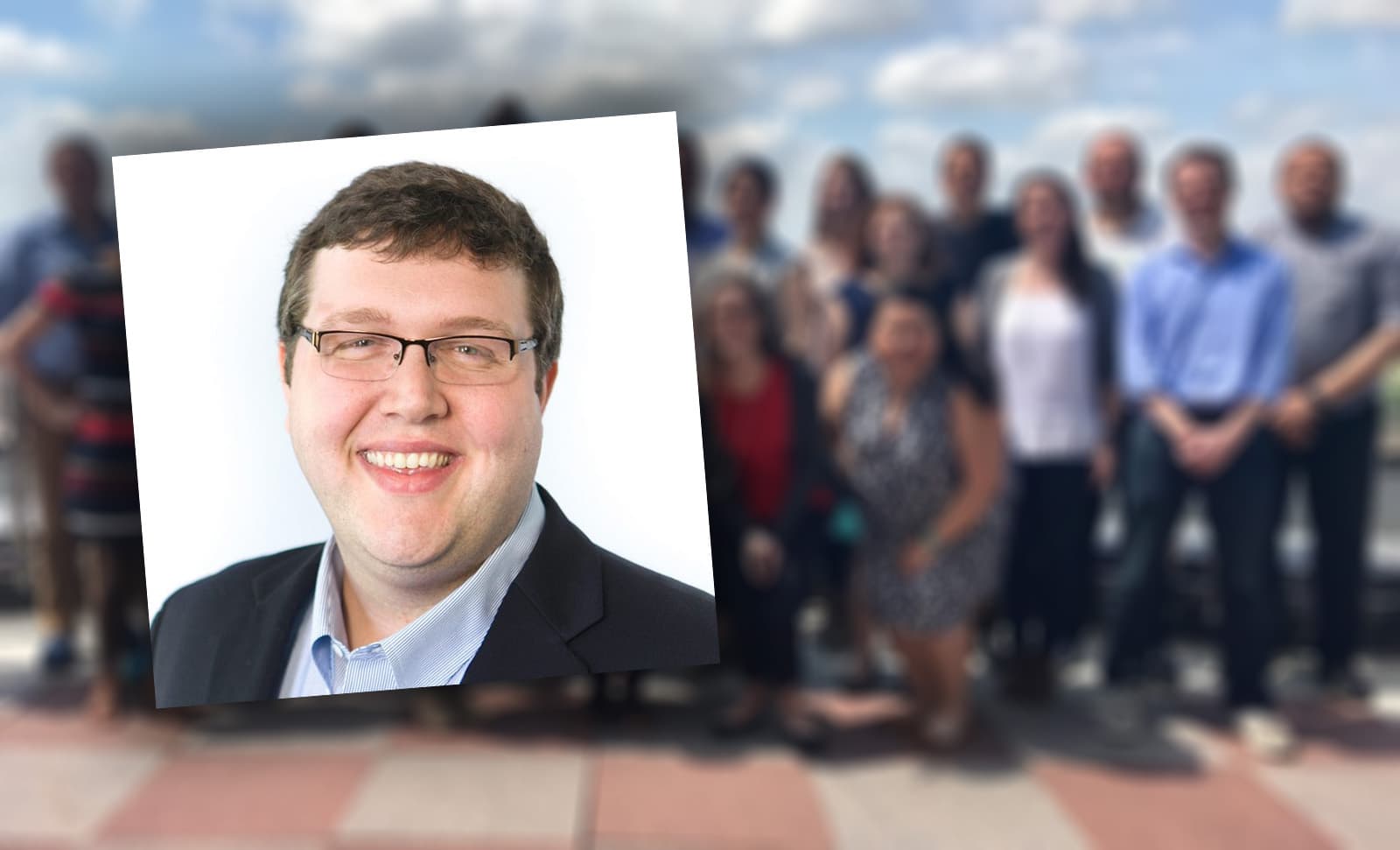 Though he has clients across the country, Akins has a strong background in Florida — a notoriously challenging state to survey. One of his clients is U.S. Rep. Charlie Crist, who won reelection in Florida's 13th Congressional District last year.
"We are going to do big things in this country over the next several years. I am excited to be at a firm with its finger on the pulse of the nation, working at the highest of levels of government and business, and covering all corners of the map," Akins said. "It is an honor to be named partner and do this for a living."
He joins John Anzalone, Matt Hogan, Jeff Liszt, Zac McCrary, Molly Murphy and Brian Stryker as a firm partner.
___
Shutts & Bowen promotes Amber Stoner Nunnally to partner — Shutts & Bowen has promoted Amber Stoner Nunnally to partner, the firm announced Monday. Nunnally, a member of the Appellate Practice Group, is experienced in all aspects of appellate advocacy and procedure and routinely prepares briefs on merits and jurisdiction, amicus briefs, and briefs for extraordinary writs in original proceedings. She also represents businesses and state agencies in state courts on matters of law and public policy, particularly in the areas of constitutional and administrative law.
___
Here are a few other items worthy of your attention:
— The Florida Democratic Party is so broke, staffers lost their health insurance: The most recent federal financial reports for the Florida Democratic Party show they owed Blue Cross and Blue Shield of Florida $500K, prompting the health insurance giant to drop FDP from its insurance and leaving party staffers without coverage. In all, the party had $800,000 in outstanding bills it could not pay at the end of 2020. "I knew going in that things were going to be bad. I just didn't think they were this bad," new FDP Chair Manny A. Diaz told Florida Politics. As the FDP tries to dig itself out of the red, the Florida GOP is rife with cash. Read more about the dire situation here.
— Marco Rubio deserves Ivanka Trump: "It's a measure of the Republican Party's current depravity that I think of the period when Rubio was besmirching Donald Trump's genitalia as the good old days." That's how New York Times columnist Frank Bruni characterized Rubio's level of sycophancy to make the argument that a primary challenge from Trump's eldest daughter is just what the U.S. Senator deserves. Bruni blasts Rubio for waffling around the Trump issue — declining an electoral college the way of Sens. Ted Cruz and Josh Hawley but donning a Trump-super supporter hat after he was out of office. Ivanka Trump would be, as Bruni puts it, both Rubio's worst nightmare and perfect comeuppance.
— Peach State lessons brought to you by Steve Schale: Work, work, and more work. That's what it took to flip a traditionally red state blue this year, according to Schale's analysis. But all the work in the world isn't going to hoist a Democrat to victory in a deep red area or vice versa for a Republican. What happened in Georgia was first putting in the work over several cycles to make an unwinnable state winnable. Led largely by Stacy Abrams, Schale points out that more than 600,000 voters joined the rolls in Georgia from 2016-2020, about 80% of them from communities of color. That established the path. Schale takes Georgia's example and establishes a list of things Florida Dems can do to turn their ship around, and, yes, it includes the FDP. Don't scoff, read.
— Mystery pole sheds insight into St. Pete mayoral race: An unknown pollster asked voters about candidates already running for St. Pete Mayor, but also three Republicans who haven't thrown their name in the hat — Sen. Jeff Brandes, St. Pete City Council member Robert Blackmon, and SPC Board of Trustees member Deveron Gibbons. Their inclusion, and the exclusion of other rumored GOP contenders, shed insight into what to watch from the conservative lane in the city's top elected job. Read my analysis of the three polled prospects, as well as insight into what to watch next, here.
— SITUATIONAL AWARENESS —
—@EricTopol: 1 out of 735 Americans have died from covid-19. (it was 1 per 1000 on December 26th)
—@LarrySabato: The Republican Party is no longer salvageable — at least a sane center-right version the country needs as an alternative. I resisted accepting this for a long time. But Trump, Jan 6, Greene et al. made me face it. Not sure what's next & best, or how to get there.
—@JakeTapper: Pour out a cold one for all the GOP press secretaries who have to apply extra care and diligence as they type out statements condemning the coup in Myanmar … "Subverting the will of the people" … no, can't say that … " … bogus allegations of voter fraud" … no …
—@SteveLemongello: In a slip of the tongue, DeSantis said they were expanding vaccinations at The Villages and other "like-minded" communities. He corrected himself to "similar situated" communities.
—@JaredEMoskowitz: Time to bring every major pharmaceutical company to the table to produce the @pfizer and @moderna_tx vaccine. Florida could have done 500,000 more shots this week if we had more vaccine. Where is the wartime effort?
Tweet, tweet:
Today's #DaleySunset on the way back to Tallahasee… I think the frost on the window is a sign of things to come… pic.twitter.com/l2XjljXOZo

— Dan Daley (@DanDaley) February 2, 2021
Tweet, tweet:
Day # 7 of Covid isolation. Making do with what happens to be here makes for interesting recipes. pic.twitter.com/BQlZ34hwGP

— Loranne Ausley (@LoranneAusley) February 2, 2021
—@SkylarZander: Reviewed SB48 again. I can't help but to get excited about the future of education, especially if this bill passes. Thank you, President @WiltonSimpson, for prioritizing this bill, as well as @SenMannyDiazJr. Your work to empower parents & students is remarkable.
Tweet, tweet:
It. Is. Officially. Super. Bowl. Week. pic.twitter.com/oi9gQ3JsDa

— Tampa Bay Times (@TB_Times) February 1, 2021
Tweet, tweet:
🍊🤫🏴‍☠️ pic.twitter.com/BL3It0gsL7

— Janet Cruz (@SenJanetCruz) February 1, 2021
—@MPG: Deeply saddened to hear of the passing of Dustin Diamond, a true comedic genius. My sincere condolences to his family and friends. Looking back at our time working together, I will miss those raw, brilliant sparks that only he was able to produce. A pie in your face, my comrade.
— DAYS UNTIL —
Super Bowl LV in Tampa — 5; Daytona 500 — 12; Dr. Aaron Weiner webinar on mental health in the workplace — 16; 'Nomadland' with Frances McDormand — 18; The CW's 'Superman & Lois' premieres — 21; the 2021 Conservative Political Action Conference begins — 23; 2021 Legislative Session begins — 28; 'Coming 2 America' premieres on Amazon Prime — 32; 'The Many Saints of Newark' premieres — 38; 2021 Grammys — 40; Zack Snyder's 'Justice League' premieres on HBO Max — 44; 'Godzilla vs. Kong' premieres — 52; 'No Time to Die' premieres (rescheduled) — 59; Children's Gasparilla — 67; Seminole Hard Rock Gasparilla Pirate Fest — 74; 'Black Widow' rescheduled premiere — 94; 'Top Gun: Maverick' rescheduled premiere — 150; Disney's 'Shang Chi and The Legend of The Ten Rings' premieres — 159; new start date for 2021 Olympics — 172; 'Jungle Cruise' premieres — 179; St. Petersburg Primary Election — 203; 'A Quiet Place Part II' rescheduled premiere — 227; 'Dune' premieres — 242; St. Petersburg Municipal Elections — 273; Disney's 'Eternals' premieres — 276; Steven Spielberg's 'West Side Story' premieres — 310; 'Spider-Man Far From Home' sequel premieres — 318; 'Doctor Strange in the Multiverse of Madness' premieres — 416; 'Thor: Love and Thunder' premieres — 458; 'Spider-Man: Into the Spider-Verse' sequel premieres — 612.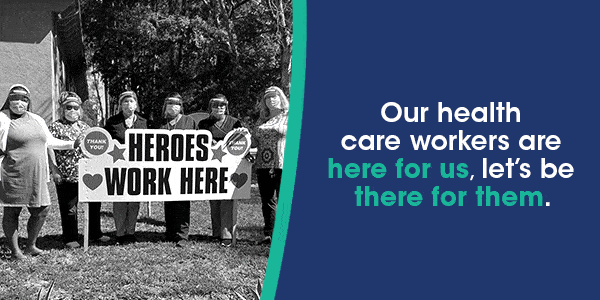 — DATELINE TALLAHASSEE —
Jimmy Patronis, Jeff Brandes highlight COVID-19 liability protections for health care community" via Jason Delgado of Florida Politics — On Monday, Sen. Brandes and Chief Financial Officer Patronis stressed the need to extend COVID-19 liability protections to health care workers and medical institutions. Speaking in Tallahassee at the Centre Pointe Health and Rehabilitation Center, the Republican pair highlighted the looming threat predatory lawsuits pose to Florida's health care community. Brandes, a Tampa Bay lawmaker, described the protections as a legislative priority. "We can't allow sue-and-settle tactics to open the floodgates for attorneys to go after businesses, health care, and long term care facilities [which] are desperately providing the care needed for our seniors," Brandes said. "We must protect the good actors within our health care communities who are doing everything they can to keep our patients and employees safe."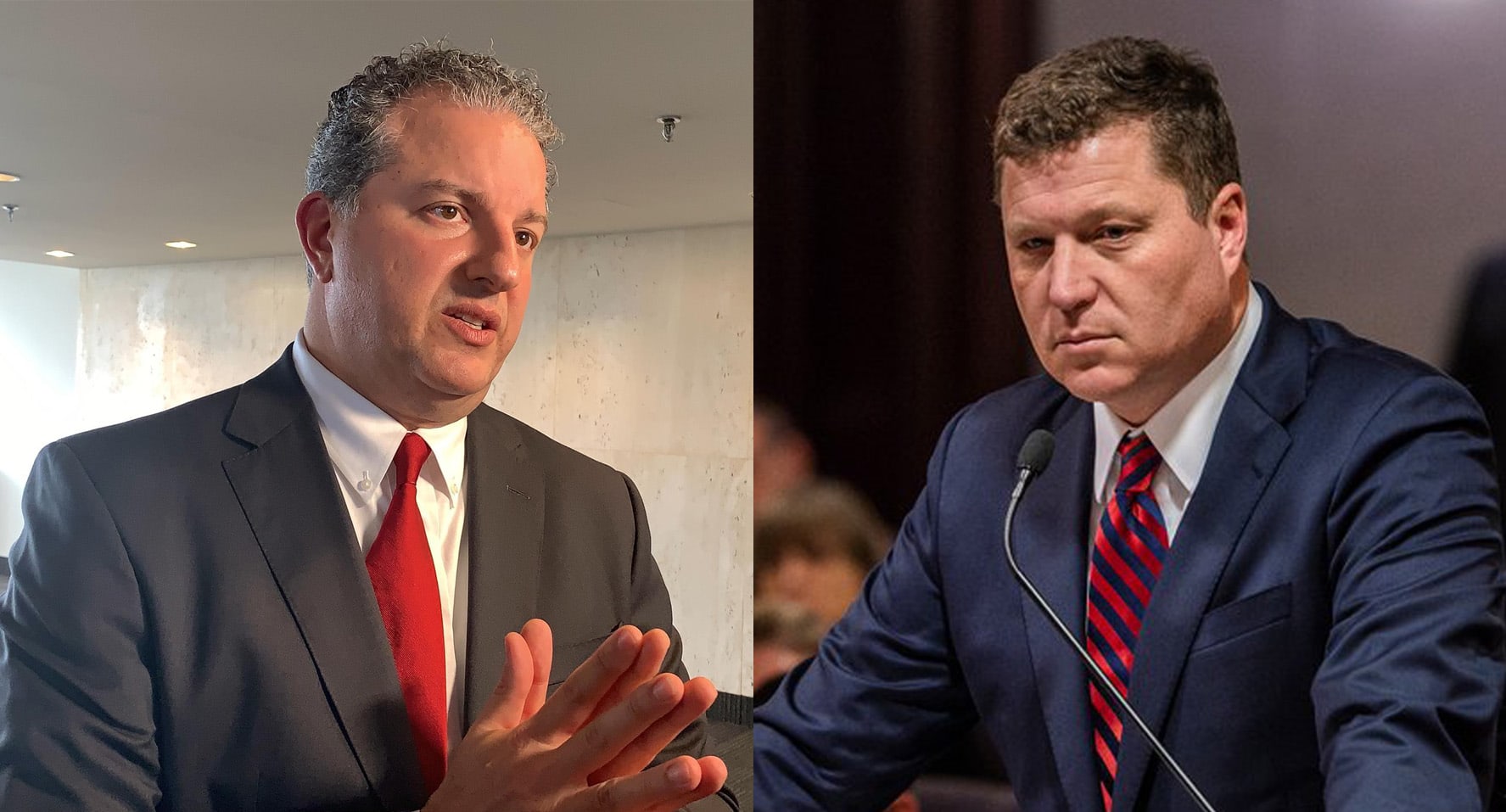 "Florida business leaders push to renew target industry tax rebates" via Renzo Downey of Florida Politics — Florida's Qualified Target Industry (QTI) Tax Refund program expired in June, and Florida's business leaders say the state is missing out on new deals because of it. The program expired last year after the Legislature failed to renew that program, which offered tax refunds to businesses based on their performance. During the Florida Chamber of Commerce's 2021 Economic Outlook & Jobs Solution Summit, business leaders said they want it back. QTI was a deal-maker that could tip the scales that keeps Florida competitive without offering no-questions-asked incentives, said Crystal Stiles Stiles, senior director of economic development at Florida Power and Light.
"Senate Committee blesses guns-in-church legislation" via Jacob Ogles of Florida Politics — Guns may soon be allowed at churches and synagogues, even if there's a school on the property. Legislation that would allow concealed carry of weapons in certain areas of religious institutions cleared the Senate Judiciary Committee Monday. Sen. Joe Gruters, a Sarasota Republican, characterized the issue as a matter of property rights. "This is more of a First Amendment issue than a Second Amendment issue," Gruters said. The bill (SB 298) would change state law that now forbids weapons on properties with schools, public or private. Gruters said all religious institutions should be able to make that decision themselves.
"Senate panel approves measure renaming reef conservation area after Kristin Jacobs" via Ryan Nicol of Florida Politics — The Senate Environment and Natural Resources Committee is advancing legislation that would rename the Southeast Coral Reef Ecosystem Conservation Area after the late Rep. Jacobs. Sen. Lauren Book, a Plantation Democrat, is behind the bill (SB 588). The site sits near Biscayne National Park in Miami-Dade County. "Environmental action was central to who Kristin was as a person," Book told the Senate panel Monday while testifying in support of her measure. "The state of Florida is a more environmentally focused and friendly place because of Kristin's work." Democratic Rep. Christine Hunschofsky is backing the House version (HB 217). Hunschofsky took over Jacobs' seat in House District 96 after Jacobs passed away from cancer.
"Brandes defends minimum wage proposal" via Christine Sexton of the News Service of Florida — Brandes said his proposal (SJR 854) to amend the state Constitution to allow the Legislature to exempt felons and people under 21 from the new minimum-wage requirements would help them get jobs in the future. Brandes said studies indicate minimum wage requirements have a "disparate impact" on low-skilled workers. He believes that "recently released incarcerated felons" also would be negatively impacted. But Florida AFL-CIO lobbyist Rich Templin said Brandes' proposal isn't the answer to the goal of ensuring everyone can get hired. "We understand Sen. Brandes' concern about these workforce segments, but denying them a new constitutional right to a near-living wage is not the way to do it," Templin said. "It's state-sanctioned discrimination."
"Darryl Rouson joins Fentrice Driskell and Dianne Hart in eviction support legislation" via Kelly Hayes of Florida Politics — Sen. Rouson filed SB 412 and SB 926 to address eviction records and housing insecurity. SB 412 would help address housing insecurity by referring eviction cases to mediation in circuit courts with established mediation programs. It would also remove the requirement for the tenant to deposit money owed during eviction proceedings into the court registry. Rep. Driskell filed the companion bill, HB 481. Rouson's second bill would allow for defendants to move to seal their eviction record if the court finds they were adversely affected by COVID-19. Rep. Hart filed the companion bill for eviction records, HB 657.
"Chris Latvala requests $3.1M for inmate rehabilitation, youth programs" via Kelly Hayes of Florida Politics — In the last week, Rep. Latvala filed about $3.1 million in state appropriation requests for programs assisting at-risk kids and individuals struggling with substance abuse and involved in the criminal justice system. In his largest request within the wave of bills, Latvala requested $2 million to renovate the Police Athletic League of St. Petersburg in hopes of providing more after-school space for at-risk kids. The nonprofit works with the St. Petersburg Police Department, University of South Florida's St. Petersburg campus and St. Petersburg College to provide a safe place for children to go when they are not in school.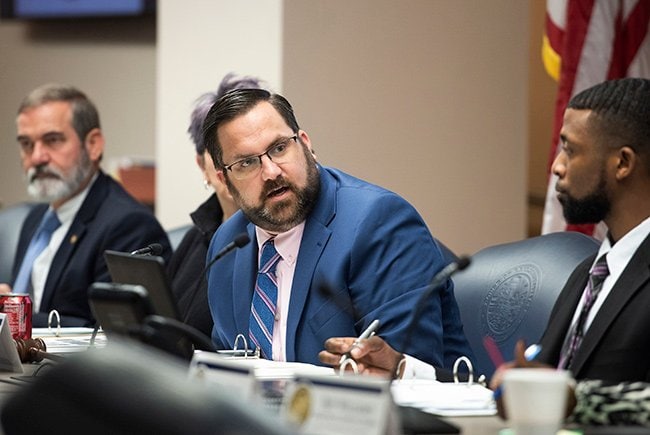 "No guarantees on workers' comp COVID-19 changes" via News Service of Florida — Brandes made no promises the Senate would make changes to ensure front-line health care workers and teachers can tap into workers' compensation benefits. A state Division of Workers' Compensation report showed that as of Dec. 31, 13,409 workers' compensation claims had been filed by health care workers and educators and that nearly 46% of the claims were denied. Florida's workers' compensation laws provide coverage for "occupational diseases" characteristic of particular trades or jobs. But the term excludes "all ordinary diseases of life to which the general public is exposed. Brandes is the primary Senate sponsor of a proposal (SB 72) that would provide broad immunity to most businesses from coronavirus-related lawsuits.
"Return of the Eyeball Wars: Lawmakers file bills expanding optometrist scope-of-practice" via Drew Wilson of Florida Politics — A pair of bills filed Monday (HB 631/SB 876) would allow optometrists to perform certain types of eye surgery and prescribe medications. Optometrists are general eye care providers. Ophthalmologists, meanwhile, are medical doctors. The scope-of-practice battle between the two eye-care professions has raged for years in much the same way as doctors battled APRN scope of practice expansion. The 2021 sponsors are Sen. Manny Diaz Jr. and Rep. Alex Rizo, both Hialeah Republicans. As stated in their bills, the state Board of Optometry would determine parameters for optometrists to become licensed to perform surgeries. Upon certification, optometrists would be allowed to perform eyelid and tear duct surgery, as well as a host of procedures that require incisions.
"Time runs out on union dues bill" via News Service of Florida — A bill sponsored by Sen. Ray Rodrigues (SB 78) would make changes involving deductions of union dues from employee paychecks. For example, the bill would add a new step in which government employers would have to confirm with workers that they want dues taken out of their pay before the deductions could start. Rodrigues urged the Senate Judiciary Committee on Monday to sign off on the plan, which has the support of business groups. But labor unions and other opponents called the legislation an unnecessary attempt at "union-busting. The meeting concluded before the panel had time to vote on whether to advance the bill.
"Linda Stewart, Rene Plasencia file to run in SD 13" via Scott Powers of Florida Politics — Republican Rep. Plasencia has filed to run for Senate District 13 in Orange County. Incumbent Democratic Sen. Stewart filed for reelection last week. That potentially creates a marquee race between two popular, veteran lawmakers in the 2022 election. However, the election would take place after redistricting. "There's no guarantee that we'll be drawn into the same district," Plasencia said. "I didn't necessarily file to run against Linda." Both candidates are well known. Both have become increasingly difficult to beat. Stewart just won a second term in November with 61% of the vote. Plasencia is a former high school teacher and cross-country and track coach, well known in the Colonial High School constituency currently within SD 13.
News you can use — "Capital City Bank starts reopening branch lobbies to customers in Tallahassee, elsewhere" via the Tallahassee Democrat — Capital City Bank announced Monday it was reopening nine branches across north Florida for in-person service, including four in Leon County. The move comes about two months after the bank closed branch lobbies to the public as coronavirus cases increased in Tallahassee and nationwide. "We have missed being able to serve you in all the ways we typically do and sincerely want to thank you for how you've adjusted with us as we did our part to stem the spread of the virus these many months," the bank said in an email sent to customers.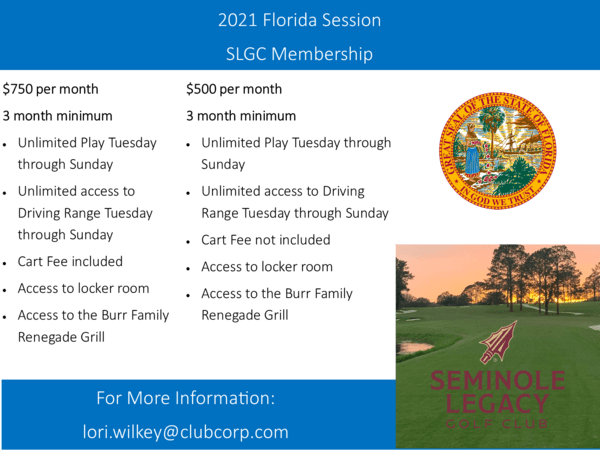 .
— LEGISLATIVE SKED —
The Senate Appropriations Committee will receive an update on Gov. DeSantis' proposed $96.6 billion budget for the 2021-2022 fiscal year, 9 a.m., Room 412, Knott Building.
The Senate Ethics and Elections Committee will receive an update from the Florida Department of State about the 2020 elections, 12:30 p.m., Room 110, Senate Office Building.
The Senate Military and Veterans Affairs, Space and Domestic Security Committee meets to consider SB 260, from Sen. Gayle Harrell, to create a program to provide referral services to veterans and family members for mental health and substance abuse issues, 12:30 p.m., Room 37, Senate Office Building.
The Senate Banking and Insurance Committee meets to consider SB 76, from Chairman Jim Boyd, which seeks to make changes in Florida's property-insurance system, 3:30 p.m., Room 412, Knott Building.
The Senate Community Affairs Committee meets to consider SB 60, from Sen. Jennifer Bradley, to prevent local code-enforcement inspectors from investigating violations based on anonymous complaints, 3:30 p.m., Room 37, Senate Office Building.
The Senate Transportation Committee meets to consider SB 184, from Sen. Lori Berman, to create a "Purple Alert" system to notify about missing adults with mental disabilities, intellectual or developmental disabilities or brain injuries and have "a credible threat of immediate danger or serious bodily harm," 3:30 p.m., Room 110, Senate Office Building.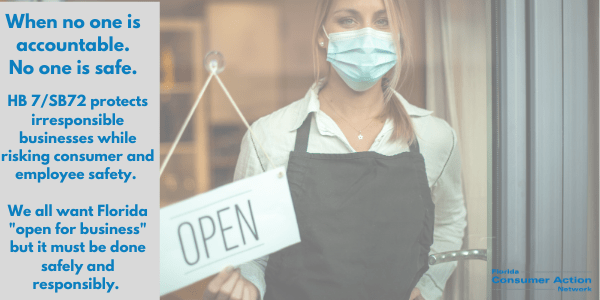 — STATEWIDE —
"'F—ing livid': Florida Democratic Party Chair pledges to fix insurance lapse that blindsided staff" via Matt Dixon of POLITICO — The cash-strapped Florida Democratic Party allowed health insurance for its employees to lapse late last year, leaving some staff unable to pay medical bills and rattling the already struggling organization anew. According to records and staffers interviewed by POLITICO, insurance for employees of the state Party ended on Nov. 30. The decision left many staff unknowingly without health coverage for weeks. Some had piled up medical bills they'd later be on the hook for as they scheduled postelection procedures and appointments, believing they had coverage, according to interviews with seven current and former party staffers and officials.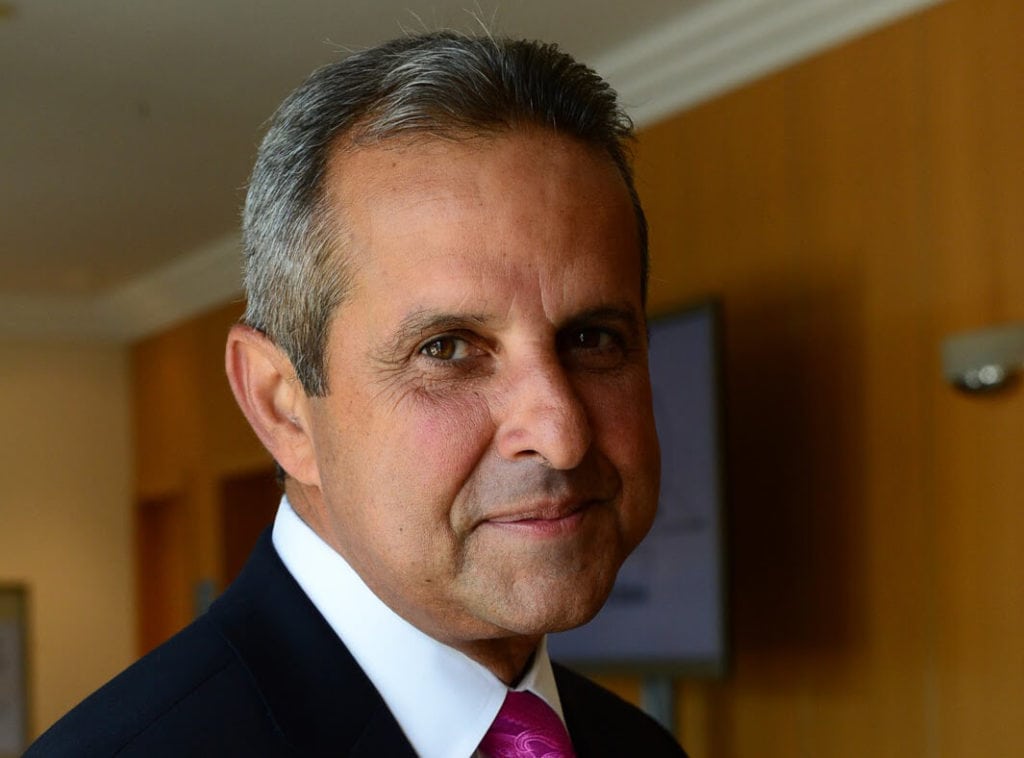 Students struggle to get Bright Futures volunteer hours — High school seniors hoping to earn the top Bright Futures scholarship are struggling to complete the required volunteer hours, Andrew Atterbury of POLITICO Florida reports. Students must complete 100 hours of volunteer work, in addition to other requirements, to qualify for a full ride. However, common service opportunities such as nursing homes have been unavailable during the pandemic. In response, some school leaders have called for the volunteer hours to be waived. Such a waiver could be authorized by lawmakers or by Education Commissioner Richard Corcoran. The latter is more likely.
"Floridians join $5 million suit against Robinhood for halting GameStop share trading" via Kelly Hayes of Florida Politics — Taylor Perri and Kevin Sheehan — and more than 100 putative class members — are seeking more than $5 million in damages. "Robinhood chose to deny its customers access to the marketplace despite profiting off the customers who it lured in under the promise of market participation," said Michael Taaffe, with Shumaker, who filed the suit. The suit arose after shares for GameStop closed at an all-time high last Wednesday. But when the market opened the next day, Robinhood shut down trading of the stock. The app cited market volatility, despite other competing broker-dealers continuing to execute trade orders.
Appointed — Gisela Laurent and Joshua Mize to the 9th Circuit Court.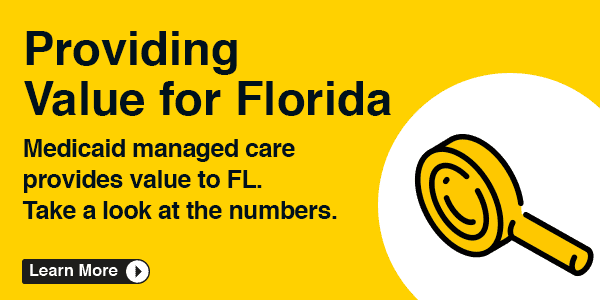 — CORONA FLORIDA —
"Florida adds 5,730 COVID cases, lowest since November, and more than 200 deaths" via Michelle Marchante of the Miami Herald — Florida's Department of Health on Monday confirmed 5,730 additional cases of COVID-19, the lowest single-day count since November. The state's known total is now at 1,727,107, making it the third-highest state in the country, after California and Texas. Additionally, the state announced 206 resident deaths, bringing the resident death toll to 26,685. Eight new nonresident deaths were also announced Monday, bringing the nonresident toll to 444 and the state's cumulative number of deaths to 27,129. DOH reported the results of 81,136 people tested on Sunday, the lowest number of people tested in the past two weeks. The positivity rate of new cases (people who tested positive for the first time) increased from 5.54% to 8.39%.
"Ron DeSantis: Additional vaccines bring new and renewed rollout programs" via Renzo Downey of Florida Politics — With 41,000 additional COVID-19 vaccine doses coming to Florida this week, Gov. DeSantis is announcing new and renewed programs to distribute shots to the state's older population. The state will receive about 307,000 doses this week, up from the weekly average of 266,000 the state received for most of January. Florida administered more than 400,000 doses in one week last month, proving the state has the capacity to handle more shots than it is currently receiving. Florida is reopening a drive-thru site in The Villages, which will vaccinate 4,000 people weekly on a "permanent" basis, as long as doses continue arriving at the new rate.
"'Too much politics': DeSantis attacks vaccine rollout critiques leveled since Inauguration Day" via Renzo Downey of Florida Politics — Democrats have politicized the vaccine rollout since Biden assumed office, DeSantis suggested Monday. During a news conference in The Villages, the Governor continued making thinly veiled attacks at the new administration, which he began before Biden was inaugurated. Florida is prioritizing vaccinating people 65 years old and older, and DeSantis has made a point of the state's success so far in that cohort. More than 1.2 million of the state's nearly 4.5 million residents in that age group have received at least one COVID-19 shot, a share the Governor touts as a success. "Our goal is putting 'Seniors First,' and that means putting seniors ahead of politics," DeSantis said.
—"Florida GOP blasts Miami Mayor after DeSantis criticisms" via A.G. Gancarski of Florida Politics
"Florida's new COVID-19 vaccine portal adds to appointment confusion" via Kate Santich of the Orlando Sentinel — Florida health officials rolled out a new statewide preregistration portal last week designed to let Floridians sign up once and then receive a notification when there's an opening for a vaccine appointment in their area. But Seminole, Volusia and Orange counties aren't using it, and Volusia reported not even being able to access the state's information. Counties apparently had to opt-in to use the system, and Kate Sark, a Volusia County spokeswoman, said many hadn't done so yet because they lack either the information or equipment to make it work.
"Florida begins asking prisoners about COVID-19 vaccine. But education plan is lacking, experts say" via Grace Toohey of the Orlando Sentinel — Prisoners at facilities across the state were in recent days given a choice to fill out a vaccine refusal form or add their name to a vaccine sign-up list, according to interviews with families of the incarcerated — the first sign that Florida intends to offer vaccine doses to people in state custody, a process for which there is still no public plan. Of the seven prisons where the Orlando Sentinel confirmed inmates had been asked to decide on the vaccine, at only one — privately-run South Bay Correctional Facility in Palm Beach County — did an inmate report that his dorm was provided with detailed information about the vaccine, including handouts and brochures.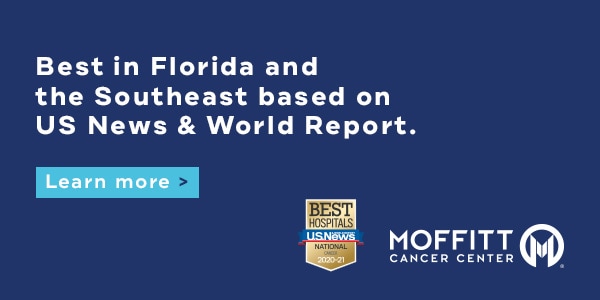 — CORONA LOCAL —
"DeSantis denies race plays role in vaccine access; Jacksonville doctor disagrees" via Sydney Boles of WJCT — African Americans are 1.4 times as likely to contract the coronavirus as their white counterparts, and 2.8 times as likely to die from it, according to the Centers for Disease Control and Prevention. But despite this, Blacks are being vaccinated at lower rates than Whites. A recent decision by Gov. DeSantis to increase the number of vaccine sites at Publix pharmacies might further that disparity. According to census data and mapping software, Publix stores are disproportionately located in majority white neighborhoods.
"Jacksonville's Black leaders want more COVID-19 vaccination, education in minority communities" via Beth Reese Cravey of the Florida Times-Union — Jacksonville's COVID-19 vaccine rollout has failed to address the needs of Black and other people of color, many of whom are suspicious of the rapidly developed drug because of long-held mistrust of the health care system, according to local Black leaders. In a recent letter to Mayor Lenny Curry, they asked that the number of vaccination and testing sites be expanded, "ensuring that communities of color within the city are adequately covered." They also requested more vaccine-related education and a panel of public and community leaders to set local vaccination priorities, among other things.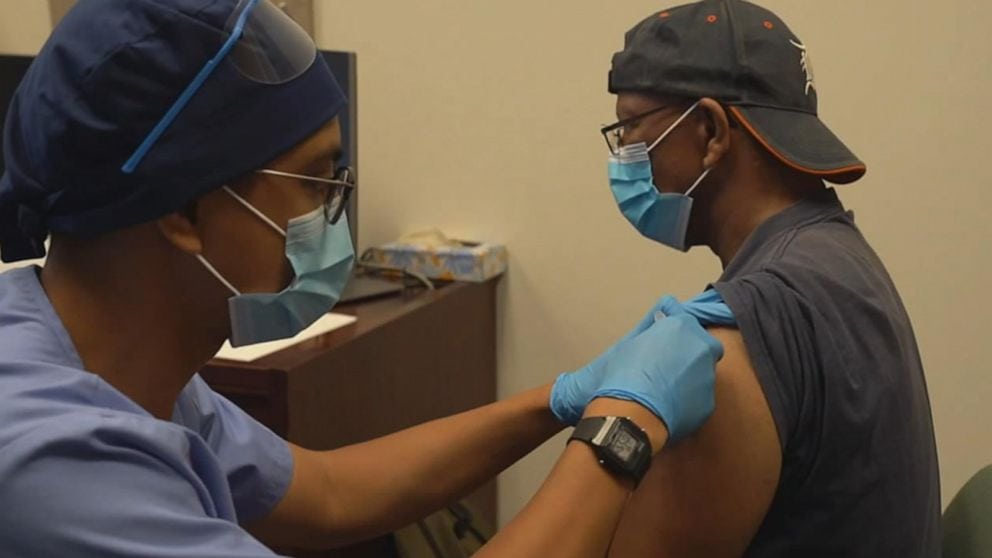 "COVID-19 cases are dropping in South Florida, but deaths are still surging" via Ryan Nicol of Florida Politics — South Florida saw a surge in COVID-19 deaths Monday, with another 55 people succumbing to the disease in the tri-county area. The Department of Health has recorded at least 35 new COVID-19 deaths from South Florida in 10 of the last 11 days. Reports from Friday through Sunday saw the death toll in the high 30s each day. Monday's report showed another 55 dead, putting the region's overall death toll at 9,187. But new COVID-19 cases are declining in Miami-Dade, Broward and Palm Beach counties. Weekly trends show the case positivity rate — which records the share of tests coming back positive — is declining in all three counties.
"Hillsborough County surpasses 100K cases of COVID-19" via Kelly Hayes of Florida Politics — Hillsborough County confirmed 659 cases over the weekend — 435 on Saturday and 224 on Sunday. The total number of weekend cases is still less than that seen on Friday, which had 898 reported cases alone. Hillsborough also surpassed 100,000 cases on Friday and has now confirmed 100,990 COVID-19 cases since the start of the pandemic. In Pinellas, 502 cases were reported over the weekend, including 264 on Saturday and 238 on Sunday. On Friday, the county saw 617 cases. The toll of cases since the start of the pandemic in Pinellas sits at 59,716. Hillsborough County saw 26 new deaths since Saturday, while Pinellas added 15. To date, Hillsborough has reported 1,319 deaths, and Pinellas has seen 1,304.
"Leon County Health Department will use new Florida COVID-19 vaccine registration system" via Casey Chapter of the Tallahassee Democrat — The Leon County Department of Health has announced it will use Florida's new online registration system to schedule COVID-19 vaccine appointments for seniors. The website, myvaccine.fl.gov, allows residents aged 65 and older to preregister for a local vaccine appointment. Residents without internet access can register by calling 866-200-3856. For those requiring TTY access, the number is 833-476-1455. "It may be weeks before we are able to implement the system and for them to get a vaccine appointment," a news release sent out by the department said about the new state system. The change in registration systems will not affect those who have already made appointments by phone or through the previous online form.
"South Walton hospital to receive COVID-19 vaccines for 'extremely vulnerable' populations" via Jeffrey Schweers of the Tallahassee Democrat — Ascension Sacred Heart Hospital Emerald Coast is one of 27 Florida hospitals that will soon begin issuing COVID-19 vaccinations to people under 65 who are considered "extremely vulnerable" if infected with the coronavirus. According to information provided by Mike Burke, spokesman for Ascension Sacred Heart, the Florida Department of Health is doling out 28,500 doses of the COVID-19 vaccine for the initiative. Along with Ascension Sacred Heart's location on Miramar Beach, its hospitals in Pensacola and Panama City also will receive a shipment of shots earmarked for high-risk patients.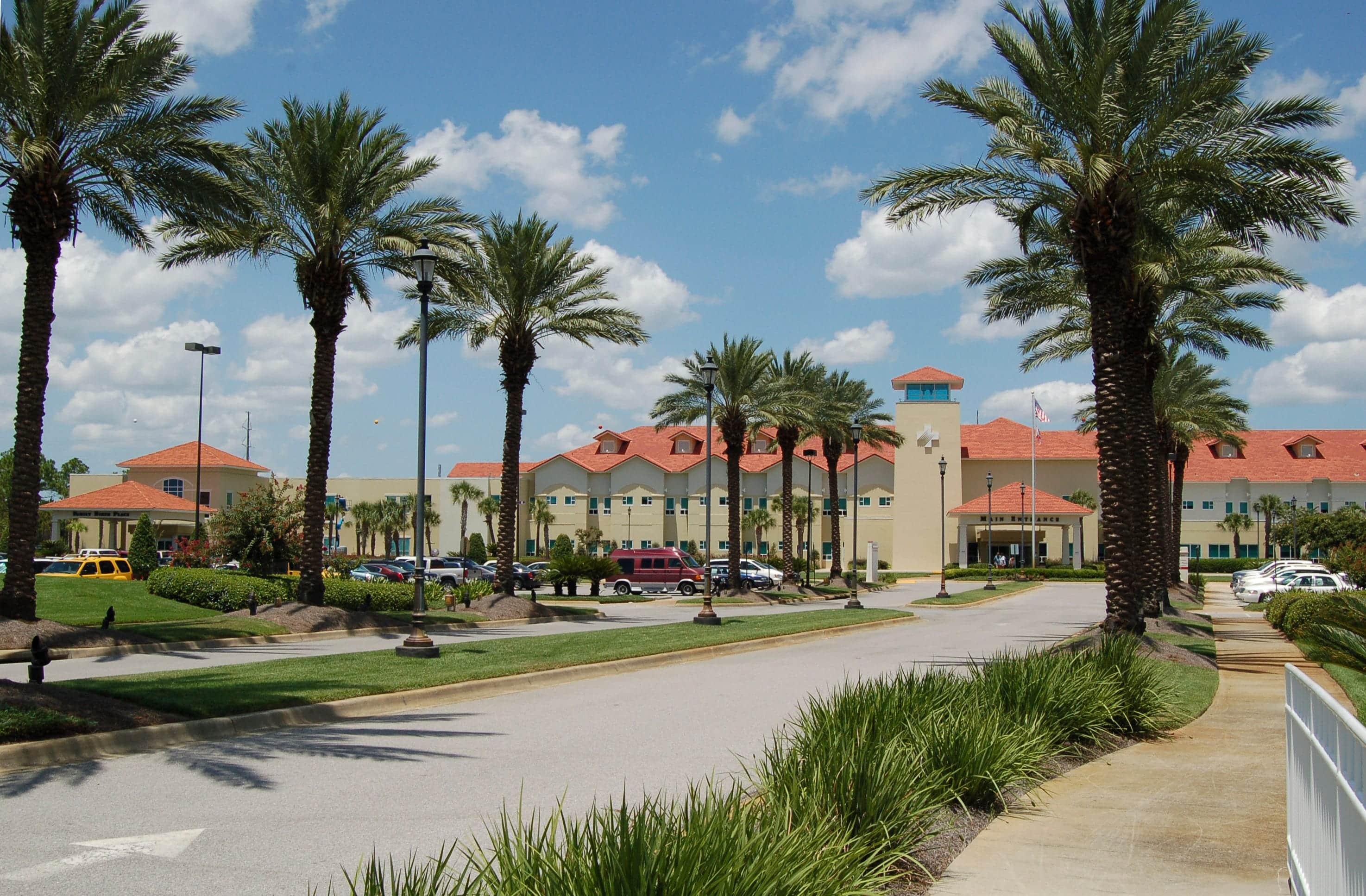 "'Shot shopping,' allotments frustrate rural counties" via Dara Kam of News Service of Florida — Okeechobee County Commissioner Terry Burroughs said residents of his county — which will receive 500 doses this week — are being "shortchanged" because people from nearby regions are snapping up the highly sought-after inoculations. Adding to the frustration of officials who are part of the state Small County Coalition, where Burroughs is vice chairman, was a lack of information about how the state was divvying up the vaccine doses. DEM Director Jared Moskowitz said the state was allotting vaccine doses to counties based on the number of residents ages 65 and older. The distribution aims to carry out DeSantis' order to put seniors and health care workers who have direct contact with patients at the head of the line for shots.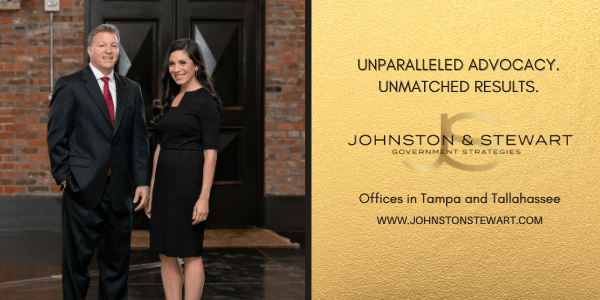 — CORONA NATION —
"Chilling trend: A longer, deadlier pandemic" via Sam Baker of Axios — Mutated versions of the coronavirus threaten to prolong the pandemic, perhaps for years — killing more people and deepening the global economic crisis in the process. The U.S. and the world are in a race to control the virus before these variants can gain a bigger foothold. But many experts say they already expect things to get worse before they get better. And that also means an end to the pandemic may be getting further away. "It may take four to five years before we finally see the end of the pandemic and the start of a post-COVID normal," Singapore's Education Minister said last week, according to The Wall Street Journal.
"Joe Biden's bet on rapid COVID-19 home testing starts with $230 million deal with Australian company" via Ken Alltucker of USA Today — The Biden administration on Monday announced a big push to make rapid COVID-19 home tests available with a $230 million federal contract to an Australian company. The Department of Defense's deal will allow Ellume to open a U.S. factory and make 19 million rapid tests each month, 8.5 million of which will be provided to the federal government, officials said. Ellume is the only company to get U.S. Food and Drug Administration authorization to make a home COVID-19 test that doesn't need a lab or a medical provider's prescription. The 15-minute test includes a nasal swab for users to collect a sample and place into a cartridge and is used with a smartphone app that displays results.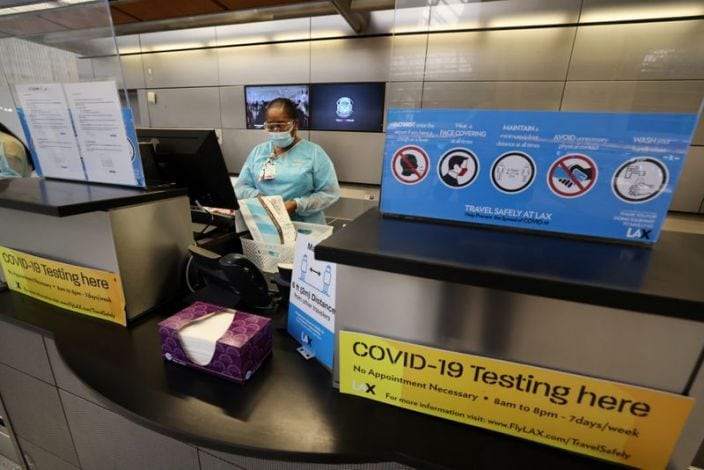 "COVID-19 vaccinations are rising as the U.S. races to outrun the rapidly spreading variants" via The New York Times — Vaccinations in the United States are slowly picking up speed as the Biden administration pushes to accelerate inoculations and blunt the spread of more contagious virus variants. The United States has administered about 30 million doses, and, as of Sunday, is averaging more than 1.3 million doses administered over the past seven days, compared with an average of less than one million per day two weeks earlier, according to a New York Times vaccine tracker. Biden, under pressure to speed up coronavirus vaccinations, has recently suggested the nation could soon reach an average of 1.5 million shots a day. But just as there are signs of progress, another problem has taken root.
"Why America is 'flying blind' to the coronavirus mutations racing across the globe" via William Wan and Ben Guarino of The Washington Post — The lack of widespread genetic sequencing means the window is closing to find and slow the spread of variants such as the one first spotted in Britain, which appears to be much more transmissible, and those initially detected in Brazil and South Africa. All have been discovered in small numbers in the US. Now is when genetic sequencing would do the most good, while such variants are less prevalent in the U.S. population, and action can be taken against them. More equipment, staffing and funding are needed to increase sequencing, experts said, and the federal government has yet to create the infrastructure and procedures needed to receive, process and share that data on a national scale.
"Biden administration 'worried' by limited racial data on vaccine distribution so far" via Francesca Chambers and Michael Wilner of the Miami Herald — Biden administration officials are expressing frustration over inadequate data on how many Black and Hispanic Americans have received COVID-19 vaccines after the CDC reported Monday that it lacked race and ethnicity information on nearly half those vaccinated in the first month. The Biden administration has pledged to increase attention and resources on the equitable distribution of coronavirus vaccines among minority communities that have been disproportionately affected by the pandemic. The few data points available are of concern. The new CDC study showed that only 5.4% of Americans who received vaccines during the first month available were Black. African Americans make up roughly 13.4% of the U.S. population.
What Evan Power is reading — "Andrew Cuomo's bad 'who cares' answer on coronavirus nursing home data" via Aaron Blake of The Washington Post — Democratic New York Gov. Cuomo earned plaudits from his constituents for his early coronavirus pandemic response for one main reason: his willingness to level with them on the state of the threat and to — seemingly — address questions with candor and humility. That is decidedly not what happened Friday. Facing a brutal report from his own party's state attorney general that said the state had undercounted nursing home deaths from the virus, Cuomo essentially argued that it's neither here nor there. "Look, whether a person died in a hospital or died in a nursing home, it's — the people died," Cuomo said.
— CORONA ECONOMICS — 
"Vaccination delays put global rebound at risk" via Drew Hinshaw and Mike Cherney of The Wall Street Journal — Timetables for vaccinating enough people to effectively curb COVID-19 are slipping in many countries, raising fears that a large portion of the world will still be battling the pandemic and its economic effects well into 2022 or beyond. While the U.S. and some other, mostly small countries are making progress toward vaccinating most of their populations by late summer, health experts and economists conclude that much of the planet — including parts of Europe, Asia and Latin America — face a longer slog. Places from Germany to Mexico are running into serious problems sourcing sufficient vaccines. Other countries with low caseloads are less pressed to start vaccination campaigns and aren't eager to reopen borders anytime soon.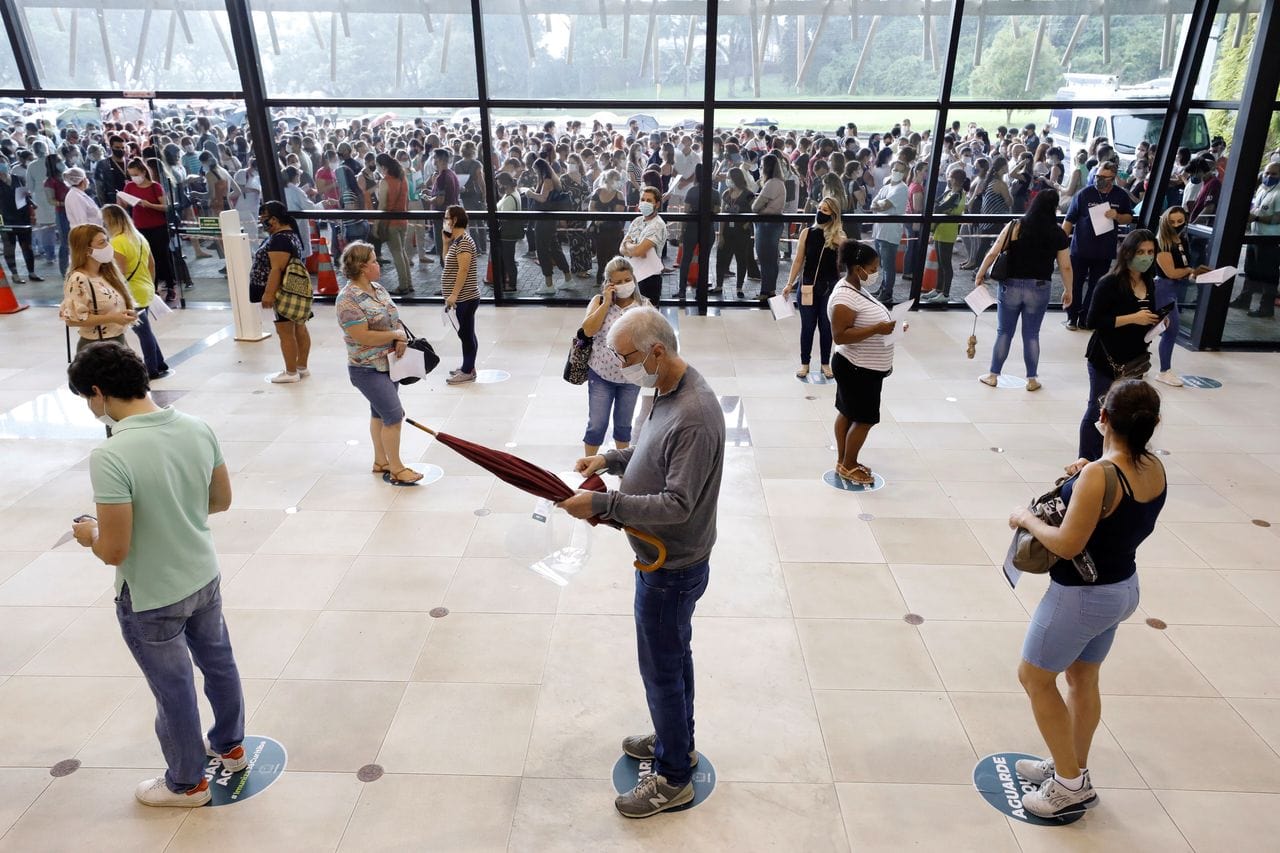 "The economy is improving faster than expected, the U.S. budget office says" via Jim Tankersley of The New York Times — The American economy will return to its pre-pandemic size by the middle of this year, even if Congress does not approve any more federal aid for the recovery, but it will be years before everyone thrown off the job by the pandemic can return to work, the Congressional Budget Office projected on Monday. The new projections from the office, which is nonpartisan and issues regular budgetary and economic forecasts, are an improvement from the office's forecasts last summer. Officials told reporters on Monday that the brightening outlook resulted from large sectors of the economy adapting better and more rapidly to the pandemic than originally expected.
"Biden's promised $1,400 checks are even dividing White House" via Nancy Cook of Bloomberg — At least two of the President's top economic advisers, Heather Boushey and David Kamin, have privately expressed reservations about the size of the checks and at what level they would phase out for higher-income people, according to people familiar with internal discussions. The aides worry that the checks will cost so much that there won't be enough left over in Biden's proposed pandemic relief bill for other priorities — supplemental unemployment benefits, an expanded child tax credit, or aid to states and local governments, the people said. Outside the White House, a group of 10 GOP Senators offered a $600 billion counterproposal that includes $1,000 checks with tighter income requirements. Their plan is less than a third the size of Biden's.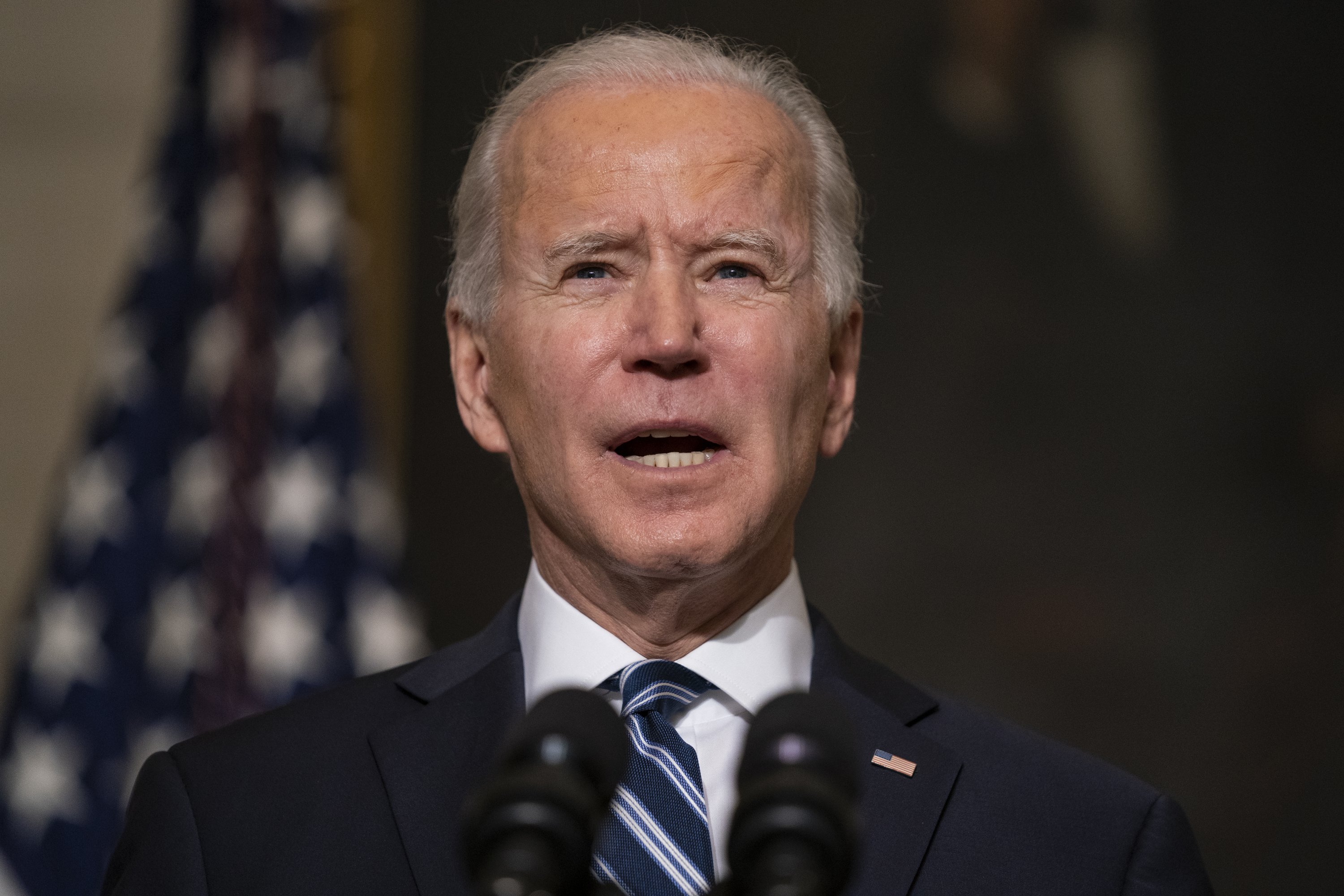 What Marco Rubio is reading — "$500 billion in aid to small businesses: How much did it help?" via Ben Casselman and Jim Tankersley of The New York Times — As Democrats and Republicans spent months last fall arguing over how to rescue the economy, one provision drew widespread support from lawmakers: reviving the Paycheck Protection Program, the government's marquee effort to help small businesses weather the pandemic. The Senate Republican Leader, Mitch McConnell of Kentucky, called the lending program "a bipartisan slam dunk." House Democrats included an extension and expansion of the program in aid packages in the summer and the fall. And Treasury economists said in December that the program might have saved nearly 19 million jobs. Yet there is dissent from one notable contingent: Academic economists who have studied the program have concluded that it has saved relatively few jobs.
— MORE CORONA —
"Governments tap COVID-19 data for other uses, risking backlash" via Jamie Tarabay of Bloomberg — In early 2020, as the coronavirus began to ricochet around the world with a terrifying consequence, Harish Pillay decided to do whatever he could to help stop the spread. The software engineer, who lives in Singapore, heard the government was designing an app to track the virus, so he emailed the minister in charge and asked how he could help. He was part of a fellowship of developers and engineers who volunteered their services, ready to pitch in on a solution. "The problem was being solved by creating this tool, but there were aspects of trust and confidentiality which also needed to be addressed," said Pillay, who has worked on Red Hat's open-source software much of his career.
"Many who have received the coronavirus vaccine wonder: What can I safely do?" via Laurie McGinley and Lenny Bernstein of The Washington Post — Soon after Marc Wilson gets his second dose of coronavirus vaccine, he plans to resume one of his pre-pandemic joys: swimming laps with his friends. But most other activities — including volunteering at a food pantry and homeless shelter — will be off-limits until the outbreak is curbed and scientists know more about the threat of emerging variants. "I can definitely broaden the things I do, but I still have to be quite cautious," said Wilson, 70, a retired accountant in Norman, Oklahoma, who has diabetes and other health problems.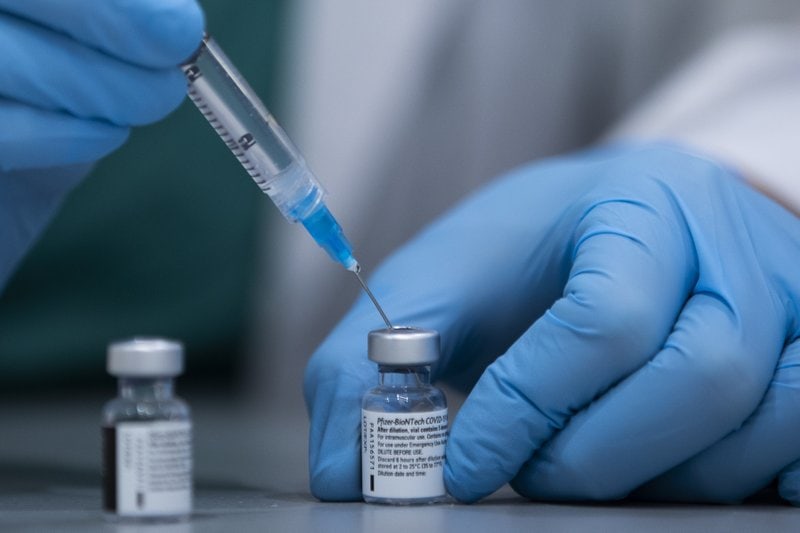 "Airline pilots making in-flight errors say they're 'rusty' because of pandemic" via Hugo Martin of The Los Angeles Times — Pilots and first officers have attributed, at least in part, at least a dozen flying errors and mishaps since May to being out of practice. Since the start of the COVID-19 pandemic, airlines have dramatically reduced the number of daily flights on some routes and, in some cases, eliminated service to low-demand destinations. In April and May, daily takeoffs in the U.S. were down 75% from pre-pandemic levels. As a result, some pilots have been brought back to work after being away for up to four months. Delta Air Lines announced this week that it planned to bring back about 400 pilots by summer in hopes that the distribution of COVID-19 vaccines will boost travel demand.
"COVID-19 lockdowns spur shift to high-end liquor" via Saabira Chaudhuri of The Wall Street Journal — Americans are splashing out on pricier whiskey, tequila and other spirits during the pandemic, helping distillers post their strongest sales in four decades despite widespread bar closures. People who can't spend on concerts, travel and watching live sports are splurging instead on high-end spirits to drink at home, say alcohol executives. According to the Distilled Spirits Council- or DISCUS- a trade body, that drove U.S. distillers' revenue up 7.7% to $31.2 billion last year. It said the figures marked the fastest growth and highest sales for at least 40 years.
"Sports during a pandemic seemed like a terrible idea, but they have been worth the risk" via Barry Svriuga of The Washington Post — Let's check in on how sports are doing in the midst of a pandemic that has frozen the country for more than 10 months. On Sunday in Tampa, the NFL will finish its 2020 season on time and in full. Six months ago — heck, two months ago — that's not a sentence I thought would be typed. The NBA and the NHL are barreling through shortened seasons without benefiting the bubbles they used last summer. The fact that a World Series was staged last fall — before there was a vaccine — would suggest that another could be staged in October, at which point a significant portion of the population hopes to be vaccinated.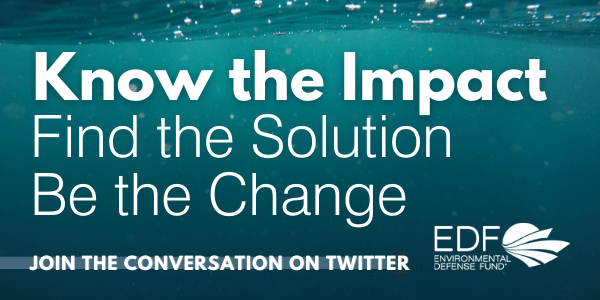 — PRESIDENTIAL —
"Biden to free up billions in delayed Puerto Rico storm aid" via Christopher Flavelle and Patricia Mazzei of The New York Times — The Biden administration said it would release $1.3 billion in aid that Puerto Rico can use to protect against future climate disasters, and is starting to remove some restrictions put in place by the Trump administration on spending that was to help the island after Hurricane Maria in 2017. Administration officials, describing the move as a first step toward addressing racial inequality through policies designed to address climate change, said they planned to ease the limits that the Trump administration placed on another $4.9 billion in aid on the morning of Jan. 20, a few hours before the former President left office.
"Biden withdraws $27.4 billion in spending cuts proposed by Donald Trump" via Jennifer Epstein of Bloomberg — Biden on Sunday withdrew all the spending cuts proposed by Trump during his final days in office. Biden said in a letter to Congress that he was reversing all 73 spending cuts, which touched virtually every cabinet-level agency as well as federal programs such as the National Endowments of the Arts and Humanities. Under the 1974 Budget and Impoundment Control Act, the President can request that Congress rescind budget authority that it had previously approved. The cuts, known as rescissions, totaled $27.4 billion, according to a Jan. 14 letter to Congress from the Trump White House. The proposed cuts had come after Trump grew frustrated with some of the spending included in a December spending bill.
"Hundreds deported under Biden, including witness to massacre" via Nomaan Merchant of The Associated Press — Biden's administration has deported hundreds of immigrants in its early days despite his campaign pledge to stop removing most people in the U.S. illegally at the beginning of his term. Last week, a federal judge ordered the administration not to enforce a 100-day deportation moratorium, but the ruling did not require the government to schedule them. U.S. Immigration and Customs Enforcement deported 15 people to Jamaica on Thursday and 269 people to Guatemala and Honduras on Friday. It's unclear how many of those people are considered national security or public safety threats or had recently crossed the border illegally, the priority under new guidance that the Department of Homeland Security issued to enforcement agencies and that took effect Monday.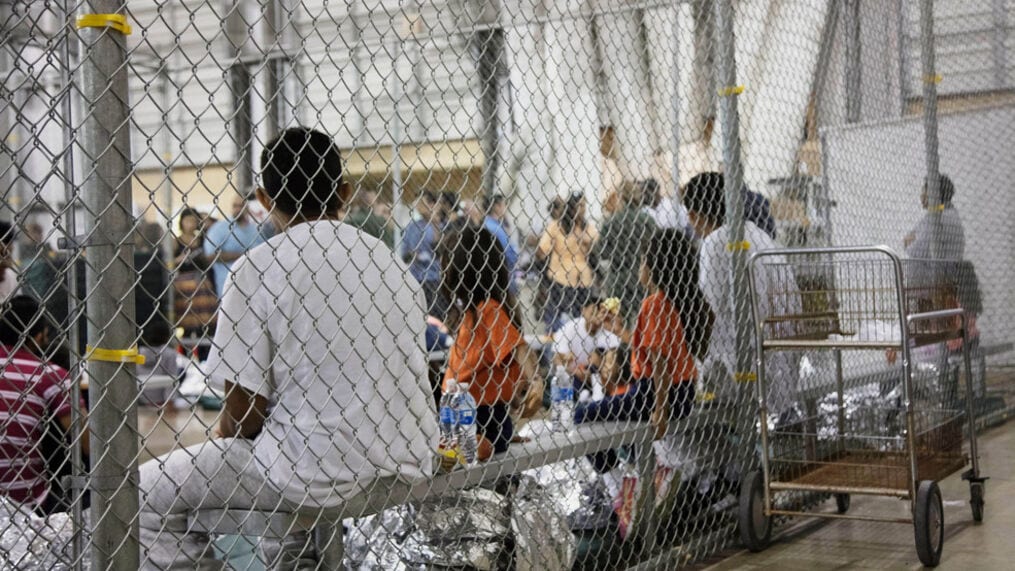 Tweet, tweet:
https://twitter.com/imillhiser/status/1356391799678509059?ref_src=twsrc%5Etfw
— EPILOGUE: TRUMP —
"New Trump impeachment lawyers unlikely to push vote fraud claims" via Erik Larson and David Yaffe-Bellany of Bloomberg — The two lawyers Trump hired at the last minute to defend him at his Feb. 9 Senate impeachment trial are no strangers to controversial cases but are generally regarded as straight-shooters who won't push the former President's wild election-fraud claims. David Schoen and Bruce Castor came on board Sunday after a previous legal team quit after barely a week, reportedly over Trump's insistence that they base his impeachment defense on arguments that the 2020 election was stolen. But Schoen told The Washington Post on Sunday he would not make fraud arguments, and a former colleague said he couldn't see Castor touching Trump's "preposterous" claims either.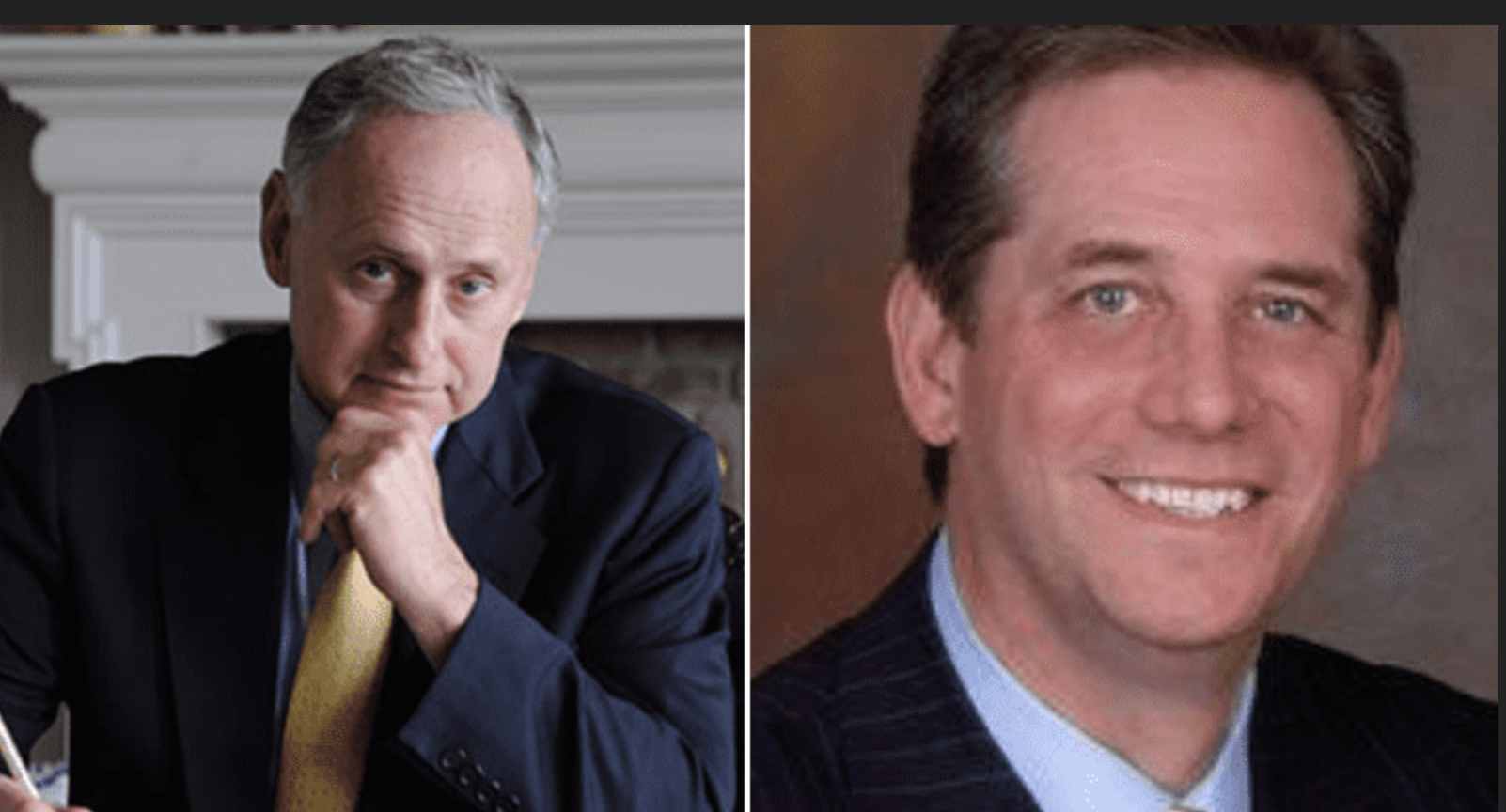 "Trump stocks new PAC with tens of millions as he bids to retain control of GOP" via Zach Montellaro and Elena Schneider of POLITICO — Trump amassed $31.2 million in his new political operation by the end of 2020, giving him a powerful tool to keep the Republican Party in his grip as he left office. Save America, a leadership PAC, is set to play a key role in Trump's plans to keep a strong hand in party politics — both to boost loyalists and also to seek retribution against Republicans he believes have wronged him, such as the 10 House Republicans who voted to impeach Trump in mid-January. Trump cannot spend the PAC funds directly on any future campaign of his own, but he can use it to wield influence in campaigns in the midterm elections, pay his political advisers and travel the country.
"Dozens of former George W. Bush officials leave Republican Party, calling it 'Trump cult'" via Tim Reid of Reuters — Dozens of Republicans in former President Bush's administration are leaving the party, dismayed by a failure of many elected Republicans to disown Trump after his false claims of election fraud sparked a deadly storming of the U.S. Capitol last month. These officials said they had hoped that a Trump defeat would lead party leaders to move on from the former President and denounce his baseless claims that the November presidential election was stolen. But with most Republican lawmakers sticking to Trump, these officials say they no longer recognize the party they served. According to a dozen former Bush officials, some have ended their membership; others are letting it lapse while a few are newly registered as independents.
— D.C. MATTERS —
"Parkland area, Sandy Hook lawmakers demand action on Marjorie Taylor Greene" via Anthony Man of the South Florida Sun-Sentinel — Lawmakers representing communities affected by two of the worst school shootings in U.S. history said Monday that Congress must act to repudiate U.S. Rep. Taylor Greene, the Georgia Republican who's denied the truth about the massacres at Marjory Stoneman Douglas High and Sandy Hook Elementary. U.S. Reps. Ted Deutch, Jahana Hayes and Debbie Wasserman Schultz said in a video news conference that Greene should be expelled from Congress or resign. If that doesn't happen, they'd like to see her censured.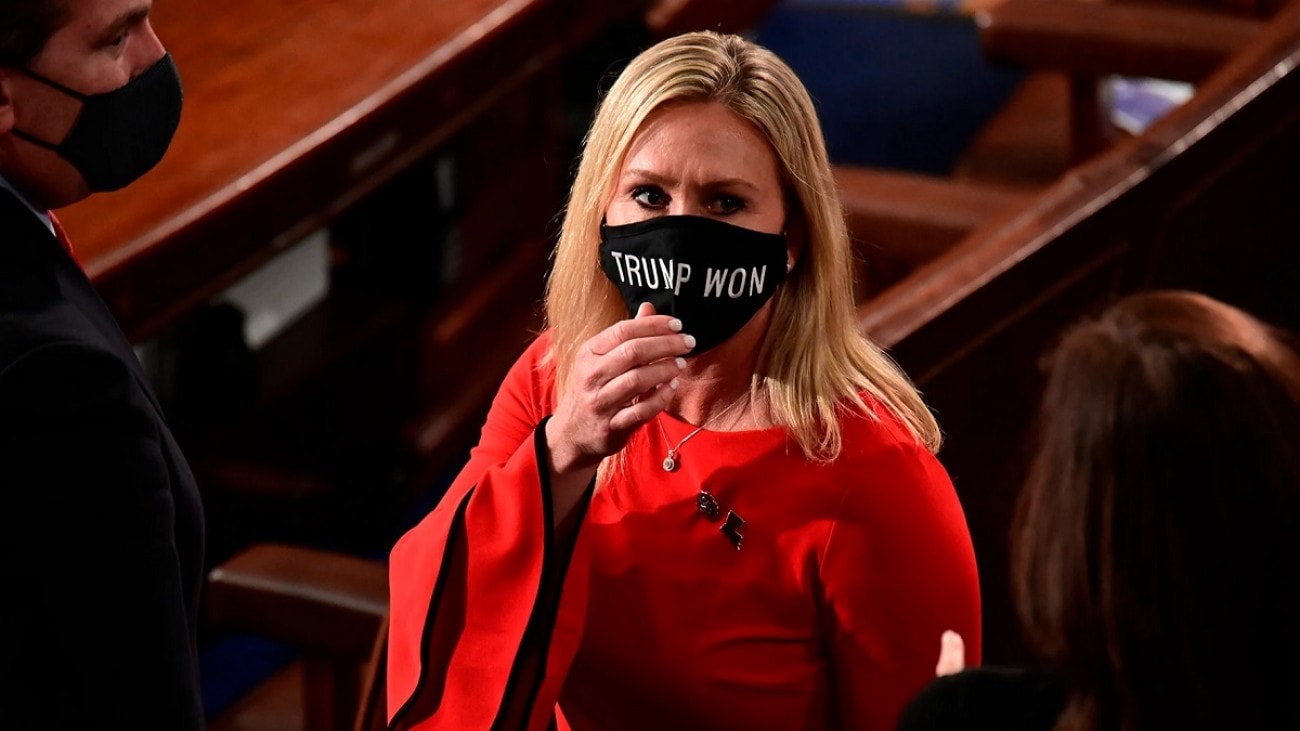 DCCC targets Maria Elvira Salazar — The Democratic Congressional Campaign Committee is getting a head start on 2022, spending nearly $50,000 for February ad space in the race for Florida's 27th Congressional District. Republican Rep. Salazar holds that seat after ousting Democratic Rep. Donna Shalala in November. Salazar's seat is expected to be in play once again in 2022. Hers is one of several districts nationwide where a Republican candidate won a congressional race while Biden won the district overall. Last month, the DCCC went after Salazar in a different ad following her vote against impeaching Trump. Keep an eye on FloridaPolitics.com for the full version of the newest ad, which will drop Tuesday morning.
The ad is now live:
"Robinhood CEO expected to testify before Maxine Waters' panel on GameStop" via Zachary Warmbrodt of POLITICO — The CEO of online stock brokerage Robinhood is expected to testify before a House committee on Feb. 18 as lawmakers dig into the firm's role in the tumultuous trading of GameStop stock and other companies, people familiar with the matter said. The hearing before the House Financial Services Committee with Robinhood CEO Vlad Tenev, which has not been formally announced, is primed to be a blockbuster. Share prices of GameStop and other struggling companies skyrocketed last week in part thanks to traders on the social media website Reddit targeting Wall Street hedge funds, which were betting heavily that the stock price would fall. Some of the investors betting against the companies subsequently suffered huge losses.
"Rick Scott presses Biden's budget office for COVID cash 'transparency'" via A.G. Gancarski of Florida Politics — Scott wrote OMB Acting Director Rob Fairweather, calling for an accounting from the new administration of the $4.5 trillion allocated for coronavirus relief thus far, with Biden seeking another $1.9 trillion in new relief. Scott urged "full transparency" from the Democratic White House. "We need full transparency to clearly understand what the true needs of the American people may be and make informed decisions to deliver targeted relief," Scott urged. Scott, who contends that the $1.9 trillion proposal from the new administration is larded with political "payback," demands a precise accounting of spending authorizations given the go-ahead by the previous President on several fronts.
— CRISIS —
"They stormed the Capitol to overturn the results of an election they didn't vote in" via Blake Ellis and Melanie Hicken of CNN — They were there to "Stop the Steal" and to keep the President they revered in office, yet records show that some of the rioters who stormed the U.S. Capitol did not vote in the very election they were protesting. One was Donovan Crowl, an ex-Marine who charged toward a Capitol entrance in paramilitary garb on January 6 as the pro-Trump crowd chanted "who's our President?" Federal authorities later identified Crowl, 50, as a member of a self-styled militia organization in his home state of Ohio and affiliated with the extremist group the Oath Keepers. His mother told CNN that he previously told her "they were going to overtake the government if they … tried to take Trump's presidency from him."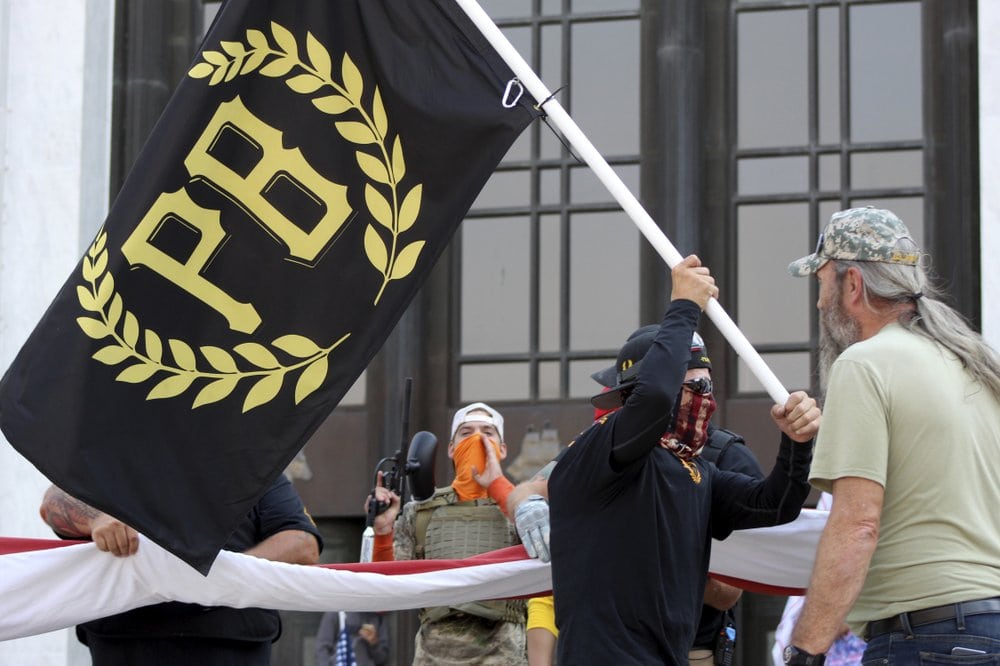 "Matt Gaetz staffer cheered on Capitol rioters via Parler as they overran police" via Dell Cameron of Gizmodo — As police struggled futilely to fend off a wave of rioters outside the U.S. Capitol building on Jan. 6, Joel Valdez, an aide to Congressman Matt Gaetz, made his way to the rooftop of his boss's office building across the street on Independence Avenue. Surveying the mob as it surrounded the complex, he captured a five-second video with his phone and posted it to Parler — the now-defunct social network where some Trump supporters are reported to have openly planned an insurrection for weeks. "From the top of the Capitol office buildings, WE HEAR YOU LOUD AND CLEAR!" Valdez posted, adding the hashtag #StopTheSteal.
"Central Florida GOP leaders spread election conspiracies, QAnon falsehoods" via Steven Lemongello of the Orlando Sentinel — The new treasurer for the Lake County Republican Executive Committee wrote this month that the nation was at war and called Republicans who don't believe Trump won the election "traitorous." The Lake GOP second vice-chair called the election "illegitimate" and falsely implied the left-wing group antifa was behind the Jan. 6 attack on the U.S. Capitol. And the Hillsborough GOP chair refused this month to accept Trump lost or that his supporters were behind the Capitol attack. Florida Republicans continue to spread falsehoods about the presidential election and rhetoric about censorship.
"A Florida CEO posted his selfie in front of the U.S. Capitol on Jan. 6. Now, some longtime customers are boycotting his company." via Patrick Thomas of The Wall Street Journal — Bartenders have long ordered cocktail shakers, strainers and stainless-steel jiggers from BarProducts.com. Some stopped after Jan. 6, when the company's chief executive posted a photo of himself in front of the U.S. Capitol while rioters stormed Congress. The since-deleted selfie of BarProducts founder and CEO Mark Hastings, accompanied by the caption "Stop the Steal!," has led to a fight with some of its once-loyal customers. The dust-up is the latest example of CEOs taking public stances and the backlash that can follow. "After 16 years of buying my bar tools from his company, I, for one, will never spend another cent with them," Brad Kaplan, 46, posted on Facebook alongside a screenshot of Mr. Hastings's selfie.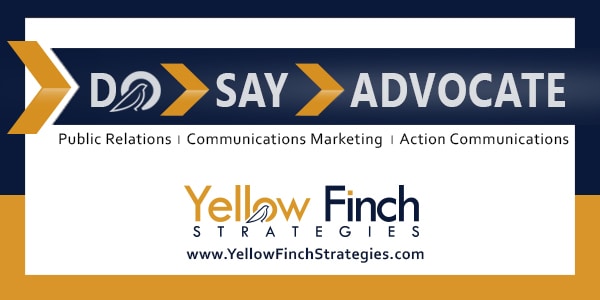 — LOCAL NOTES —
"Black Lives Matter demonstrators march through downtown Fort Lauderdale" via Brooke Batinger of the South Florida Sun-Sentinel — It was a smaller rally than those held in the Summer, but a group of about 80 Black Lives Matter activists drummed up a lot of attention in downtown Fort Lauderdale on Monday afternoon. One demonstrator marched with a drum fastened to in the front and often banged the drumsticks together. Others lugged speakers behind them as they marched from Bubier Park, over bridges and busy streets to the Broward Main Jail. Organized by Florida Rising, the group was out to protest incarceration rates during the coronavirus pandemic and abuse they said is happening in the jails. Cars crept along with demonstrators with signs in the windows calling on Broward Sheriff Gregory Tony to resign.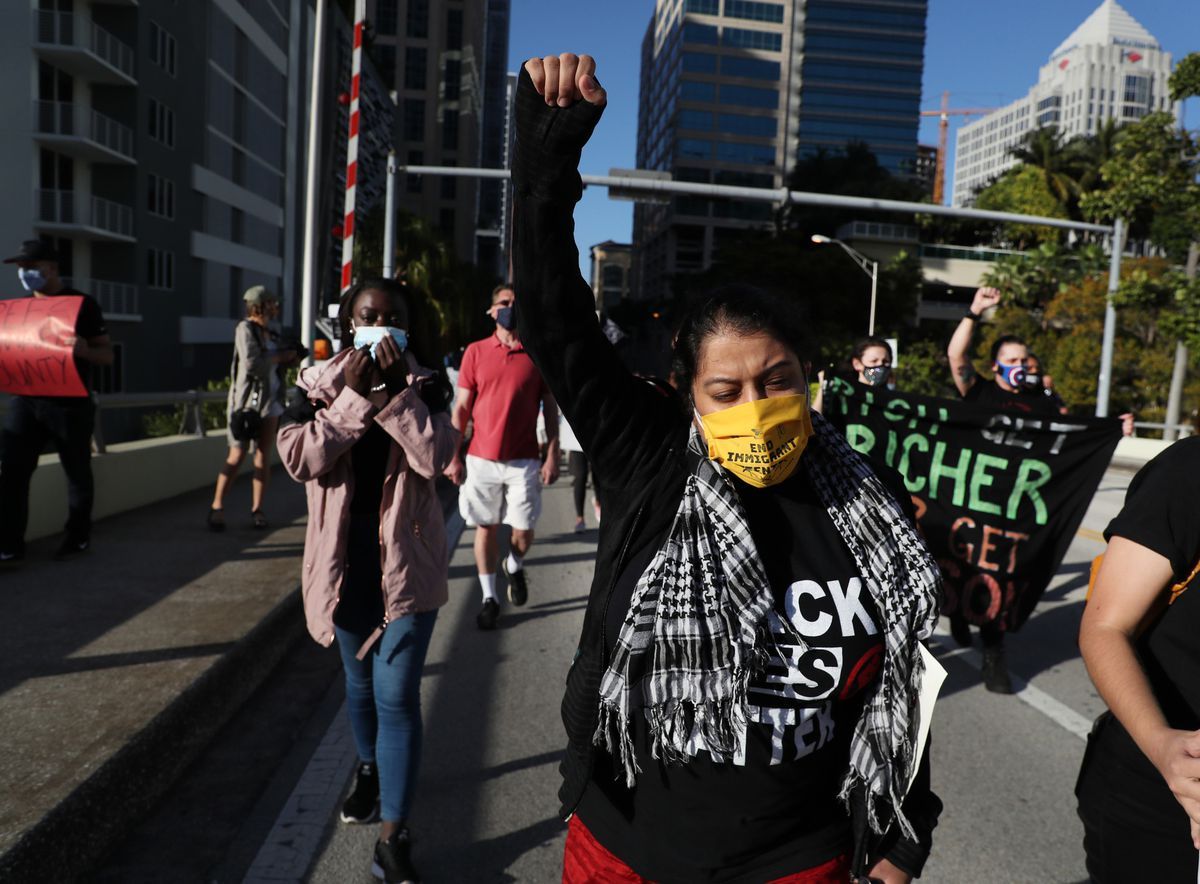 "Residents outraged after violent weekend in South Beach. Mayor asks city for a plan." via Martin Vassolo of the Miami Herald — Following a violent weekend in South Beach, frustrated residents flooded social media groups to say they don't feel safe in Miami Beach and contacted city leaders, urging them to fix the crime problem. Three tourists were targeted by an armed robber Friday and three others were shot Sunday in incidents that outraged residents and politicians alike. Mayor Dan Gelber released a statement Monday saying he was "sick and tired" of the crime in South Beach and asked the city manager to "come up with measures that will have an impact in the short term." … "I've asked the manager to lay out whatever it takes for short-term and long-term actions," Gelber said. "Everything needs to be on the table. Everything."
"$10 million goal met to save 44 acres in Pinellas from development" via Tracey McManus of the Tampa Bay Times — It started in August as a long-shot plea from Bob Hackworth. The former Dunedin Mayor was frustrated that city and county officials had failed to act on earlier interest in 44 acres of environmentally-sensitive woods left by his late stepmother Gladys Douglas. By then, a housing developer was closing in on one of the last green spaces in the most densely populated county in the state. As the developer walked away in October, residents banded together through social media, sign-waving rallies, fundraisers, T-shirt sales and relentless pestering of elected officials. The city of Dunedin and Pinellas County forked over a combined $5.5 million toward the $10 million asking price. Private donations flooded in.
"Pensacola public waterfront areas damaged by Hurricane Sally may not reopen until summer" via Jim Little of the Pensacola News Journal — More than four months after Hurricane Sally, Pensacola's public waterfront areas remain closed to the public — and will likely remain closed until the summer — as the city works through the Federal Emergency Management Agency to pay for repairs. Pensacola's Public Works Department is overseeing 10 major capital projects to repair the damage from Hurricane Sally, totaling at least $6 million. Eight of the 10 projects involve public waterfront properties, according to information provided by city spokeswoman Kaycee Lagarde.
"Marco police, fire chiefs placed on leave as city investigates access to Eventbrite vaccine system" via Omar Rodríguez Ortiz of the Naples Daily News — Marco Island Police Chief Tracy L. Frazzano and Marco Island Fire-Rescue Chief Christopher Byrne have been placed on administrative leave pending an investigation related to the Eventbrite vaccine registration system. The allegations involve "access and use" of the registration system, the city announced in a news release late Monday afternoon. The city of Marco Island told vaccine-seekers to use the Eventbrite system last week to schedule an appointment to get one of 200 available vaccine doses. The city's website, which linked to the Eventbrite system, crashed under the demand for doses. "City Manager Mike McNees will continue the investigation over the next 48 hours before determining if disciplinary action is warranted," the city reported.
"Volusia County is the test ground on stopping developers" via Mike Synan of Florida Daily — Volusia County voters elected Jeff Brower as their new County Commission chair in November with a simple promise: slow the growth in the rapidly expanding county. Within his first month in office, a key piece of property may signal whether or not Brower will be able to keep his promises and persuade a council that rarely says no to new development. Brower said his mission is simple. "The mandate that I got was, please do something about overdevelopment that is dredging, draining, filling in, and paving over the wetlands that keep our waterways clean, and also bulldozing all over our green spaces," Brower said.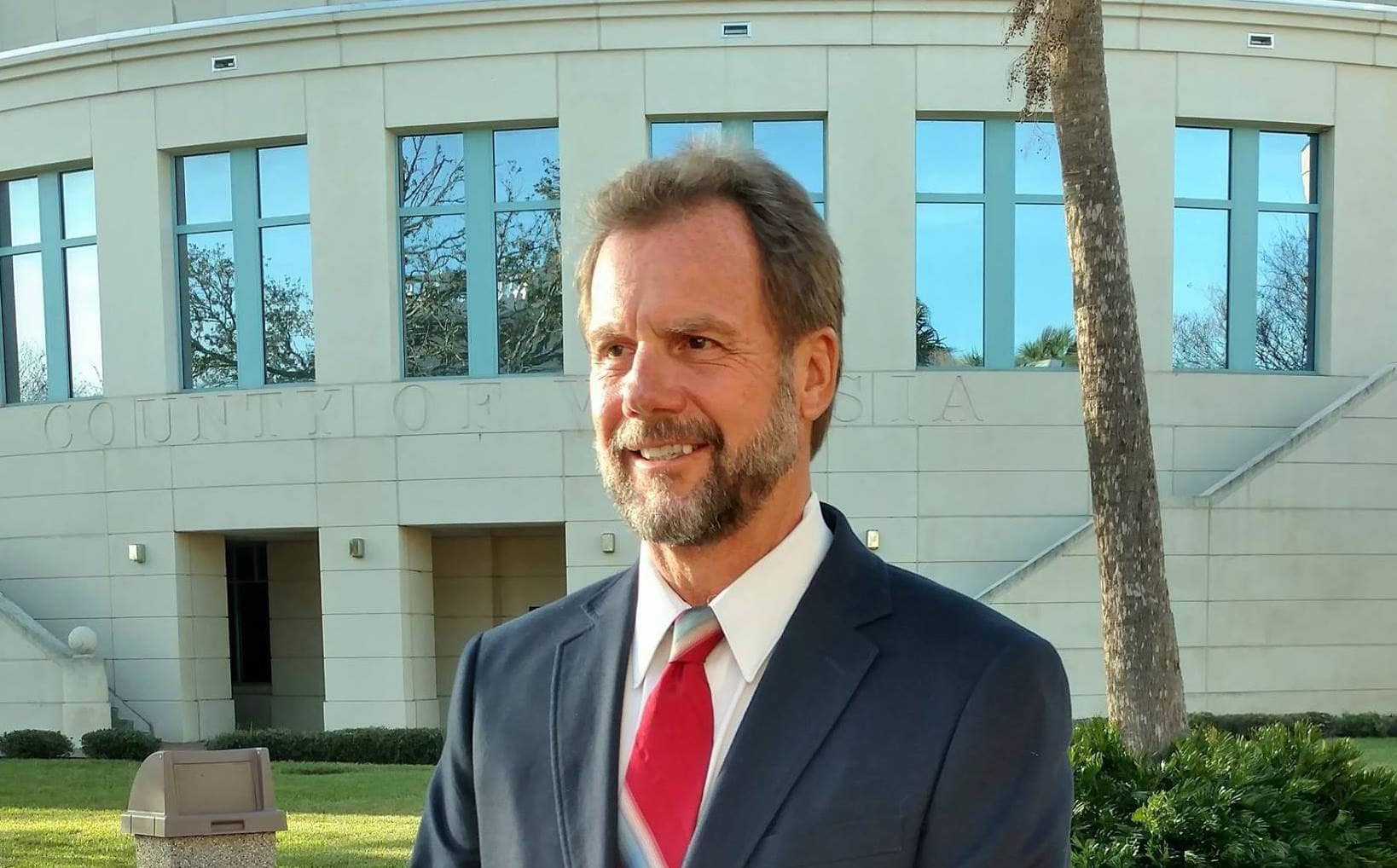 First on #FlaPol — "Tampa Electric requests rate adjustment to increase generation of clean, green energy" via Peter Schorsch of Florida Politics — Tampa Electric Monday morning filed a letter with the Florida Public Service Commission (PSC) notifying the regulator its intent to file a formal rate case application this Spring. With the request, Tampa Electric outlines its plan to increase the generation of clean, green energy and reduce carbon emissions through the modernization of Big Bend Power Station and additional solar projects. "We are proud of the cleaner, greener company we're becoming, and we know that the investments we are planning are necessary to deliver additional benefits over time," said Nancy Tower, president and chief executive officer of Tampa Electric.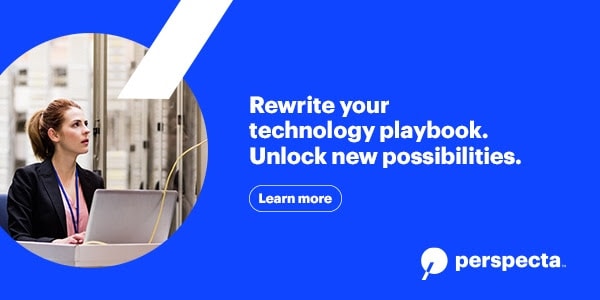 — TOP OPINION —
"The case for compromise on COVID relief" via the Bloomberg editorial board — In weighing how to advance his new COVID relief package, Biden is wrestling with a dilemma. Does he press as quickly as possible, with or without Republican cooperation, or does he seek compromise, risking both delay and a dilution of his proposals? With the question posed this way, many Democrats think the answer is obvious: Bipartisan progress is a mirage, so just do what's necessary. They should think again. Yesterday, 10 Senate Republicans proposed an alternative plan and Biden has agreed to meet them to discuss it. They appear to have a total outlay of $600 billion in mind. That's too little to meet current needs, but it's a basis for discussion and Biden is right to hear it.
— OPINIONS —
"Before 2024, we had better fix the election law failings we saw last year" via The Washington Post editorial board — Now that Biden is in the Oval Office, it may be tempting to forget the election-law failings we saw in 2020. That would be a historic mistake; those weaknesses must be addressed before the next presidential race. Many Republicans, meanwhile, want to take the wrong lessons from 2020, making it harder to vote rather than easier and safer. This, too, would be a tragic error. The needed reckoning should be thoughtful, extensive and ambitious — and it will cost money.
"In Florida, flexible education paves the way for promising futures" via Kamden Kuhn for the Tampa Bay Times — When we adopted our son Malachi from an orphanage in Ethiopia five years ago, we didn't fully understand the depth of the challenges a child with special needs faced. Florida's Gardiner Scholarship and its flexible spending has helped us overcome some of those obstacles. Born with spina bifida, Malachi had limited access to both health care and education in Ethiopia. His caregivers did the best they could with what little they had. Blessed with plenty, my husband and I wanted to play a very small role in Ethiopia's orphan crisis by helping just one child receive the education, health care and family that he deserved.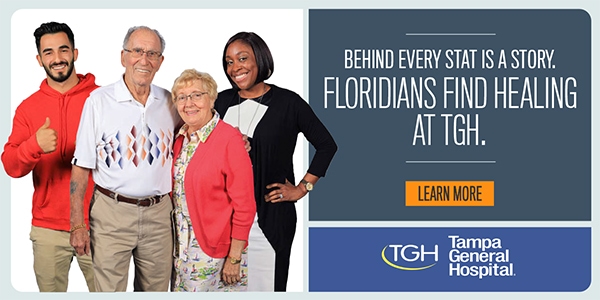 — ON TODAY'S SUNRISE —
Three Tampa Bay-area lawmakers are teaming up on bills calling for changes in the state's eviction process. As many as one million Floridians face eviction as a result of the COVID-19 pandemic.
Also, on today's Sunrise:
— January was the worst month on record for the number of COVID-19 fatalities and newly confirmed cases reported in Florida, but the Governor says the trends are looking much better.
— The state reported 214 more fatalities Monday. There were also 5,700 new cases, the lowest one-day total so far this year.
— Two members of Congress from South Florida are calling to strip newly elected Congresswoman Marjorie Taylor Greene of Georgia of her committee assignments for some of the crazy things she's said on social media, and in real life.
— Among other things, Greene says the shooting at Stoneman Douglas High three years ago was a government hoax. Fred Guttenberg says she owes him and the other Parkland parents an apology — and a resignation.
— And finally, a Florida Man was arrested for stealing a poodle after delivering a pizza.
To listen, click on the image below:
— ALOE —
"MLB to start on time after players reject delay" via Ronald Blum of The Associated Press — Major League Baseball will proceed with an on-time start to spring training and the season after players rejected a plan Monday night to delay reporting by a more than a month. "In light of the MLBPA's rejection of our proposal, and their refusal to counter our revised offer this afternoon, we are moving forward and instructing our clubs to report for an on-time start to spring training and the championship season, subject to reaching an agreement on health and safety protocols," MLB said in a statement.
"SpaceX announces 1st all-civilian crew, set to launch from Florida's Kennedy Space Center this year" via Caroline Glenn of the Orlando Sentinel — SpaceX announced on Monday that later this year, it intends to launch the first-ever all-civilian crew into space, signifying the coming shift from astronauts-only space exploration. The historic undertaking, which SpaceX has dubbed Inspiration4, will include four passengers, including 37-year-old billionaire Jared Isaacman and three others paid for by Isaacman. Chief executive of Shift4, which sells credit-card-processing terminals and point-of-sale systems, Isaacman is also a fighter jet pilot and founder of Draken International, which trains military pilots. The mission is tentatively scheduled for October from Kennedy Space Center's 39A launchpad. "This is an important milestone toward enabling access to space for everyone," SpaceX founder Elon Musk said on a call with reporters.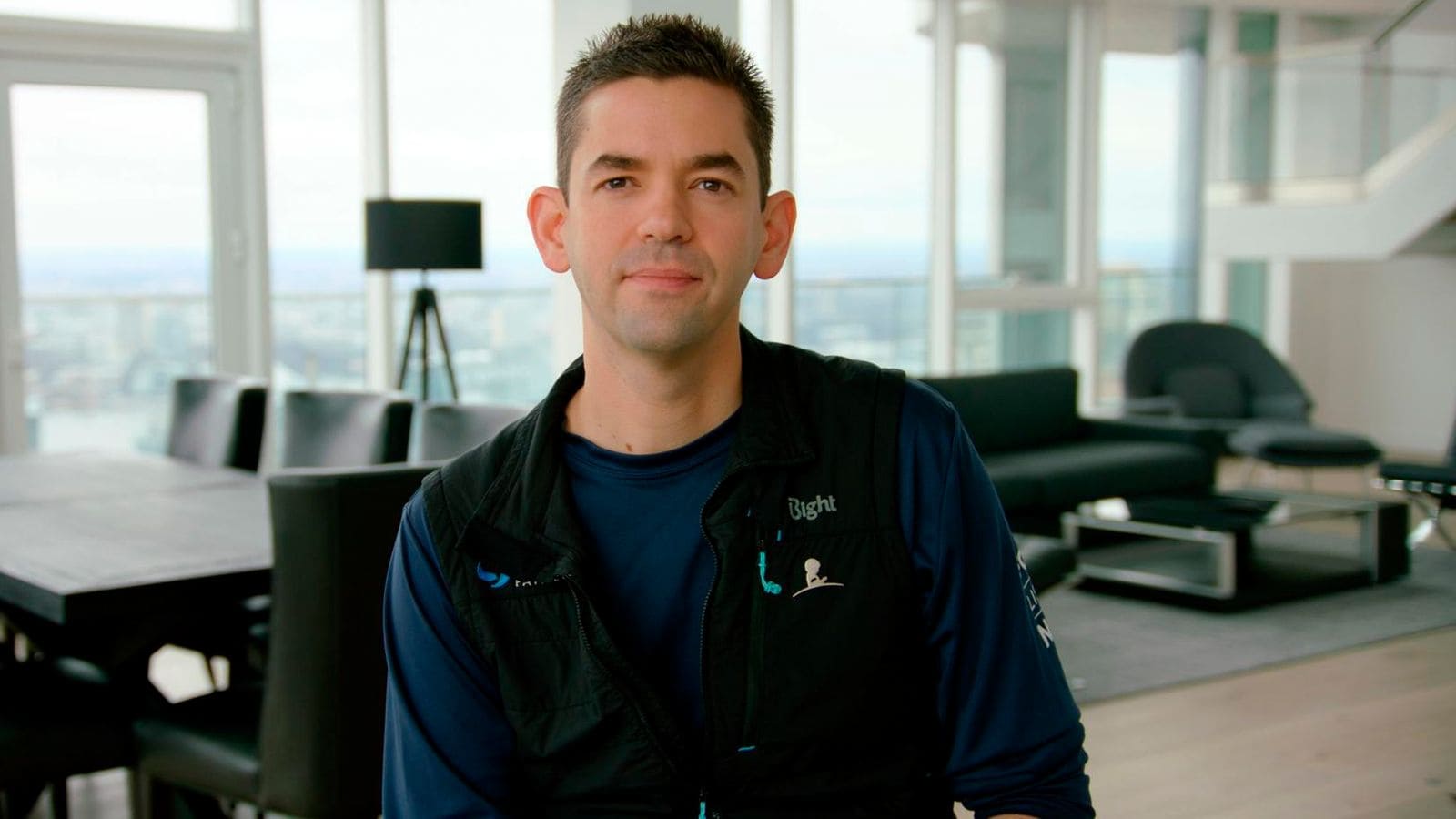 What Melissa Seixas is reading — "Duke Energy makes Fortune's 'World's Most Admired Companies' list — again" via Drew Wilson of Florida Politics — Duke Energy is once again one of the most admired companies in the world, according to Fortune magazine. The publication's updated "World's Most Admired Companies" list ranks Duke Energy as the No. 131 most-admired company and the No. 7 within the utility sector. Duke Energy has been a staple in the Fortune ranking, appearing for four years running. The ranking is based on an independent survey of executives, directors and industry analysts. Companies are rated on nine attributes: innovation, people management, use of corporate assets, social responsibility, quality of management, financial soundness, long-term investment, quality of products/services and global competitiveness.
"Universal: Blue Man Group won't reopen in Orlando" via Dewayne Bevil of the Orlando Sentinel — Blue Man Group's production at Universal Orlando has closed for good. "Blue Man Group will not be returning to Universal Orlando as we move to adjust our entertainment for the future," the resort said a statement. "For more than a decade, Blue Man Group has brought its unique style of entertainment to our guests — and we are grateful for the chance to have been home to their Orlando show." On its social media accounts, Blue Man Groups thanked the Orlando cast, crew and staff. It said more than 6,000 shows had been performed at Universal since 2006. Universal Orlando had no comment on what that space would be used for in the future.
— SUPER BOWL —
"28 Tampa Bay nonprofits get $10,000 each from Super Bowl program" via Divya Kumar of the Tampa Bay Times — For some local nonprofits, a Super Bowl win came early. Twenty-eight of them have received $10,000 awards, each pledging to do work that will leave a mark on the community long after the big game is over. The funding comes courtesy of Forever 55, an initiative by the Tampa Bay Super Bowl LV Host Committee and the NFL. The money is being distributed in microgrants, which are one-time awards designed to address a local problem, often involving underserved communities. This year more than 200 applicants tried for the grants, said Claire Lessinger, the host committee's chief operating officer.
"His team is going to the Super Bowl. He's staying on the coronavirus front lines." via Adam Kilgore of The Washington Post — When his boss called the staff together, Laurent Duvernay-Tardif took his seat in the chapel, dressed in scrubs and surrounded by nurses and orderlies. Months earlier, Duvernay-Tardif had stood on the grass field at Hard Rock Stadium, hoisting the Lombardi Trophy amid red and yellow confetti. As an offensive lineman for the Kansas City Chiefs, Duvernay-Tardif blocked for Patrick Mahomes in Super Bowl LIV and celebrated in front of more than 62,000 fans. Now, surrounded by nervous and exhausted colleagues at an 8:30 a.m. staff meeting, he listened to a somber update.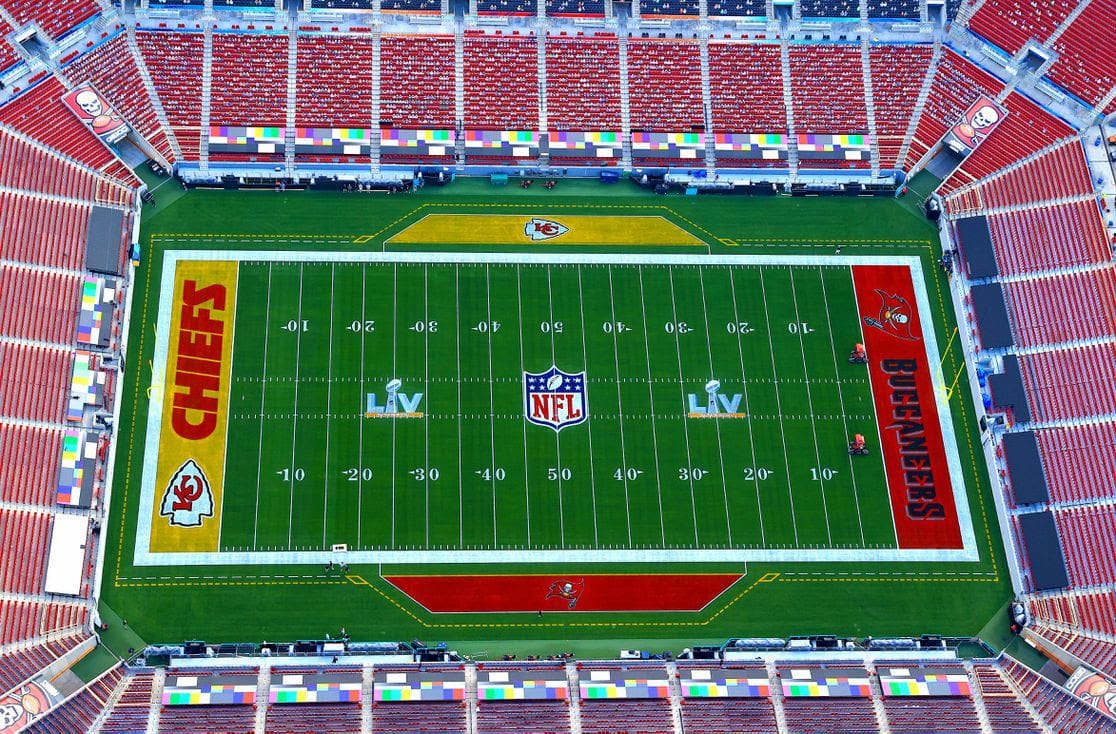 "Super rematch: Tyreek Hill burned Bucs repeatedly in 1st meeting" via Mark Long of The Associated Press — Hill sprinted past cornerback Carlton Davis again, caught the ball in stride, and then cut so sharply that safety Mike Edwards ended up flailing at him with one arm near the sideline. Hill casually jogged a few more yards before pausing at the goal line and doing a back-flip into the end zone. It was the second and most impressive of three scores for Hill, the star of Kansas City's 27-24 victory at Tampa Bay in Week 12. Hill finished with 13 receptions for 269 yards — both career highs — and proved to be a mismatch for Davis and the Buccaneers. Tampa Bay gets another shot at Hill and the Chiefs in the Super Bowl next Sunday.
"Ready, set, show: Hill offers to race Bucs' Scotty Miller" via The Associated Press — Kansas City Chiefs star Hill wants to be the Super Bowl halftime show. Hill said Monday he'd be willing to race Tampa Bay receiver Miller during intermission at Raymond James Stadium on Sunday. Miller raised eyebrows last week when he said he believes he would win a one-on-one footrace with Hill, considered one of the fastest players in the NFL. "I'm taking me every day of the week," Miller told The Dan Patrick Show. "I'll take me over anybody. Tyreek is unbelievable, super quick, unbelievable talent. But if we're talking about a race, I've got all the confidence in myself going up against anybody." Hill was given several chances to challenge Miller's assertion, but he declined each time.
— HAPPY BIRTHDAY —
Best wishes to one of Florida's best lobbyists, our friend and Fulton and Anna's mom, Katie Webb of Colodny Fass. Also celebrating today are Matt Bogdanoff and Eric Jontz.
___
Sunburn is authored and assembled by Peter Schorsch, Phil Ammann, A.G. Gancarski, Renzo Downey and Drew Wilson