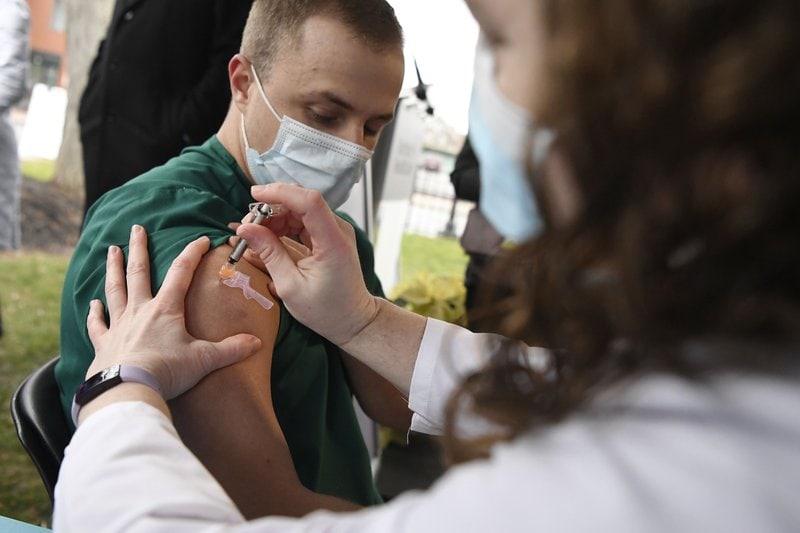 Florida is restarting a drive-thru vaccination site in The Villages.
With 41,000 additional COVID-19 vaccine doses coming to Florida this week, Gov. Ron DeSantis is announcing new and renewed programs to distribute shots to the state's older population.
The state will receive about 307,000 doses this week, up from the weekly average of 266,000 the state received for most of January. Florida administered more than 400,000 doses one week last month, proving the state has the capacity to handle more shots than it is currently receiving.
Florida is reopening a drive-thru site in The Villages, which will vaccinate 4,000 people weekly on a "permanent" basis, as long as doses continue arriving at the new rate. A "pod" in Sun City Center will begin administering 5,000 doses each week, and one site in Broward County will offer 3,500 shots weekly.
The Sunshine State is also earmarking 1,500 doses for "homebound seniors."
"You have folks who many not be able to go to a drive-thru site, may not even be able to go to the grocery store or the hospital, so those are folks that we want to be able to provide vaccines for," DeSantis said.
State health officials are battling a narrative that the state is leaving minority communities behind in the vaccine rollout. Division of Emergency Management Director Jared Moskowitz pushed back against that claim Thursday, pointing to vaccination partnerships with houses of worship, an effort focused in Black and Brown communities.
"I'm pretty sure that a church has opened up in almost every district of the Black Caucus here in the state of Florida," Moskowitz said. "We're going to do 30 more of those this week."
DeSantis added Monday: "There's not any type of racial discrimination. They're not accounting for race. It's all based on age, regardless of any of that. That's obviously the way it needs to be."
Florida is adding vaccination programs at 23 houses of worship this week, the Governor told reporters. The partnership with houses of worship has been successful, he added.
"I think you've gotten a lot of buy-in from the parishioners partially because it's not some wild-eyed public health bureaucrat shaking their finger at them telling them to get it," DeSantis said. "It's someone that they trust, having a pastor, having these people that they know."
The Governor also expounded on vaccine formulas that could soon receive federal approval, including Johnson & Johnson's formula.
The pharmaceutical giant's preliminary findings suggest the single-dose option may not be as strong as Pfizer's or Moderna's two-dose formula, and was markedly weaker against the mutated version of the virus in South Africa.
DeSantis told reporters he was initially disappointed by the findings, but his optimism returned after learning that the vaccine nearly perfectly prevented hospitalization and death. Additionally, the Johnson & Johnson vaccine only requires one dose, unlike Pfizer's and Moderna's.
"If you have something that will rule out fatalities and rule out, for all intents and purposes, people even being admitted to hospitals, that is a successful vaccine. Sign me up for that," he said.
AstraZeneca's formula is being used successfully in the United Kingdom, and the Governor wants the United States to factor the vaccine's efficacy across the pond into approval domestically.
"I just wonder why not try to get that on a fast track so that could be yet another option," he said.
As of Sunday morning, 1.7 million people have tested positive in Florida, and 27,129 people have died. Nearly 1.7 million people have received a vaccine in Florida, including 1.2 million people 65 years old and older.
New cases and hospitalizations are declining in Florida, possibly because of seasonal trends and community immunity and despite, DeSantis says, the state remaining open.
"I think 'Seniors First' is part of that, but I can tell you this, the more seniors we vaccinate, the lower that hospitalization number is going," he said.