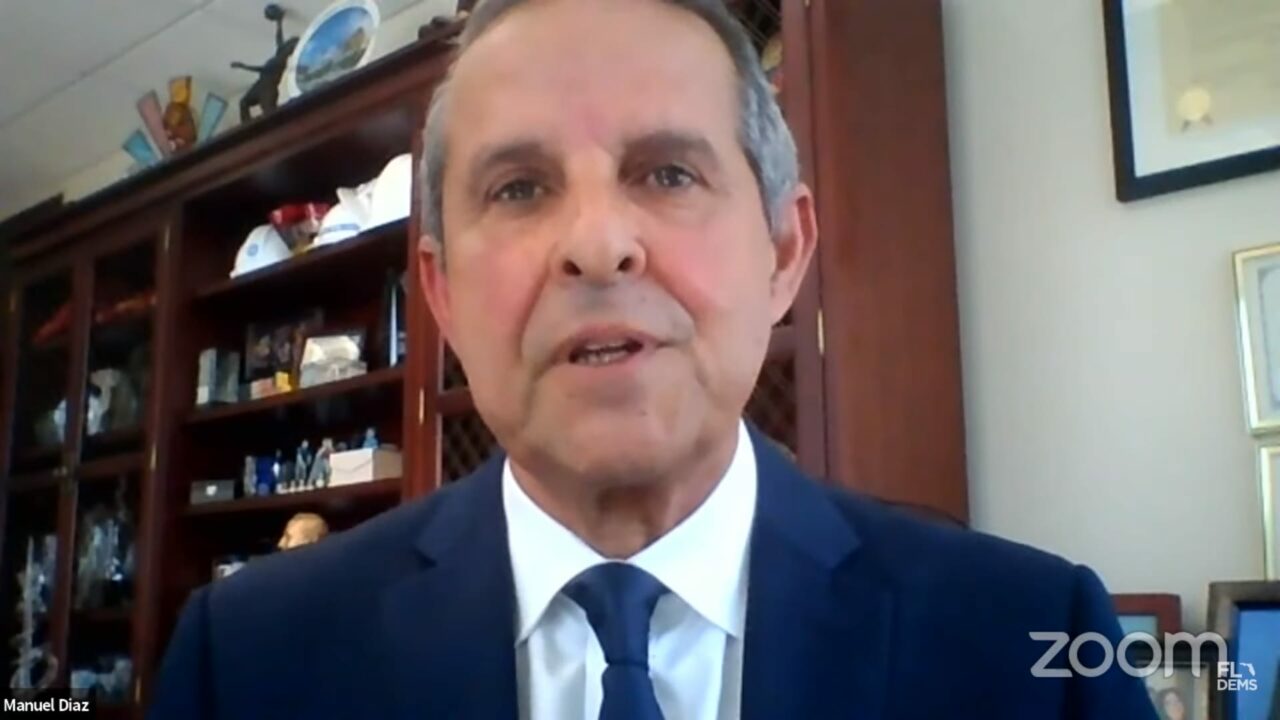 Employees health claims will be paid, but Dems' financial condition 'is poor,' Diaz said.
Florida Democrats have salvaged health insurance coverage for the state Party's staff, making it retroactive to the day it lapsed, new Chair Manny A. Diaz told current and former staff members Tuesday night.
"I am happy to announce that as of midnight tonight, our group policy will be reinstated retroactively to 12/1/20 as if there was never any lapse in coverage. Employee claims, including those made during the cancellation period, will now be recovered," Diaz said in a memo to the Florida Democratic Party staff Wednesday evening.
Diaz was responding to the most inhumane part of a financial crisis he inherited when he succeeded Terrie Rizzo as state party chair on Jan. 10. The corporation that actually employs the staff, the federal entity known as the Democratic Executive Committee of Florida,  went broke last fall and, unbeknown to most staff, party officials and the public, stopped paying its bills.
So Blue Cross and Blue Shield of Florida canceled the party's health insurance policy after Nov. 30.
This was not publicly revealed until Monday when Diaz acknowledged it in an interview with Florida Politics. Later Monday, POLITICO reported the human toll: employees also were not informed, and some were slapped with unexpected, huge medical bills — including one, Catherine Thériault, who was hit with bills of around $50,000 — when their insurance coverage claims were denied.
After both articles were published, Rizzo issued a statement to POLITICO.
"It's important to know that the insurance was never canceled — by me or any of the past leadership team," she said. "The party had the funds to pay the November health insurance bill, we paid it, and I have only recently been told that there was a delay in the check being applied, but the insurance provider is sending out a letter explaining that all policies will be honored and the January report will reflect that."
Diaz, the former Miami Mayor who was elected state chair last month, vowed Monday the party would get the policy reinstated and the employees covered.
On Tuesday, he announced the party had done so.
He still has the financial crisis to deal with, among other problems in the party. The end-of-the-year report, filed with the Federal Election Commission Sunday to outline the party's finances through Dec. 31,  showed Florida Democrats had just $60,930 in the bank and $868,599 in unplayable bills.
Most of that debt, $526,892, was owed to Blue Cross and Blue Shield of Florida, as of Dec. 31. It was unclear Tuesday night how much, if any of that, remains.
There were other debts, liquor bills, consulting contracts, and reimbursements of campaign contributions that had been improperly given and received and must be paid back. Those were topped by $100,000 owed to Jeffrey C. Walker, of New York City.
Diaz's memo to the staff Tuesday night, obtained by Florida Politics and confirmed by Diaz, did not detail the broader finances.
However, he advised that "the financial condition of our party is poor."
Diaz already had laid off most of the staff and made cuts, from subscriptions to consultants' contracts.
"When I took over just three weeks ago, I could not have imagined the extent of debt and operational dysfunction that existed in our party structure," his memo states. "In those weeks, I have committed my time to getting a firm and complete grasp of the situation, lowering our overhead and putting in place policies and procedures that will help us avoid getting to this place ever again."
Beyond the financial hole, Diaz must also find a way to make the party competitive with the Republican Party of Florida, which thoroughly dominated all competitive major elections in Florida in 2020. Republicans have no similar financial difficulties. According to its latest report with the FEC, the Republican Party of Florida ended the year with no debt and a cash-on-hand balance of $5,836,788.