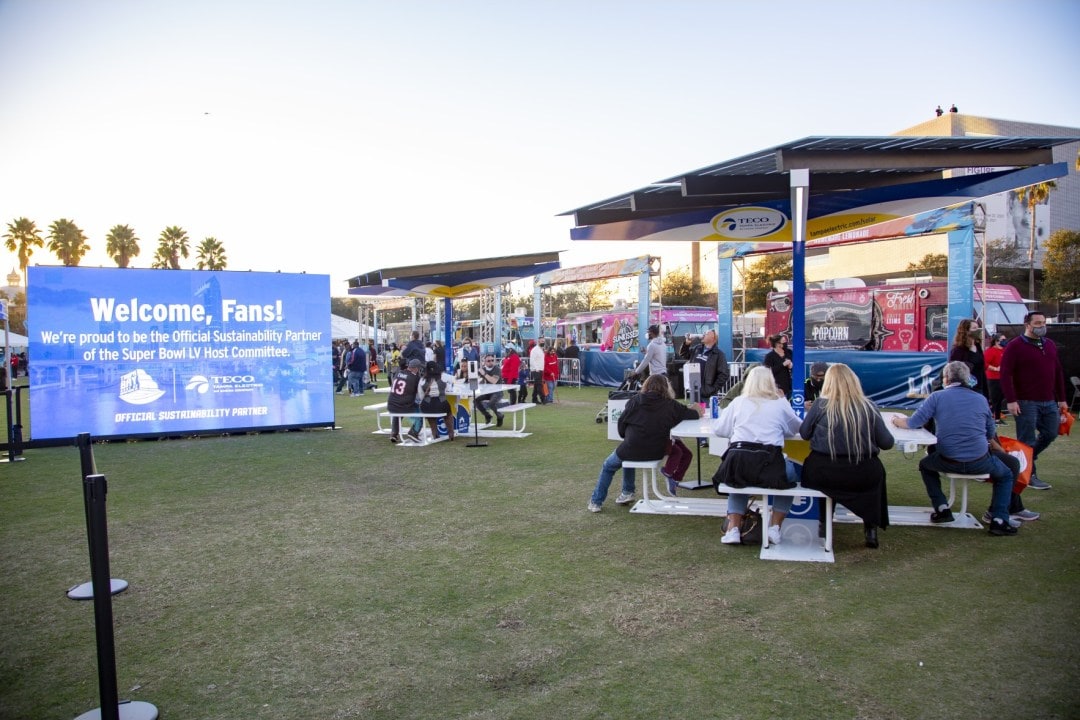 Tampa Electric is on stage this weekend.
When the Super Bowl comes to town, it's the community leaders' time to shine, and Tampa Electric is on stage this weekend.
Tampa Electric is the official sustainability partner of the Super Bowl LV Host Committee. Together, Tampa Electric and the Super Bowl Host Committee are working to ensure Super Bowl-related related events align with sustainable environmental practices.
As part of Tampa Electric's Super Bowl sustainability program, Tampa Electric will use its Sun to Go program solar blocks to help power the Super Bowl.
"Tampa Electric is committed to protecting and preserving our environment, which we demonstrate as the state's top producer of solar energy per customer," said Rene Gallant, vice president of strategy and business development for Tampa Electric. "We look forward to the opportunity to educate the community about clean energy and creating a greener future, as well as supporting community greening projects which will help preserve our natural wildlife and resources."
In addition, Tampa Electric has installed solar picnic tables in three locations across downtown Tampa. These Solar Zones are located at Curtis Hixon Park, the NFL experience and the Technology Park, and serve as recharge stations.
Tampa Electric's picnic tables use solar panels to capture solar energy while providing shaded seating for visitors. Individuals benefit directly from the picnic table's solar energy as each table has four 110v outlets and four USB outlets for device charging.
Tampa Electric announced just last month its plans to double the number of homes it powers by solar energy from 100,000 to 200,000 by 2023.
The utility brought the Durrance Solar project online on January 1, making Tampa Electric the Florida utility with the most solar power. The 60-megawatt project in Polk County is Tampa Electric's 10th utility-scale photovoltaic solar project.
But Tampa Electric is not stopping there. It has already begun construction on the next wave of 600 MW of solar, with four projects totaling 225 MW scheduled to be complete by the end of 2021. Upon completion, Tampa Electric projects will produce enough solar energy to power 200,000 Florida homes. This carbon reduction resulting from this effort is equivalent to the removal of one million cars from the roads.
Tune in this weekend as the Tampa Bay Buccaneers take on the Kansas City Chiefs this Sunday, February 7, in Tampa.