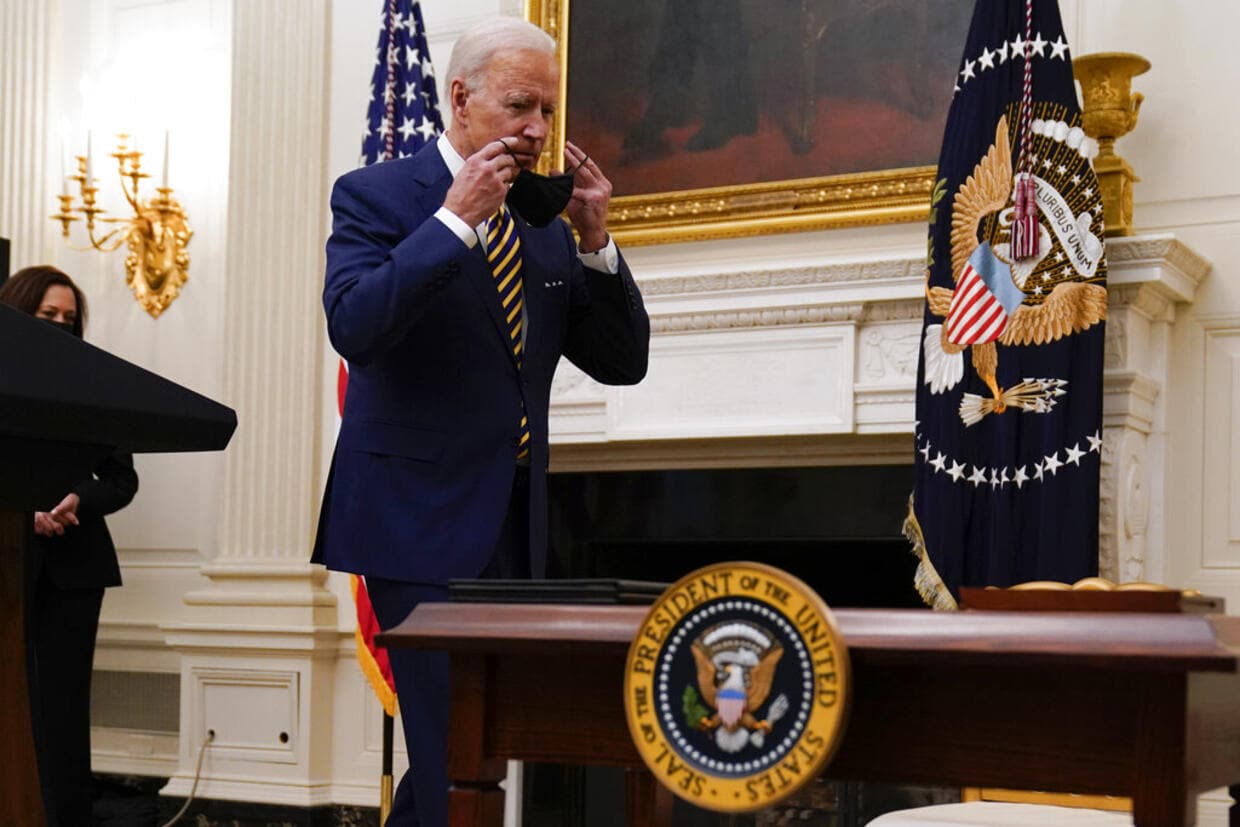 The President says 'celebrate and party' ... next year.
The White House Press Secretary said Monday that the President of the United States was "concerned" about the potential effects of Super Bowl revelers this weekend in Tampa.
The comments were in response to a reporter's question.
"Certainly. I haven't spoken to him specifically about the events of this weekend. He, of course, did a PSA yesterday with Dr. Jill Biden making it clear that social distancing, that mask wearing, that getting the vaccine when you have the opportunity to get the vaccine are vital steps to keeping more Americans safe and saving more lives," asserted Press Secretary Jen Psaki in her White House briefing Monday.
"We know the Super Bowl looked not like — different from what it has in the past, and he also conveyed that he's hopeful that next year will be a moment when everybody can celebrate and party," Psaki added. "He is, of course, concerned when there are pictures and photos that show many, many people without masks in close distance with one another at the height of a pandemic."
The reaction from the Joe Biden White House was the latest expression of official disappointment at the spectacle of thousands of people forsaking masks, social distancing, and other pandemic precautions as Tampa's Super Bowl appearance approached and victory for the home team, the first ever, was secured.
Tampa Mayor Jane Castor expressed angst at a press conference Monday.
"It is a little frustrating because we have worked so hard," Castor said during a wrap-up event with the Super Bowl Host Committee, as reported by the Associated Press. "At this point in dealing with COVID-19, there is a level of frustration when you see that."
While Castor did issue an indoor and outdoor mask order, there was no enforcement mechanism, and the shots of a crowded Ybor City, teeming with maskless revelers, became fodder for quote tweets and other social media outrage.
While Democrats are speaking up about potential consequences of mask-free partying, Republicans, including Florida's Governor, have been silent.
While Gov. Ron DeSantis spent some time on Monday discussing the Super Bowl victory during a press conference in Miami at the Bay of Pigs Museum, reporters didn't ask him nor did he volunteer an opinion about people deciding to hazard the risk of going maskless.
Of course, DeSantis, who was photographed at the game in a luxury box having an up close conversation with another maskless middle aged man, wasn't abiding by mask ordinances either.
The Governor defended that decision Monday to POLITICO's Marc Caputo.
"How the hell am I going to be able to drink a beer with a mask on? Come on. I had to watch the Bucs win."
COVID concerns, meanwhile, will delay the Tampa Bay Buccaneers' White House trip. Psaki said that would happen  "when it is COVID safe."