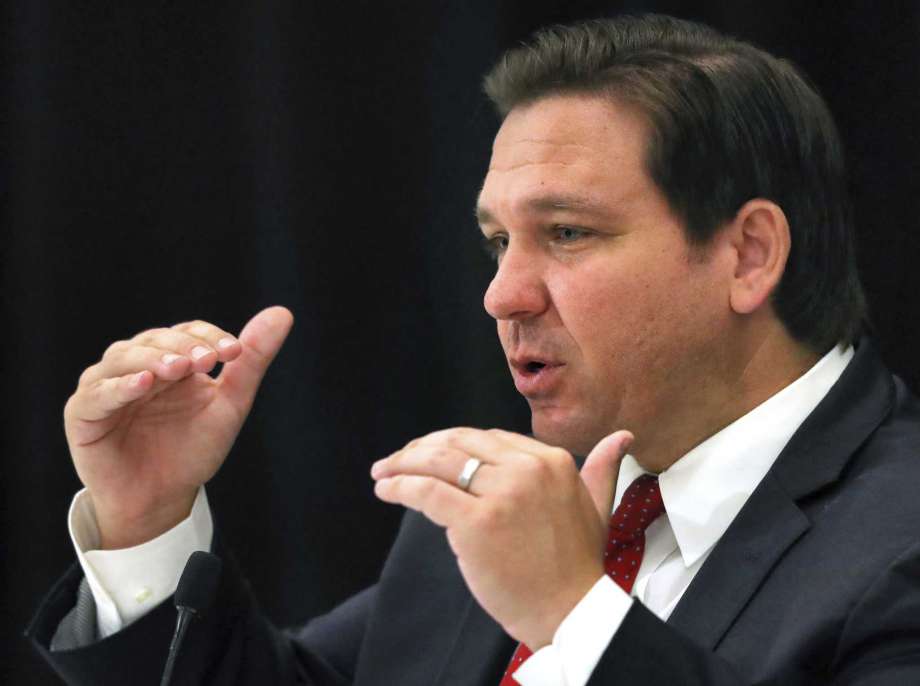 DeSantis offers tribute to a man who helped him along the way.
In West Palm Beach Friday, Gov. Ron DeSantis confirmed expectations that he would order flags to half staff to memorialize the death of radio talk show host Rush Limbaugh, who was a Florida resident.
The lowering will happen when funeral arrangements are announced, which DeSantis spokesperson Meredith Beatrice confirmed was protocol.
For those tracking the Governor's messaging in the days since the conservative talk show host died of lung cancer on Ash Wednesday, the lowering of the flag represents tribute, recognition, and respect for the man regarded by many as the standard bearer of American conservatism.
DeSantis, during an appearance on "Fox and Friends" Thursday, credited the just-deceased radio talk titan with helping him reach voters and ultimately win the Governor's race.
"He had me on when I was running for Governor," DeSantis said. "I was getting the tar kicked out of me every day and he had me on the week before the election in 2018. He didn't have a lot of guests. I was honored to be on his show a couple of times."
Hours before, DeSantis showed up on the Laura Ingraham show Wednesday night, describing Limbaugh as "the Babe Ruth of radio" and offering a unique insight into the more performative nature of the craft of the conservative commentator.
"He would have been great in radio even without the conservative thing. He's just that talented. Obviously he was a conservative icon up there with (Antonin) Scalia, (Ronald) Reagan, and (William F.) Buckley," DeSantis said, invoking the conservative trinity of the former Supreme Court Justice, the Republican President of the 1980s, and the father of the postwar conservative movement.
Describing Limbaugh as a "personal friend" and a "warm and decent man," DeSantis said that he was "proud that [Limbaugh] was in the Southern Command down in Florida for so long."
Announcing the lowering of the flags came at an event flush with enthusiastic partisans. DeSantis clearly timed it to please a stacked crowd, showing that while Limbaugh may have passed on, his legacy is alive and well in the Governor's Mansion.
Democrats, including a potential 2022 opponent, were roiled.
"DeSantis is lowering Florida's flags to half–staff for Rush Limbaugh. But he had no words for Congressman John Lewis. Priorities," tweeted Agriculture Commissioner Nikki Fried Friday. 
2018 gubernatorial candidate Gwen Graham posed the question: "How dare you lower Florida flags for a racist?"
South Florida Congressman Ted Deutch blasted the "disgusting" decision by DeSantis as "embarrassing to our state."
"Lowering the flag of the United States is a high honor reserved for those who have honorably and bravely served our state and our nation. Unfortunately, Governor DeSantis has now transformed this distinction into a partisan political tool to salute a man who served no other interests than his own and did his best to deeply divide a country along political fault lines," said Senate Democratic Leader Gary Farmer, who added the move "should be rescinded."
Sen. Annette Taddeo questioned the legality of the proposal, wondering how Limbaugh qualified for the honor.
"How does a man like Rush Limbaugh, that spewed bigotry & blatant racism to anyone that would listen, qualify under FL Flag rules? Either you didn't bother to know the rules or you just don't care!"
The Florida Senate Democrats likewise challenged the move.
"Rush Limbaugh met none of the Governor's office qualifications. He was not a former Governor or prominent U.S. or state official, he was not a member of military on active duty (in fact, he never served), and he was not law enforcement or a firefighter killed in the line of duty."
"Rush Limbaugh was a racist. Period. That's the tweet," added Rep. Angie Nixon, a state Representative from Jacksonville.