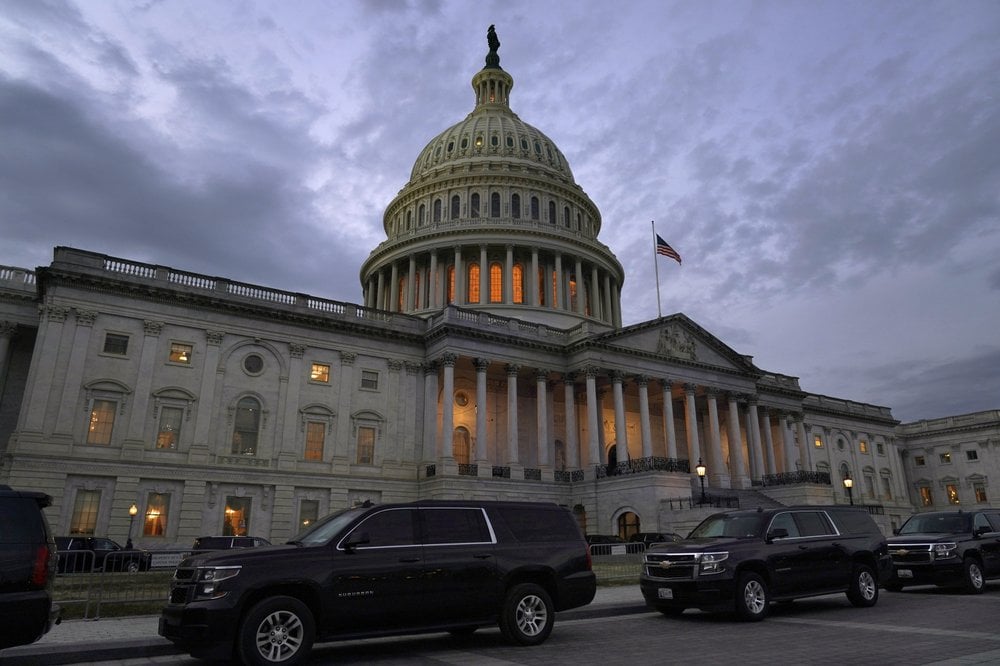 Congress meets Wednesday to certify Electoral College results.
The Florida Democratic Party is turning up the heat on Republican members of Congress as it relates to certifying the presidential election.
The party issued a missive querying 11 Republicans from Florida asking simply, will you do your job?
"Will you vote to uphold democracy and certify the General Election results tomorrow, Jan. 6, or will you stand on the side of autocracy and conspiracy theories?" the message reads.
The questioning was directed specifically at Sens. Marco Rubio and Rick Scott, and at Reps. Gus Bilirakis, Vern Buchanan, Mario Diaz-Balart, Neal Dunn, Carlos Gimenez, Maria Elvira Salazar, Greg Steube, Michael Waltz and Dan Webster.
None of those members had issued public statements about whether they will vote to certify Democrat Joe Biden's win over Donald Trump when the release went out. The Electoral College last month officially met and delivered Biden a 306-232 vote win.
"We know that many of your Republican colleagues, including members of the Florida delegation, have already said that they will be putting a Trump autocracy over country, but Floridians deserve to know if you will be supporting American democracy, or be voting in favor of autocracy."
Not long after Democrats sent out its message, one of those Republicans named said they will object to the Electoral College results. Rep. Michael Waltz, a St. Augustine Republican, tweeted he will "object to some of the electors because several states faced significant constitutional issues regarding officials or state courts changing elections rules set by state legislatures just months before the actual elections."
Eight Florida members of the House have already said they will vote against certifying the election.
New members of Congress Kat Cammack, Byron Donalds and Scott Franklin all say they will vote against certifying the results, claiming the House has not done enough to investigate irregularities in other states.
"There are many valid questions that have been raised about this process," Franklin said in a statement Monday. "That is why I joined many of my freshman colleagues in asking Speaker (Nancy) Pelosi to hold a hearing to look into discrepancies in the election process. Questioning this process is not without precedent. In 1969, 2001, 2005 and 2019, a challenge was raised and in both 1969 and 2005, a Democratic Senator joined with a Democratic House Member in forcing votes in both houses on whether to accept the presidential electors being challenged."
Franklin did not respond to a query Monday about which states lacked transparency.
Judges at all levels of court, up to the U.S. Supreme Court, have rejected arguments by Trump's legal team alleging voter fraud, that states ran improper elections and that entire slates of electors for states should be rejected.
Rep. Brian Mast, a Stuart Republican, also said he will vote against certifying the election.
Reps. Matt Gaetz and Bill Posey have said they will challenge the election and believe Trump won. They joined an amicus brief supporting a Texas lawsuit asking the Supreme Court to toss four states' slates of electors. Rep. John Rutherford, a Jacksonville Republican, said he will object as well.
Only three Florida Republican members of the House who were seated in the last Congress did not join the suit. One of those, Francis Rooney, has since retired from Congress, succeeded by Donalds. Mast was another.
Buchanan was the third, and when asked his position on certification by Florida Politics, he said he will hear arguments on the House floor before making any decision.
"For anyone who thinks Congress lacks the moral or constitutional authority to question the Electoral College certification, I refer you to Nancy Pelosi's statement in 2005 when she called such an action 'democracy at work,'" Buchanan said, referencing the Democratic Speaker of the House.
"Pelosi supported fellow Democrats who were challenging George W Bush's certification, saying, 'The representatives of the American people in this house are standing up for three fundamental American beliefs: the right to vote is sacred; that a representative has a duty to represent his or her constituents, and that the rule of law is the hallmark of our nation.' I intend to follow Wednesday's debate in Congress with Nancy's Pelosi's words in mind."
As for the Senators, neither Rubio nor Scott has voiced a direction for their votes, though 13 Republican Senators from other states say they will challenge the results. Notably, there is high pressure among the Florida Republican base for the Senators to vote no, with protestors showing up this week at both Senators' homes with that message.