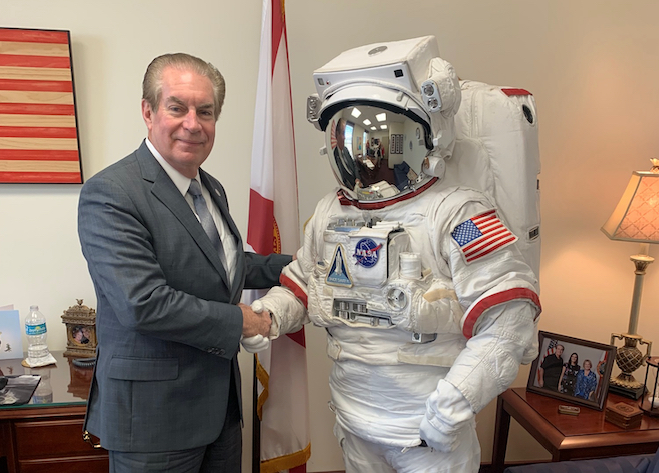 A proposed measure would add two seats to the board for lawmakers.
Florida's space business development agency could maybe use some legislative help.
At least that's the view of Sen. Tom Wright and Rep. Thad Altman, who've introduced bills that would expand the Space Florida Board of Directors to include members from the Senate and House of Representatives.
Wright said he would expect such seats to both help keep the Legislature apprised of Space Florida's work, and help Space Florida with its legislative needs.
"It kind of just came to our attention that there weren't any legislators at all on the Space Florida's board. And Space Florida is a state entity, and they do require large sums of money every year from the state," Wright said. "So we looked at it and somehow around 2010, having representatives from the Senate and the House on their board went away. And we don't know why. But it was done."
"It's good for oversight. It's good for cooperation. It's good dialogue. I don't see any downside," Altman said of restoring lawmakers to the group.
Wright's Senate Bill 1512 and Altman's House Bill 1201, both filed Monday, would expand the Space Florida Board of Directors to 15 members, from 13. Currently there are 12 members appointed by the Governor, the President of the Senate, and the Speaker of the House, plus the Governor has an ex-officio to chair the board, or the Governor's designee, who currently is Lt. Gov. Jeanette Nuñez.
Space Florida's reach and oversight are statewide, though much of it is focused on promoting and overseeing much of the now-burgeoning commercial space industry around Kennedy Space Center and Cape Canaveral Space Force Station.
Wright, a Republican from Port Orange, and Altman, a Republican from Indialantic, both represent large swaths of Florida's Space Coast.
There is nothing in HB 1512 or HB 1201 to assure that Space Coast lawmakers get the seats. For that matter, they might not want them. And both Altman, who previously served on the Space Florida board, and Wright suggested it might be better for other parts of the state to be represented on the board. The bill gives those decisions to the Senate President and the House Speaker.
"Neither one of us want to be appointed because we are overloaded and on so many committees now," Wright said. "We don't have any personal agendas."
There is a mixed bag of legislative seats on various quasi-public boards created by the Legislature. For example, Enterprise Florida has members from the Legislature, while VISIT Florida does not.