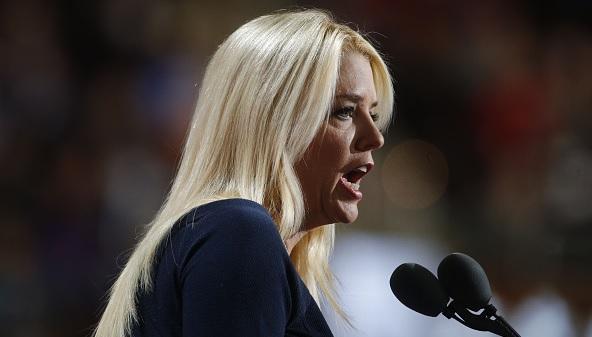 The former AG addressed a conservative gathering in Orlando Friday.
Former Florida Attorney General Pam Bondi addressed the topic of Freedom of Assembly Friday in Orlando, and used two very different examples to illustrate her point.
Bondi, addressing the crowd at the Conservative Political Action Conference sponsored by the American Conservative Union, invoked the civil rights movement of the mid-20th century and a White supremacist speaker at the University of Florida during her term in office.
Her point: that the freedom to assemble applied in either case, and that conservatives had a moral obligation to protect it.
Bondi described a meeting of the National Association for the Advancement of Colored People in Montgomery, Alabama more than 75 years ago, noting that authorities sought to thwart the freedom to assemble in that case.
"It was the NAACP," Bondi told the crowd. "It was a large hall that put white tablecloths on and they turned it into a meeting room. Women wearing beautiful dresses, men in suits, sitting there, discussing civil rights."
"They had to turn over business records, which they did, and they also wanted them to turn over every single member's name," Bondi exclaimed. "What would that have done? Jeopardized their safety, right? People could have lost their jobs. Families could have been injured. So they tried to stop them that way."
Bondi noted that the Supreme Court ruled in favor of the NAACP and the right to assemble.
The former Attorney General soon enough moved from people petitioning for their denied civil rights in a racist Deep South state to the example of Richard Spencer, a White nationalist speaker who was at the zenith of his prominence during Bondi's term as Attorney General when he controversially spoke at the University of Florida in Gainesville.
Many elected officials and aspirant 2018 candidates howled in protest ahead of the remarks, citing security concerns, but the Scott administration let the event go on.
"When I was Attorney General, Rick Scott was Governor. Sen. Scott now," Bondi said to scattered applause in the hall.
"It was my biggest responsibility to uphold the Constitution whether I agreed with it or not," Bondi contended. "I remember back in 2017, there was a person, and he was a horrible person. He was a White nationalist and he was going to speak at University of Florida, my alma mater."
The former AG did not speak Spencer's name, who actually was removed from a CPAC event held four years ago.
"What did we do? We knew there was going to be trouble. We didn't cancel him. We couldn't cancel him. As conservatives, we believe in the First Amendment."
The National Guard was on standby, and Bondi "went out and encouraged students not to attend."