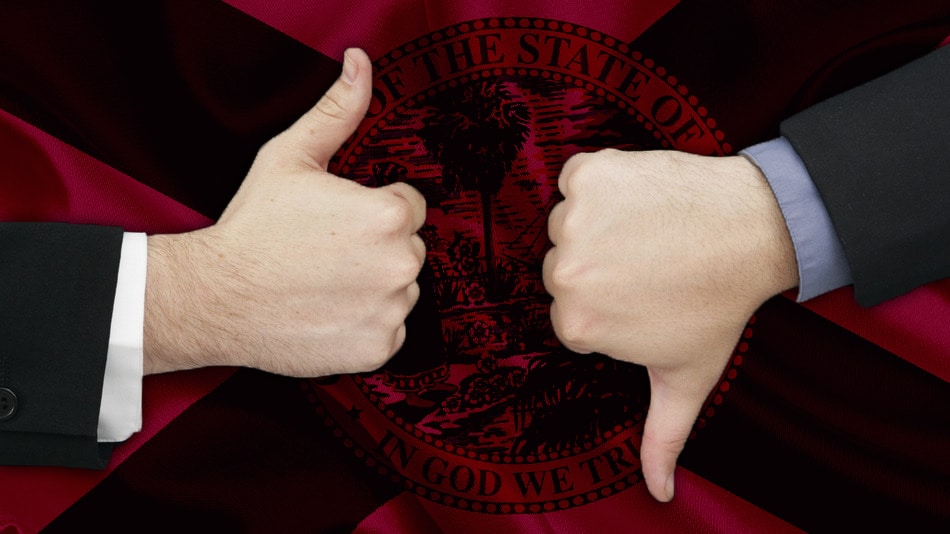 In this installment of W&L, U.S. Rep. Charlie Crist came out swinging, but former U.S. Rep. David Rivera, well, he had a setback.
Before we proceed with our regular rant in this space devoted to winners and losers, we want to take a moment to honor Rosemary O'Hara's career. She will retire as Opinions Editor of the South Florida Sun-Sentinel.
Editor-in-Chief Julie D. Anderson called it "an immeasurable loss for our community and the Sun-Sentinel."
She added, "Pity the fool who came unprepared to her editorial board meetings."
Rosemary had stops at the Miami Herald, Cincinnati Enquirer, and the Tampa Tribune. I knew from the Trib, where she had two separate stints. She was a reporter before moving, and she later returned as the first female head of the editorial board.
That was a seismic move at the time for the distinctly conservative Tribune. She must have seemed like Karl Marx to the rigidly right-wing people who owned the Trib then, and she made waves.
When George W. Bush ran for reelection in 2004 against John Kerry, the Tribune declined to endorse either man. I always believed she wasn't allowed to endorse a Democrat but refused Bush.
Rosemary broke a lot of glass ceilings in her career and goes out on top. She and her husband, Tom, will retire to Dunedin, but we hope she finds a way to stay involved. We still need her voice in this sea of madness.
Rosemary definitely is a special-mention winner.
But do you know who, alas, makes the special-mention loser category?
Commuters in Hillsborough County, that's who. The traffic strangulation they face nearly every day just got a LOT worse.
By a 4-1 vote, the Florida Supreme Court overturned a sales tax increase that voters approved by more than 60% to address the mess. That was in response to a lawsuit by Republican County Commissioner Stacy White.
He challenged the referendum's part that established a citizen's oversight committee over which projects could receive funding.
White, by the way, represents the part of Hillsborough that probably suffers most from terribly inadequate transportation infrastructure.
Backers of the "All For Transportation" tax vowed to put it on the ballot again, but that can't come until 2022.
And that $1.5 billion project to overhaul the West Shore area near Tampa International Airport? It's on hold. State budget shortages led to the delay.
Growth in the county continues at a breakneck pace, but there is no help in sight. It could be five more years before frustrated commuters begin to get relief.
Sigh.
OK, on with the show.
Winners
Honorable mention: St. Pete Beach. Ho hum, another Bay area championship.
The Bucs and Lightning won their respective titles. The Rays took the American League pennant. And now, we even kick butt in beaches.
Trip Advisor said what we already knew: "A great walking beach with white quartz sand, clear, calm water, and seashells by the truckload. The most perfect place to watch the Sun set over the ocean."
That's why that nearly 7-mile strip of perfection received the website's No. 1 ranking among U.S. beaches. It also earned a No. 5 ranking among global beaches, the only U.S. site so honored.
There can only be one No. 1, but other Bay area beaches also scored well. Maderia Beach came in at No. 9. Treasure Island (16), Siesta Beach (17), and Clearwater Beach (18) also made the Top 25 rankings.
Other Florida beaches that made the list: Ormond Beach (12), Henderson Beach State Park in Destin (13), and Pensacola Beach (15).
Almost (but not quite) biggest winner: Maria Salazar. The Republican U.S. Representative from Florida's 27th District has a message for her party: Shape up! Become more inclusive!
"I am a brown girl from the 'hood, who is a Republican, who is coming to tell my party that it's time to wake up and smell the votes," she told the Politico Huddle.
"It's time for us to be sending the right message to the largest minority in the country. We are 20 percent of the population. We are 60 million people … We are 30 million votes available."
She also told a special Republican Study Group that included former Donald Trump aide Stephen Miller, "… the GOP needs to attract the browns."
Salazar, a Cuban American, called out the party for its keep-them-out approach to immigration. She speaks wisely.
"We, for the last 30 years since Ronald Reagan, have not sent the right message to the browns," she said. "Reagan was the last guy who gave a path to citizenship to 3 million people … 35 years ago. It's time for us to do the same thing that Reagan did."
The biggest winner: Charlie Crist. We don't normally associate the genial Democratic Congressman from Pinellas County with inflammatory rhetoric, but he unloaded a broadside on Gov. Ron DeSantis.
Crist let loose after DeSantis unveiled sweeping voting proposals that include 24/7 drop box watchers and restrictions on voting by mail.
He called it a "nakedly partisan political play" and called it "voter suppression, plain and simple."
Crist added, "You can't fix problems that do not exist."
The former Governor, a Republican before switching parties and winning a seat in Congress, didn't stop there.
He called for a federal Department of Justice investigation after two affluent and Republican ZIP codes in Manatee County received COVID-19 vaccinations over areas of greater need.
DeSantis called Crist's request "a joke."
One thing is for sure, though. These attacks by Crist are more signs that he is serious about running for Governor in 2022.
Losers
Dishonorable mention: Rick Scott. He was famously tight-lipped in his eight years as Florida's Governor. However, Scott has become a flame-thrower in his role as Chair of the Republican National Senatorial Committee.
Scott took hyperbole to extreme levels in a memo to GOP voters, activists, leaders, and donors,
He said Democrats, "… want to cancel us, not simply from social media, but they also want to get you fired from your job, get your bank to drop you, make you unemployable in the future, re-educate you, and completely silence anyone who disagrees with their new woke version of socialism in America."
Huh? They want Republicans to lose their jobs and bank accounts? Do Democrats really want Republicans to wallow in abject misery?
Go easy on the caffeine there, Sen. Scott.
Good Lord.
Almost (but not quite) biggest loser: The Ginni Springs aquifer. Environmentalists wore long faces after the Seven Springs water company won permission from a judge to take nearly a million gallons per day from the aquifer at Ginni Springs, a privately owned park in Gilchrist County.
Seven Springs sends the water to a nearby Nestle bottling plant. It sought a five-year renewal of its permit when the Suwanne River Water Management District rejected the request last year.
The company appealed, and Judge Garnett Chisenhall recommended approval.
As the Gainesville Sun reported, the decision came grudgingly at a district meeting. About 50 people gave public comment over several hours, and all but four were opposed to the move.
After several hours of public comment from about 50 speakers, the decision came even though all but four opposed the move.
Environmentalists have not surrendered. As the Sun reported, Florida Defenders of the Environment and Our Santa Fe River will file a lawsuit challenging the legality of transferring water while not paying the state.
The biggest loser: David Rivera. Rivera, a Florida Republican and former U.S. Representative must pay a $456,000 fine to the Federal Election Commission.
Politico reported that the FEC said that in 2012, Rivera secretly helped fund the congressional primary campaign of Democratic Justin Lamar Sternad. The idea was to weaken the campaign of opponent Joe Garcia.
The FEC accused Rivera of using another name to donate about $55,000 to that campaign. Rivera denies that ever happened.
The U.S. District Court for the Southern District of Florida said in its order that "the record evidence quite obviously paints a picture showing that Rivera engaged in a scheme to unlawfully fund the Sternad campaign."
And as a final flip-off to the former lawmaker, the Court noted, "Rivera's opposition brief fails to rebut or even address much of that evidence."
The FEC sought a $456,000 civil penalty, which the court granted.
Rivera has been down the legal road before. He was fined $58,000 in 2016 over finance irregularities when he was a state legislator. He didn't have to pay it, though, because he wasn't in the Florida House any longer.
Sometimes, it just works out.