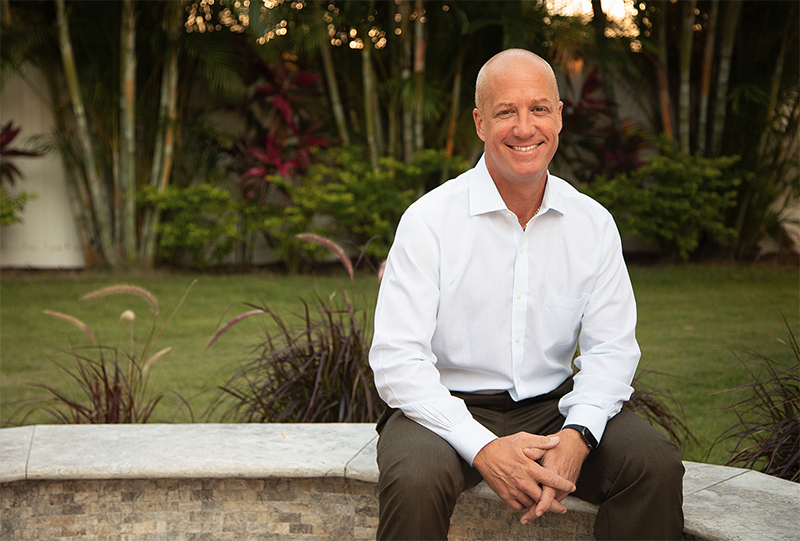 Brandes is leaving office due to term limits.
Nick DiCeglie is running for the Florida Senate, jumping into what is expected to be one of the most competitive legislative races of the 2022 campaign cycle.
DiCeglie filed paperwork to run in Senate District 24, the seat incumbent Sen. Jeff Brandes is vacating due to term limits.
"There is a reason nearly a thousand people a day move to Florida, because we do things right. Thanks to the leadership of Gov. (Ron) DeSantis and his reliance on science-based, free market principles, Florida is positioned for a strong recovery as children return to the classrooms and businesses reopen," DiCeglie, a Republican, said.
"Today I'm announcing my campaign for State Senate because we have to build on our conservative principles and fight back against those who want to turn us into lockdown states like New York or California. This is a critical moment for Florida, and I am ready to fight on the frontline for the values that make us great."
DiCeglie's political committee, The Economic Freedom Committee raised more than $100,000 in February, according to DiCeglie. Official financial reports are not yet available with the Florida Division of Elections. That's an important haul considering lawmakers are prohibited from raising funds during Legislative Session, which will keep him from the money race for all of March and much of April.
DiCeglie is the first candidate to officially jump into the race. Fellow Republican and former St. Petersburg Mayor Rick Baker is also considering a bid.
The match-up would make for an interesting GOP primary, with DiCeglie bringing with him to the campaign trail the institutional knowledge from serving in the Legislature for four years, while Baker would likely come with stronger name recognition from his time as Mayor and from his failed 2017 bid to reclaim that office.
It would also potentially set up a race for top-level endorsements, with DiCeglie potentially capturing the eye of now-Florida man Donald Trump and Baker from his longtime ally, former Gov. Jeb Bush. That could make for a re-do of sorts of the 2018 gubernatorial election that pit establishment favorite of the Bush wing of the Florida GOP, Adam Putnam, against now-Gov. DeSantis. DeSantis got a major boost in that race when Trump offered his endorsement.
Political insiders tell Florida Politics, however, not to expect Brandes to weigh in on the race … at least not any time soon.
The eventual GOP nominee will likely face a credible challenge from the left in the mid-Pinellas battleground district. Though it's changed numbers over the years through various rounds of redistricting, the area SD 24 encompasses has changed party hands before. U.S. Rep. Charlie Crist held the district in the late 90s as a Republican. Republican Jim Sebesta succeeded him, followed by Democrat Charlie Justice.
Still, Republicans carry a voter registration advantage, with 131,507 voters to Democrats' 117,412.
DiCeglie was first elected to the Florida House of Representatives in the 66th District in 2018. He was reelected in 2020.
The owner and proprietor of his family business, Solar Sanitation, DiCeglie has brought to the halls of the state Capitol a business-minded approach to governance. Last year he successfully led efforts to improve transparency and boost competition in public contract procurement with his HB 441, which blocked local governments from enacting training mandates in construction contracts.
In 2019, he led efforts (HB 5) to make it harder for local governments to tax its citizens, a move that should help him in an eventual competitive primary.
This year, DiCeglie is a co-sponsor on legislation to create COVID-19 liability protections for businesses. The bill (HB 7) would increase the burden of proof on plaintiffs to prove gross negligence for COVID-19-related lawsuits. It would be applied retroactively to already filed legal action.
DiCeglie, and other supporters, argue the protections are needed for businesses who have already taken a major hit from pandemic-related shutdowns and businesses slowdown and to avoid frivolous lawsuits.
He is also carrying several appropriations requests including $10 million for Imagine Clearwater and $750,000 for the Florida Holocaust museum.
DiCeglie chairs the Insurance and Banking Subcommittee where he sets the agenda for legislation to be heard. He's also a member of the Commerce Committee, which is one of the committees of reference for his liability bill.
Other committee assignments, which span this year's legislative session and the 2022 Session, include the Justice Appropriations Subcommittee, Local Administrative and Veterans Affairs Subcommittee and the powerful Ways and Means Committee.
DiCeglie has lived in Florida since 1996. His wife, Erica DiCeglie, is an accomplished musician and composer. The couple live in Indian Rocks Beach with their two children, Livia and Carlo.
DiCeglie's business is a celebrated local waste management company that serves unincorporated parts of Pinellas County. It was awarded Medium Sized Business of the Year by the Clearwater Chamber of Commerce.