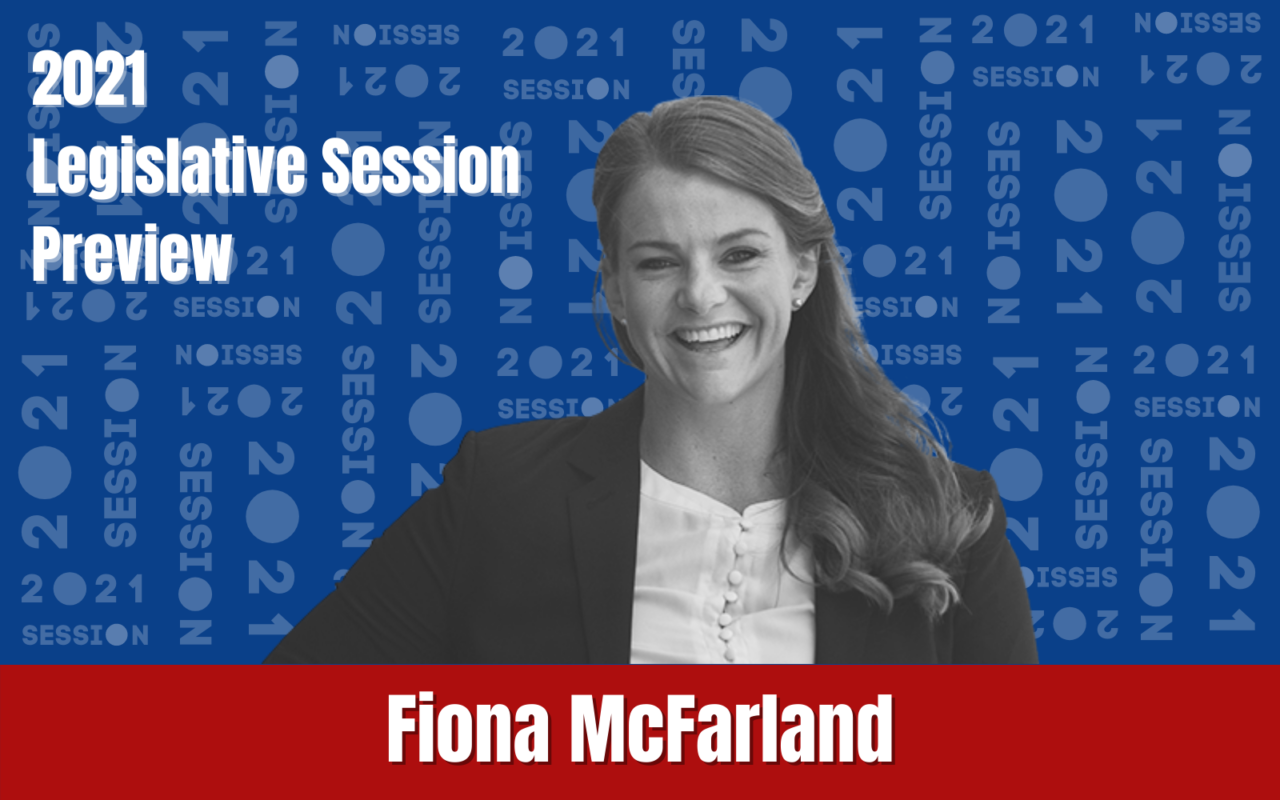 Fresh off a spot at CPAC, the freshman lawmaker feels excited for Session.
Fiona McFarland remained an unknown quantity to those on the Gulf Coast and beyond.
Now, the Sarasota Representative is preparing to kick off her first Legislation Session, where she's carrying a bill for the Governor. She's fresh off being the only sitting state lawmaker billed on the Conservative Political Action Conference agenda. And her colleagues predict a meteoric rise for the political upstart.
But McFarland said she's keeping a level head.
"I'm enjoying the work up there," she said from a hotel room in Orlando. "Committee weeks were fast and furious."
The freshman holds distinction within her caucus as one of five Republicans to flip a blue seat in November. In her case, she defeated local attorney Drake Buckman in House District 72, which opened up when incumbent Margaret Good made an unsuccessful bid for Congress. And while Good last held onto the seat in a narrow win of just over 1,100 votes in 2018, McFarland won the seat by more than 9,000 and a greater-than-nine-percentage-point margin.
Not bad for being somewhat almost written off as an inexperienced carpetbagger. But she also came with a ready-made political support network. A Naval reservist who also worked in international consulting with McKinsey & Company, McFarland's mother K.T. McFarland served as President Donald Trump's first deputy national security advisor, which allowed McFarland to rapidly raise resources for her political race compared to local candidates who'd spent years in Sarasota before McFarland arrived.
The millennial lawmaker has built up political allegiances of her own, and she will carry one of Gov. Ron DeSantis' legislative priorities this Session. She's the House sponsor on Consumer Data Privacy legislation (HB 969) aimed at protecting the personal information of Floridians from being sold by technology companies.
As written, the bill would guarantee Floridians the right to find out what information companies keep on file and empower citizens to demand companies delete the data, not sell it, and sue the ones who do anyway.
It's already been billed as a fight between Florida and Big Tech, one many conservatives are itching for and that DeSantis appears to welcome as he gears up for his own reelection campaign.
For McFarland's part, she sees the legislation as a great chance for bipartisanship.

"When you poll people on the importance of data privacy, it's at 90% among everybody— Republicans, Democrats, everyone," she said.
That's likely because data breaches made the vulnerability of all citizens readily apparent. She notes this isn't simply a social media bill, though that's what may come to mind first when people hear of companies selling data. But few Americans have avoided being hacked at some point in recent years. McFarland has seen her data taken, in her case when the Chinese government hacked military service records. But she can also point to any number of high-profile hacks of U.S. corporations failing to secure customer and client personal information.
"I won't sit here and name a bunch of companies to drag their name though the mud again, but it happens very often," she said.
She does expect the legislation to be collaborative, and wants feedback from companies themselves. But the bottom line, she said, is that Florida wants protections to put the onus and burden on the private sector, not consumers. From her days at McKinsey, she knows efforts in other countries like the United Kingdom have made significant headway in protecting these rights.
She also felt excited to win a spot this year on the House Pandemics and Public Emergencies Committee, and hopes her record in the military helps the state brace itself for coming disasters as it continues to navigate one with COVID-19. She expects to play a role in making sure Florida has turnkey responses ready for the next public health crisis, like nursing home procedures that go into immediate effect.
While she intends to make broadly impactful policy arenas her work of choice this session, she's also made a splash in Republican circles beyond Florida. That became clear when her name popped up multiple times on the CPAC agenda, once as a featured guest at the Women's Breakfast hosted by Mercedes Schlapp and also for a Saturday training session entitled "Red Votes, Blue Votes: How to Win New Votes."
"Listen, she has an incredibly bright future," said Sen. Joe Gruters, another Sarasota Republican and chair of the Republican Party of Florida. "Her presence is a welcoming one, and her emergence in the election and presence in Tallahassee is a positive for our area. She is well versed on the issues, confident and capable. The sky is the limit for her."
Of course, McFarland's mother also played a key role at this year's Florida-based CPAC, and it was held hours from McFarland's Sarasota home as opposed to in Washington, D.C. The lawmaker said she felt honored to be spotlighted there. She hopes her work leads to more people with similar backgrounds to her own becoming political candidates.
But looking toward the Session in Tallahassee, it's not firebrand conservative rhetoric on her mind. Whether she's studying how to prepare Florida for more autonomous vehicles or advocating for a boat safety law named for a constituent killed in an accident shortly after she took office, McFarland said her energy will be on legislation that protects all Floridians.
"These don't feel like partisan issues to me," she said.