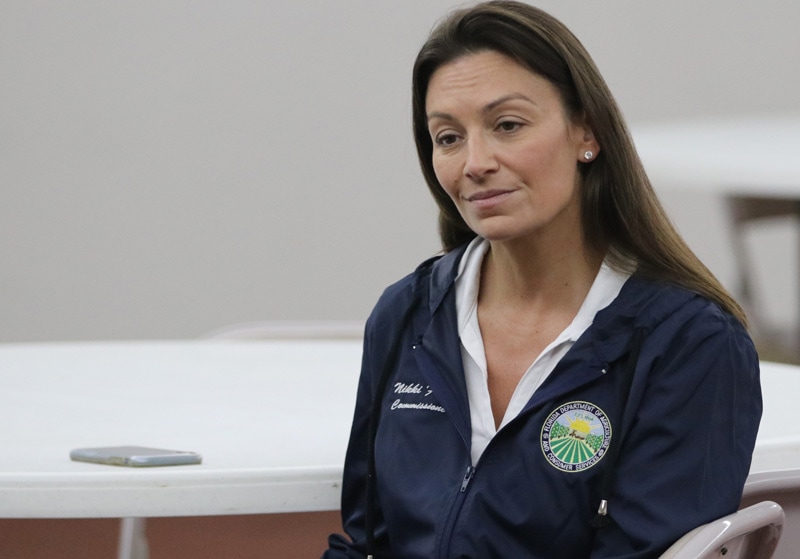 Currently, teachers can get the vaccine, but only if they are over 50.
Agriculture Commissioner Nikki Fried urged Gov. Ron DeSantis on Wednesday to broaden COVID-19 vaccine access to include educators, farmworkers and other frontline workers.
Fried's letter comes after President Joe Biden encouraged states to vaccinate school staff by the end of March.
The Governor's current executive order limits eligibility to teachers over age 50.
"Getting our economy back on track is dependent on our health — and that hinges on the ability of parents to get to work, which means ensuring their children have a safe school environment," Fried wrote in the letter. "It also depends on some of our most vulnerable workers staying healthy, productive, and supporting Florida's key industries, from agriculture to small businesses. Working with the Biden Administration to accomplish these goals is a necessity."
Fried also urged the Governor to broaden vaccine access to include farmworkers and agricultural and food production workers.
In February, Fried launched a bilingual public education campaign directed to Florida's agriculture community. The campaign encourages farmworkers to get vaccinated.
"These frontline workers are critical to producing the safe, secure domestic food supply on which we rely," Fried said in her letter. "Yet according to studies, farmworkers face one of the highest increased risks of death from COVID-19, with Hispanic farmworkers facing a 59% higher risk."
Notably, DeSantis on Wednesday suggested Florida may soon stage pop-up vaccination sites at schools, fire departments and police stations.
The pods, originally prioritized for seniors, travel the state offering vaccines for a short time before moving to another community.
More than 3 million people now have received at least one shot, including 2.3 million people 65 and older.
Florida's ability to broaden vaccine access comes after the Food and Drug Administration approved a third vaccine option.
Unlike the Pfizer and Modern vaccines, the newly approved Johnson & Johnson vaccine only requires a single shot.
Moreover, the single-dose shot doesn't require special storage and freezers.
DeSantis said Florida is expecting 175,000 doses of the one-shot vaccine this week.