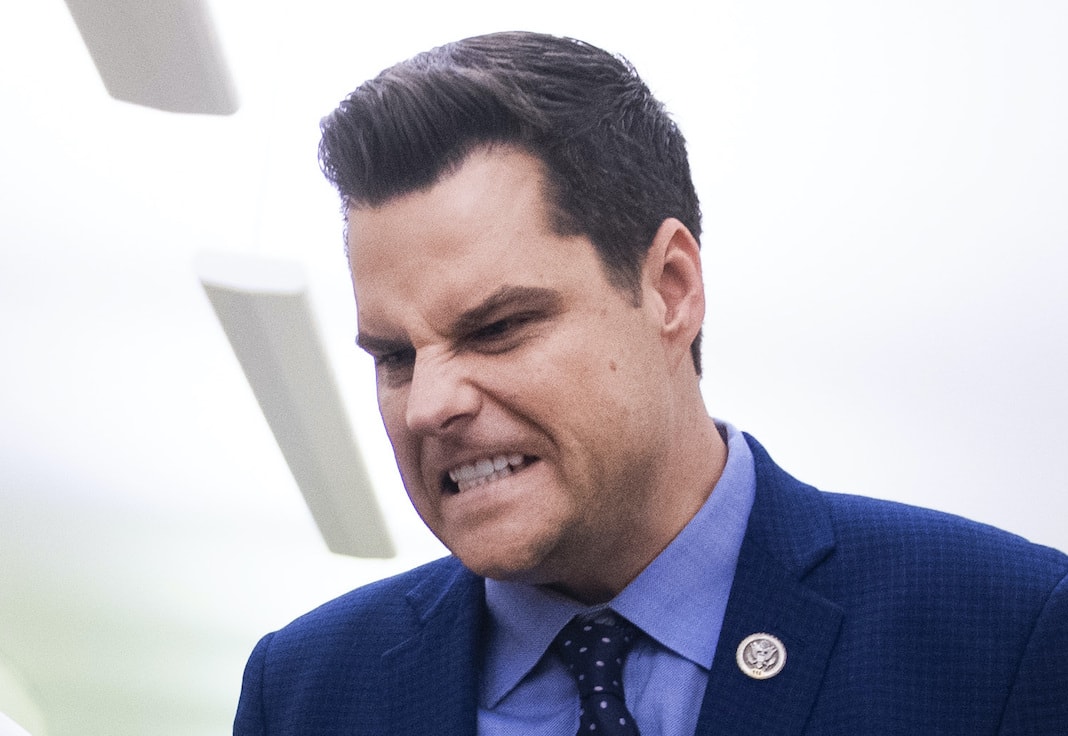 California Democrat Zoe Lofgren's report includes posts from eight Florida Representatives
A California Congresswoman has scoured colleagues social media posts for rhetoric that may have contributed to the Capitol riots. Her findings include hundreds of posts by Florida congressional members, including dozens from U.S. Rep. Matt Gaetz spreading conspiracy theories about the General Election.
U.S. Rep. Zoe Lofgren, chair of the House Administration Committee, released extensive findings on Friday. She compared the online activity to actions of President Donald Trump that led to his impeachment on one charge of inciting an insurrection.
"Like former President Trump, any elected Member of Congress who aided and abetted the insurrection or incited the attack seriously threatened our democratic government," Lofgren wrote. "They would have betrayed their oath of office and would be implicated in the same constitutional provision cited in the Article of Impeachment. That provision prohibits any person who has previously taken an oath as a member of Congress to support the Constitution but subsequently engaged in insurrection or rebellion from serving in Congress."
While a dozen members of Florida's House delegation voted to object to President Joe Biden's electoral college victory, Lofgren's report spotlights social media activity for eight of them, all Republicans. That includes Kat Cammack, Byron Donalds, Gaetz, Brian Mast, Bill Posey, John Rutherford, Greg Steube and Daniel Webster.
The contents include a range of items. There's an interview Cammack shared on her appearance on Fox News after the election where she said momentum was growing to object to four Biden states before riots disrupted the process. There's also a post from Steube where he wrongly insinuated a state found ballots overnight and 100% of them went to Biden, without linking to any source. It includes one post by Donalds sharing a Florida Politics article on plans for himself, Cammack and Mast to object to the election results.
"Every Floridian and American deserves to believe that our elections result from a transparent and lawful democratic process," Donalds tweeted on Jan. 4. "I'm proud to stand with Kat Cammack and Brian Mast to object to the certification process on January 6th and restore faith in our election system."
But out of 189 pages of social media posts from Florida members, 123 of those deal with Gaetz's social media activity. That's for more than the next-most content from a Florida member, 21 pages of posts from Steube.
Gaetz has not responded yet to questions on the report, but shortly after it came out tweeted: "Cancel culture is a cult with no grace." But since he's been doing media spots on that topic and recently complained about Mr. Potato Head during a speech at the Conservative Political Action Conference, it's likely he was not simply referencing Lofgren's report.
The content excerpted at length from Gaetz included a post shared on Nov. 3 telling followers: "Fight with all you have to protect and defend America. There's nowhere else to run if we fail."
Ironically, Gaetz the same day tweeted at Democratic opponent Phil Ehr an AP alert calling the election in Florida's 1st Congressional District. "Will you concede? Or claim the election was rigged?"
Gaetz in coming weeks would resist any concessions Trump lost, question media projecting winners in races and repeat widely debunked theories the election was rigged.
That included insinuations Arizona officials in Maricopa County had some voters cast ballots with Sharpies so they would not count; Arizona's Republican Attorney General found use of Sharpies was fine and would not stop ballots from counting.
He also shared screenshots of database searches supposedly proving dead voters had cast ballots in Georgia. "More and more it seems the dead vote swung overwhelmingly for Biden," Gaetz tweeted on Nov. 5. He shared reports on allegations from Fox News host Tucker Carlson and tweets spreading the theory from Donald Trump, Jr. But an Associated Press investigation found for all but one of the names cited in those posts and segments, there was no evidence any of those identities were used to cast ballots in the election.
Gaetz on Nov. 6 also called for an investigation into voter fraud in Pennsylvania and said the state should refuse to seat Biden electors.
He continued with many of these allegations for weeks but also moved with the conspiracy theorists through a variety of fresh allegations that continued until the election was certified on Jan. 7, a day after rioters disrupted the process of presenting slated of voters in joint session.
That includes castigating the use of mail-in-ballots, a methodology favored by the bulk of Florida voters for years. He continued that long after the election was put to bed.
In a video the day after the riots, Gaetz maintains that mail voting is the only reason Biden won the election. "It is still my belief that of the people who actually showed up and voted, among the people who actually had an identification tied to their ballot, Donald Trump won this election in a landslide and it is a travesty that the institutions of our government did not hold and ensure that we preserve that victory," Gaetz said.
On Jan. 25, weeks Gaetz tweeted: "The only way Republicans are going to beat Democrats at the ballot box is by fixing problems at the mailbox."
While other Florida members of the House do have posts heavily excerpted in the report, most include statements justifying objections to Biden states based on election procedures. The only post from Rutherford in the report, for example, is a statement that he will object to electors from six Biden states that says he will do so because Legislatures in those states will not investigate alleged election anomalies. Webster posted several legal arguments to explain signing an amicus brief backing a Texas lawsuit challenging other states' election procedures.
But there are various levels of heated rhetoric by Florida members cited. Mast on Jan. 3 on Twitter referenced the certification of Biden's win as a "farce."
An exception could be noted for Posey, who made repeated reference to voter fraud on Facebook and Twitter. He was among those who signed a letter calling for the Justice Department to physically investigate voting machines.
He also shared exhibits from a Michigan court case filed by Trump supporter Sidney Powell alleging one township there had a 781.91% turnout. But a Reuters investigation found none of the numbers on the documents submitted by Powell lined up with reports from local elections officials, and Powell's lawsuit was rejected by the courts.