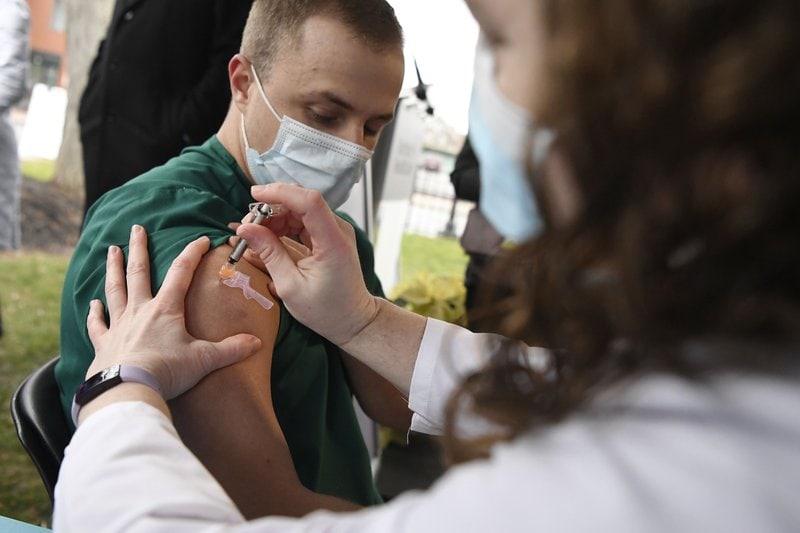 The tri-county area now has nearly 550,000 people fully vaccinated against the coronavirus.
Officials have doled out more than 1.5 million doses of the COVID-19 vaccine to individuals in South Florida's tri-county area.
The region crossed the milestone as of Friday's Department of Health report. Close to 550,000 individuals are now fully vaccinated against COVID-19 across Miami-Dade, Broward and Palm Beach counties.
Gov. Ron DeSantis announced Friday those vaccines would soon be available to those aged 60 and older. So far, the state has focused on the 65-plus population, though has been working to expand vaccine availability.
DeSantis is facing some heat from Democrats over a Miami Herald report detailing a wealthy Key Largo community receiving shots in mid-January, seemingly by jumping the line. The Governor's office said those shots were not administered by the state or with direct state approval. But some high-ranking Democrats want the feds to investigate how the shots reached the Ocean Reef Club — a community with multiple wealthy DeSantis donors — at all.
The state did expand vaccine availability in the region recently, and the federal government opened multiple sites as well. Officials are looking to help Miami-Dade County catch up to Broward and Palm Beach in terms of the share of seniors vaccinated.
As of Friday, Palm Beach has now fully vaccinated 41% of its residents aged 65 and older, crossing the 40% mark for the first time. That number sits at 36% in Broward and just 31% in Miami-Dade.
But Miami-Dade has seen at least 10,000 shots administered since Feb. 24 — the day those new sites first opened in the county. That's the longest streak of at least 10,000 doses in Miami-Dade since the vaccine became available.
The region's death toll did jump back up to 38 Friday, just one-day after a noticeable drop in deaths. That day-to-day contrast shows the struggle the region is still facing, as the death toll has yet to consistently drop. As of Friday, 10,478 people have died after contracting COVID-19 in South Florida's tri-county area.
The case positivity in each county seems to be stabilizing around the 6% mark. That's above the 5% maximum experts say a region should use to help ensure the virus won't surge. But the 6% mark is below the numbers seen during the peak of the post-holiday surge, as the positivity rate hovered around 10%.
South Florida's major counties added a combined 2,754 new COVID-19 cases in Friday's report, bringing the overall total to just under 739,000.
Here are some of the weekly numbers for the previous three weeks throughout the South Florida tri-county area:
Miami-Dade
— Feb. 12-18: 41 newly-reported hospitalizations per day, 21 newly-reported deaths per day, 1,240 new confirmed cases per day, 6.4% positivity rate, 8,768 vaccine doses administered per day, 3,694 vaccines completed per day
— Feb. 19-25: 40 newly-reported hospitalizations per day, 18 newly-reported deaths per day, 1,229 new confirmed cases per day, 6% positivity rate, 8,498 vaccine doses administered per day, 3,130 vaccines completed per day
— Feb. 26-March 4: 39 newly-reported hospitalizations per day, 19 newly-reported deaths per day, 1,323 new confirmed cases per day, 6.3% positivity rate, 13,702 vaccine doses administered per day, 3,608 vaccines completed per day
Broward
— Feb. 12-18: 23 newly-reported hospitalizations per day, 12 newly-reported deaths per day, 704 new confirmed cases per day, 6.7% positivity rate, 6,721 vaccine doses administered per day, 3,479 vaccines completed per day
— Feb. 19-25: 27 newly-reported hospitalizations per day, 8 newly-reported deaths per day, 761 new confirmed cases per day, 6.7% positivity rate, 6,154 vaccine doses administered per day, 2,381 vaccines completed per day
— Feb. 26-March 4: 24 newly-reported hospitalizations per day, 10 newly-reported deaths per day, 683 new confirmed cases per day, 6.3% positivity rate, 7,674 vaccine doses administered per day, 2,624 vaccines completed per day
Palm Beach
— Feb. 12-18: 17 newly-reported hospitalizations per day, 11 newly-reported deaths per day, 458 new confirmed cases per day, 7% positivity rate, 6,046 vaccine doses administered per day, 3,305 vaccines completed per day
— Feb. 19-25: 14 newly-reported hospitalizations per day, 9 newly-reported deaths per day, 453 new confirmed cases per day, 6.1% positivity rate, 6,712 vaccine doses administered per day, 4,656 vaccines completed per day
— Feb. 26-March 4: 14 newly-reported hospitalizations per day, 8 newly-reported deaths per day, 391 new confirmed cases per day, 5.9% positivity rate, 6,267 vaccine doses administered per day, 3,302 vaccines completed per day