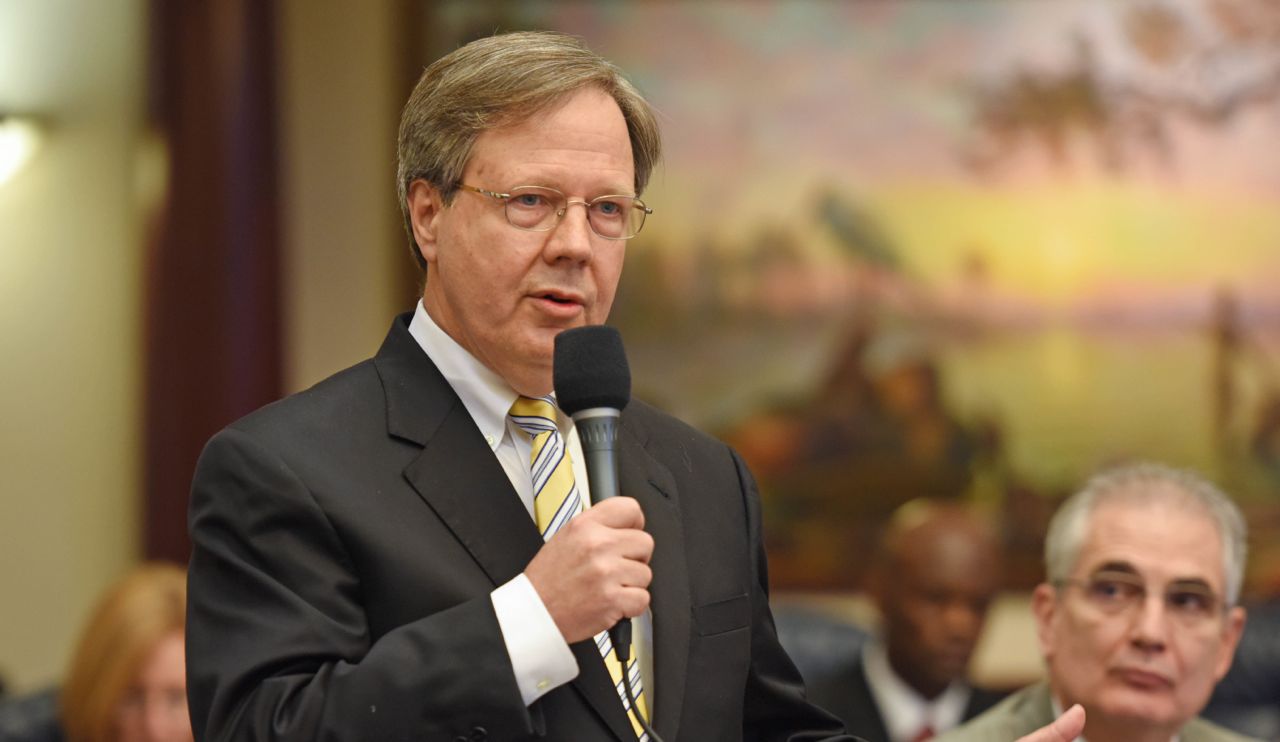 Democrats call it a "union-busting bill."
Legislation to add a new step for government employers to confirm with workers that they want union dues deducted from their paycheck passed its first House panel Monday.
By a 12-6 party-line vote, the House Government Operations Subcommittee gave the bill (HB 947), sponsored by Longwood Republican Rep. Scott Plakon, its first of two approvals before it is ready for a full House vote.
The Representative's "low-level tweak" does much more than he let on, Democrats said.
The new verification step would be in addition to a current process in which union bargaining agents submit written requests to begin deductions. The final certification could be as simple as a text message, Plakon said.
Also, employee authorizations to deduct dues would end when new collective bargaining agreements are reached or three years after the deductions begin, whichever is earlier.
Plakon assured the committee that the bill only made procedural changes to give employees the final say about their paycheck without coercion from unions. He said he hoped to balance the constitutional rights to work and collectively bargain.
"I don't think it's a secret that unions have a very close — they call it a brotherhood — so that there is social pressure to go along," Plakon told reporters. "I don't think anybody would dispute that. And in some ways, that's not a bad thing."
However, critics railed against the bill as an attempt at "union busting."
"It is a layer of unnecessary bureaucratic red tape and confusion that is not a solution to any problem that we can find," said Boca Raton Democratic Rep. Kelly Skidmore.
Plakon rejected the union-busting label Democrats placed on the legislation.
"They see every bill having anything to do with a union as a union-busting bill," he told reporters.
Despite holding the party line, Republicans, too, raised concerns about the bill.
Rep. Rick Roth, a West Palm Beach Republican who told the committee he had received a lot of calls about the bill, said he intended to file an amendment to make it more "employee friendly."
St. Cloud Republican Rep. Fred Hawkins requested Plakon carve out firefighters from the additional check, and Sweetwater Republican Rep. David Borrero added police officers to the list. Hawkins called it a "one-sized bill" that doesn't work for everyone.
Plakon told reporters he would take input on the bill but wasn't prepared to say what amendments he would entertain.
Unions representing teachers, firefighters, law-enforcement officers and other public employees have opposed the bill. Florida AFL-CIO lobbyist Rich Templin told the committee the current process is clear and simple.
Critics have also said the bill is a cut-and-paste effort from other states. Plakon, however, said he hadn't heard of other states' laws on union deductions. He plans to look into them to glean other ideas.
"In a way, I'm not surprised because often times they've been a subsidiary of the labor unions, it seems, around here, particularly the classroom teachers union," Plakon said. "I've described them in kidding around with friends that the Democrat Party is a wholly owned subsidiary of the teachers union."
Last year, the House passed the bill as a top priority, but the effort died in the Senate. This year's version next heads to the House State Affairs Committee, its second and final stop.
Estero Republican Sen. Ray Rodrigues has filed an identical version (SB 78). Twice now the bill has been postponed in its third and final committee stop.