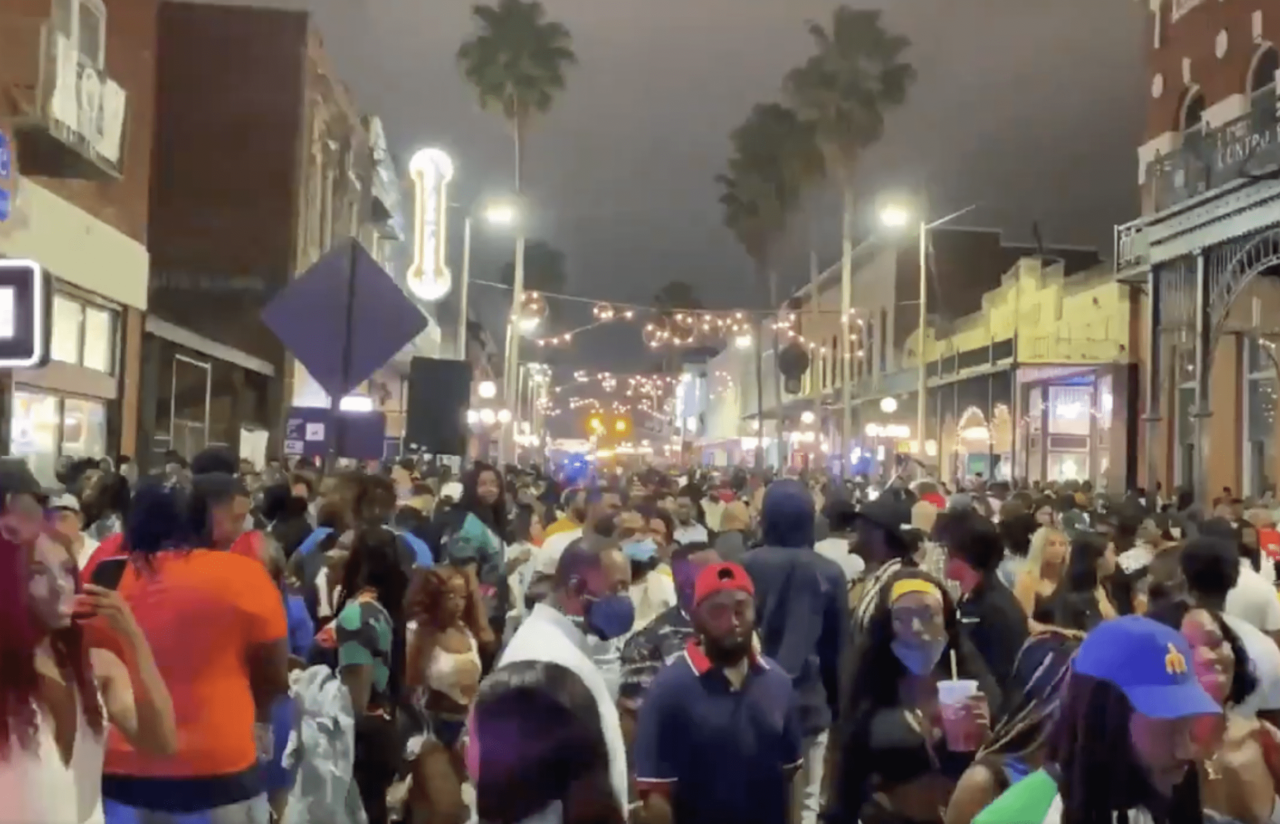 Enforcing COVID-19 ordinances appears to be working, the city attorney said.
Tampa City Council has suspended special use alcohol permits for a handful of bars in two of its entertainment districts after a series of lawsuits and hearings regarding citations issued for violating municipal COVID-19 ordinances.
City Attorney Gina Grimes presented settlements negotiated between the city and cited bars at a special meeting Monday to hasten proceedings.
The five presented settlements, each requiring a vote of approval from the Council, ranged from no consequences to a weeklong permit suspension.
Two Ybor City bars, the Ritz Ybor and King Corona Cigars Bar and Cafe, walked away with their permits intact. The city attorney, along with unanimous City Council approval, found the bars had less severe violations, and acted to significantly improve safety measures.
"We weren't as concerned as to whether or not there was dancing or congregating in certain areas or standing at a bar, as long as the customers were wearing masks," Grimes said at the meeting. "That's all the city's enforcement efforts were intended to ensure."
Other bars, however, were not so lucky.
Club Prana, which was originally scheduled to go before the Council Feb. 23, will face a seven-day suspension of its special use alcohol permit. The weeklong suspension, scheduled for April 5-12, is the most severe punishment a Tampa bar has faced so far in relation to violating local COVID-19 ordinances.
City Council members approved the city attorney's settlement in a 5-1 vote. Council member Luis Viera voted against the weeklong suspension, arguing for a lesser punishment. Council member John Dingfelder was absent Monday.
The club had faced three different citations for violating the ordinances and was part of a series of failed lawsuits filed Feb. 8 against the city seeking a writ of petition after being asked to appear before the Council. In each case, the judge denied a writ of petition, allowing the City Council to go forward with its hearings to suspend or revoke the liquor permits.
The remaining settlements, approved unanimously by the Council, will suspend the special use alcohol permit for Soho's MacDinton's Irish Pub and Club Skye for three days. MacDinton's suspension will take place March 18-21, and Club Skye's will span March 9-12.
The move to suspend special use alcohol permits as punishment for COVID-19 ordinance violations has been a looming threat for many bars cited in the Tampa Bay area.
Several weeks ago, Tangra Nightclub and Ybor Cigars Plus went before the city for similar violations, which resulted in a three-day suspension.
However, the measures seem to be working, Grimes said.
The past two weekends, city code inspectors have visited 75 establishments each Thursday, Friday and Saturday night, and have reported nearly 100% compliance with the COVID-19 safety orders, Grimes said.
"It sends a strong signal to these establishments that the city takes seriously enforcement of the conditions," she said. "I think that the actions this morning, too, is especially critical with the upcoming spring breaks for colleges, since college students comprise a large demographic of the customers of these different establishments."
The wave of citations and hearings for bars amid the pandemic come after the city garnered national attention for images and videos of party-goers in the city's entertainment district gathered in cramped conditions, many without masks, after Super Bowl LV. Though, officials later found the gatherings did not lead to significant spread.