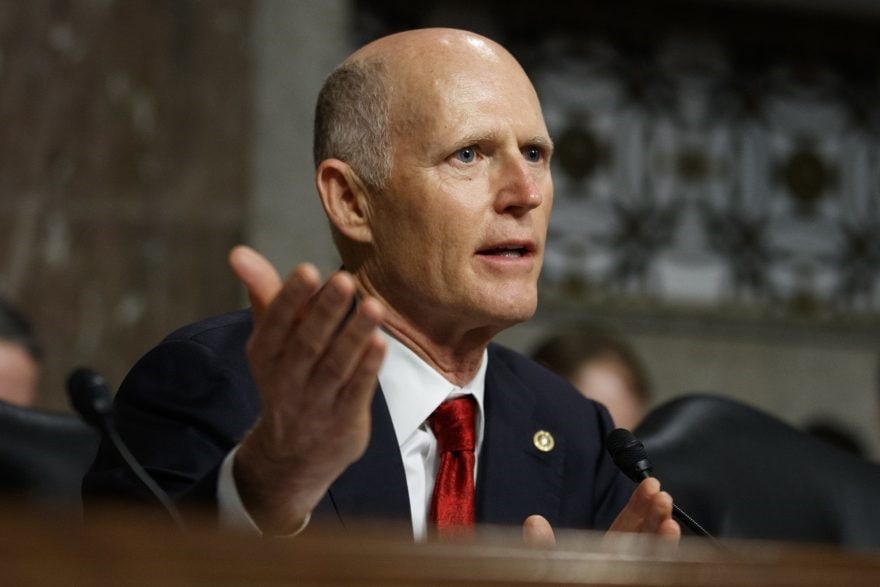 The first-term Republican heads the Senate campaign arm.
U.S. Sen. Rick Scott on Wednesday told a national radio audience that Republican Senate candidates are going to have a "great 2022," thanks in part to the COVID-19 relief bill slated to pass the House this morning.
Scott, who heads the National Republican Senatorial Committee, told listeners to the Hugh Hewitt program that success will be in part due to the landmark American Rescue Act relief legislation.
"The COVID bill they passed, it's not going to be popular in a few months. When people figure out what's in this thing, they'll be furious," Scott predicted.
Scott expects this to lead to "great candidates" and a "great win." And it, along with other early-term Biden sops to the left, offers the U.S. Senate campaign arm he leads a platform, he said.
"Part of what we do at the NRSC (National Republican Senatorial Committee), we're explaining who a Democrat is, what they stand for, and what Republicans stand for."
Issues like the Keystone Pipeline, "open borders," and "men in women's sports" are the wedge issues the campaign effort will exploit, Scott said.
"As we talk about these things, the American public will say 'wait a minute, that's not what I voted for,'" Scott predicted.
Scott expressed enthusiasm for candidates in his mold to run "successful governors" who have balanced budgets, such as New Hampshire's Chris Sununu and Arizona's Doug Ducey, and suggested, based on his own example, that they may have longer to decide.
"I didn't get into my Senate race two years ago until April of election year," Scott reminded listeners of his challenge to Sen. Bill Nelson. Scott was widely expected to run for Senate, keeping the field cleared in the primary and allowing him to get nearly 90% of the vote against his sole opponent, perennial candidate Rocky de la Fuente.
Scott expects candidates who aren't governors to start getting in the race in the next six months.
"They've got to raise money," Scott said. "It's work to raise money."
Scott clarified the dynamic between his political committee and that of caucus leader Mitch McConnell who gets involved if he's "worried that somebody can't win the General Election."
Scott cautions, however, "this is still pretty early."
"I tell people — like, they'll say 'how do you think x person is going to do?' Well, if they've never run before, you got to let them run," Scott said, before explaining how it's done and what it takes.
"You've got to raise money. You've got to be willing to do TV. You've got to be able to win debates. You've got to be able to build a team and reach the grassroots. You've got to have a lot of volunteers that support you. If you can't do all those things, then you're reducing your chances of winning. And you've got to have a message that resonates with people."
Scott may have been an afterthought at the Conservative Political Action Conference straw poll, with less than 1% support, but it's clear he sees his Senate leadership platform as a test for whether his brand of politics can translate far beyond the Sunshine State. And if Republicans take the Senate back, he is already building the scaffolding to take credit.