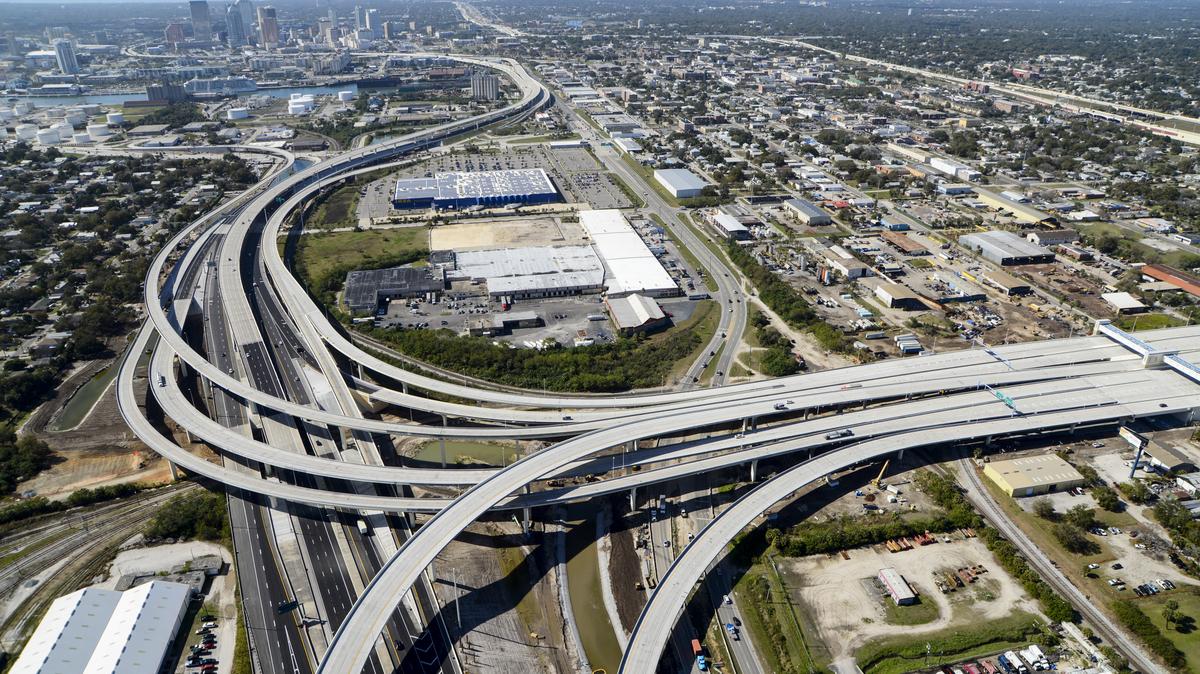 Highways divided — and ruined — communities. It's time for repairs.
The massive infrastructure bill currently debated in Washington includes money for badly needed upgrades to the nation's roads, bridges, airports, and so on.
It's not just about filling potholes, though. It's also an attempt to address systemic racism built into highway construction throughout the land.
"There is racism physically built into some of our highways," Transportation Secretary Pete Buttigieg told theGrio.com. "And that's why the jobs plan has specifically committed to reconnect some of the communities that were divided by these dollars."
That built upon a tweet Buttigieg sent last December. He wrote then about how minority neighborhoods were "disproportionately divided" by highway projects or left isolated by the lack of adequate transit and transportation resources.
He said the new administration would "make righting these wrongs an imperative."
Former state Sen. Arthenia Joyner of Tampa has first-hand knowledge of what that division means. Her family had their home taken by eminent domain in the early 1970s as Tampa eagerly accepted federal money to construct Interstate 275 and Interstate 4. Those roadways cut right through the heart of a thriving Black community, forever changing it in ways still felt today.
"This statement (by Buttigieg) is common knowledge to people living in Black communities," she told Florida Politics. "Here in Tampa, we lived with it. Central Avenue represented the center of the Black community. Every conceivable business you could think of was there in that eight- to nine-block corridor. But then, the highways came along, and people lost their land and businesses through eminent domain."
It's not just Tampa, either.
In St. Petersburg, the construction of Tropicana Field, which began nearly 35 years ago, came at the expense of a thriving predominantly minority neighborhood known as the Gas Plant District.
That construction included a feeder road by the stadium known as Interstate 175. It became an unofficial racial dividing line, essentially creating a barrier that isolates residents of South St. Pete. That prompted this tweet from St. Pete Mayor Rick Kriseman.
"This is why I'd like to see 175 come down between the Trop and the neighborhoods to the south," he wrote. "We've broken down some figurative barriers in this city. This is a literal one that should be flattened someday."
City Council member and mayoral candidate Darden Rice is the Chair of St. Pete's Public Services and Infrastructure Committee. Economic and racial equity is a major theme of her campaign, including undoing things that helped create community imbalance.
"I am proud to be part of an agency that is committed to dismantling the racist legacy of past urban planning laws and policies," she said. "The equity assessment is the first step in developing a stronger connection with the community by ensuring that our planning work is inclusive and equitable."
Back in Tampa, Joyner, now 78, recalled the Central Avenue area of her youth.
There were movie theaters, she said. Barbers. Dentists. Nightclubs. Beauticians. A photo studio. Doctors. Lawyers. It was all there in that swatch of Central Avenue, and it was home.
"It was the place where you saw that Black people owned businesses. You knew you could be anything when you saw that," she said. "It was a wonderful place. You knew everybody, and it was a utopia for us. The next thing we knew, eminent domain came in and took the property so they could build the road.
"It was devastating for all the businesses. Never again were we able to have a central place with thriving businesses."
Young people of that day also lost mentors, role models, and a sense of community.
"We talk about it all the time, those of us who lived in the community. The inspiration that came from knowing Black people could own and operate successful businesses is what's missing now," Joyner said.
"Young people today don't know what it was like to see that many successful Black businesses."
Can the ambitious infrastructure bill bring that back?
Probably not.
"You're not going to bring back what we had," she said. "But as they work to develop these new programs, maybe they can do it in a way that restores neighborhoods. That would help."
The fact remains that Florida, and particularly the Tampa Bay area, continues its explosive growth. There must be a way for people to get around, and that means more construction. The trick is to do it with the least disruption possible to established areas.
Seminole Heights' residents fought for more than five years against a state plan to widen I-275 in Tampa. Residents argue the project will irreparably harm an area they worked hard to revitalize, and they want it stopped. Under the original plan, 80% of the displaced residents are Black or Latino.
The project, dubbed Tampa Bay Next, has undergone multiple modifications but remains on the books.
"We've come a long way, but the struggle continues," Joyner said. "There must be collaboration at the local level. We still have miles to go."