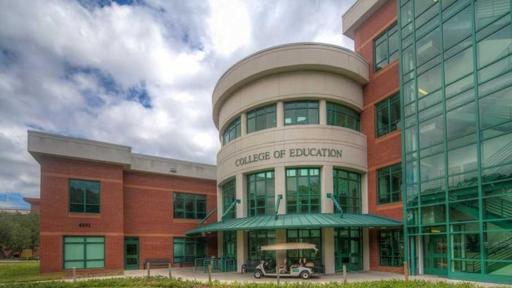 The university is holding two graduation ceremonies Saturday at Tropicana Field in St. Petersburg.
The University of South Florida is set to hold in-person graduation ceremonies this weekend for the first time since December 2019.
The COVID-19 pandemic forced the university to hold virtual ceremonies in spring, summer and fall of 2020.
"We really did the best we could to honor those graduates under very unique circumstances, but we know that nothing can quite replicate the in-person experience, and so that's what we're trying to provide," USF spokesperson Adam Freeman said.
USF is set to award 7,198 degrees in the spring 2021 class during the Saturday ceremonies at Tropicana Field in St. Petersburg. Those include:
— 5,206 undergraduate degrees
— 1,691 master's degrees
— 289 doctoral degrees
— 12 specialist's degrees
All graduates and attendees are required to wear a mask and USF will seat the graduates 6 feet apart for social distancing. Each graduate will have their name called and will briefly stand to be recognized.
USF student Dariana Granados is among the students graduating, and expressed her excitement for Saturday's ceremonies.
"I think graduation is, like, one of the biggest milestones in people's lives and just knowing that I'm going to be there is going to bring such a sense of pride and accomplishment to not just me, but also my family," Granados said. "I think I was just really glad and proud about USF taking all the safety precautions that they are taking to be able to bring us together."
Granados is the first person in her family to earn a college degree in the U.S. after coming to the country from Colombia when she was 13 years old. She is earning a bachelor's degree from the Muma College of Business, and plans to attend New York University in the fall to pursue a graduate degree.
In spring 2019, USF held its graduation ceremonies on campus at the Yuengling Center in Tampa. The Yuengling Center holds 10,500 people under normal circumstances. Tropicana Field has a capacity of 42,735 people when including the tarp-covered seats.
Freeman said USF looked into the possibility of holding several ceremonies at the Yuengling Center to accommodate the graduates and their guests.
"We looked at that possibility of doing something similar and ultimately decided that Tropicana Field would be a good venue for us in this case because, in part, it's very large and allows us to accommodate a lot of physical distancing," Freeman said. "That would have been really challenging to do in a smaller basketball arena."
Graduates are allowed to bring two guests to the ceremony with livestreaming available for people who can't be there in person.
Granados said she is planning to bring her mom and 5-year-old sister. She is appreciative USF is planning to livestream the event for her family in Colombia unable to travel because of the pandemic.
"I think it's so amazing that they're doing that because like I said, for students like us, it gives the opportunity to our families to be able to watch that happen like if they were there in person," Granados said.
The 9 a.m. Saturday ceremony is for graduates from the colleges of Behavioral and Community Sciences, Muma College of Business, Education, Morsani College of Medicine, Nursing, Taneja College of Pharmacy and Public Health.
The 6:30 p.m. ceremony is for graduates from the colleges of Arts and Sciences, Engineering, Patel College of Global Sustainability, Marine Science and The Arts, as well as Undergraduate Studies and Graduate Studies.
USF President Steven Currall will preside over both Saturday ceremonies.
"We heard from a lot of our students over the course of the past year or so who had a strong desire to have that meaningful, in-person ceremony," Freeman said. "We listened to that from the students and really wanted to, whatever we could, to try to accommodate that with certain safety parameters in place for these ceremonies."
USF also intends to honor graduates from spring 2020, summer 2020 and fall 2020 who were unable to participate in-person due to COVID-19. While this weekend's ceremonies are limited to spring 2021 graduates, USF plans to hold a more traditional commencement for those past graduates and their families. USF has yet to set a future date.
Saefallah Mohamed, 17, is the youngest graduate in the spring 2021 class, earning bachelor's degrees in both biomedical sciences and public health only three years after first enrolling at USF. After graduation, Mohamed plans to pursue a master's degree and eventually apply to medical school.
The oldest graduate is a 69-year-old earning a bachelor's degree in history.