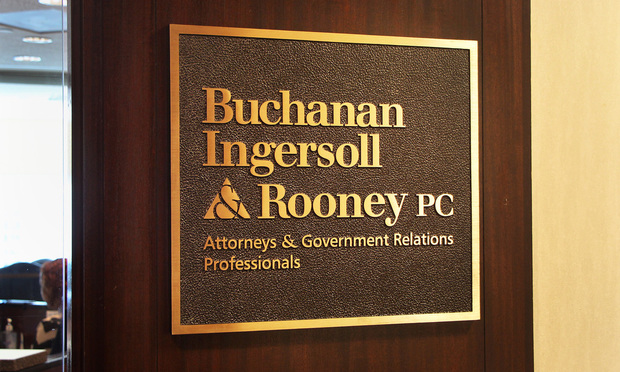 The firm may have earned as much as $620,000.
The eight-person lobbying team at Buchanan Ingersoll & Rooney earned an estimated $439,000 in the first quarter, new compensation reports show.
Firm lobbyists Brett Bacot, Marnie George, Mike Grissom, Mike Harrell, Mark Kruse, Jim Magill, Kimberly McGlynn, and Crystal Stickle represented more than 40 clients last quarter, pulling in $259,000 in the Legislature and another $180,000 in the executive branch.
Florida lobbyists report their earnings for each contract in ranges covering $10,000 increments up to $50,000, after which a firm must report the exact amount they received. Florida Politics uses the middle number of each range to estimate quarterly earnings.
Buchanan Ingersoll & Rooney's top client last quarter, University Medical Service Association, broke the cap on range reporting with $59,000 paid between Jan. 1 and March 31.
Ygrene Energy Fund Florida, a company that provides PACE financing for property improvements, was next on the list. It paid $35,000 for the quarter. A half-dozen clients followed in the $15,000 bracket while the remainder showed up with $5,000 apiece.
The executive branch report showed the same list of clients, with Ygrene providing another $35,000 in pay on that report. Hunt Guillot & Associates, Marsy's Law for All and University Medical Service Association followed at $15,000 while another 20 clients paid $5,000 each.
Compensation reports also list overall compensation ranges for the quarter. Buchanan Ingersoll & Rooney's show the firm earned between $250,000 and $500,000 lobbying the Legislature and another $100,000 to $250,000 lobbying the executive branch. All told, the firm earned no less than $350,000 and may have earned as much as $620,000.
The Q1 report is a step up from the firm's reports in the second half of 2020. In Q3, for example, the firm collected an estimated $350,000 in fees.
Florida lobbyists and lobbying firms faced a May 15 deadline to turn in compensation reports covering Jan. 1 through March 31. Second-quarter compensation reports are due to the state on Aug. 14.