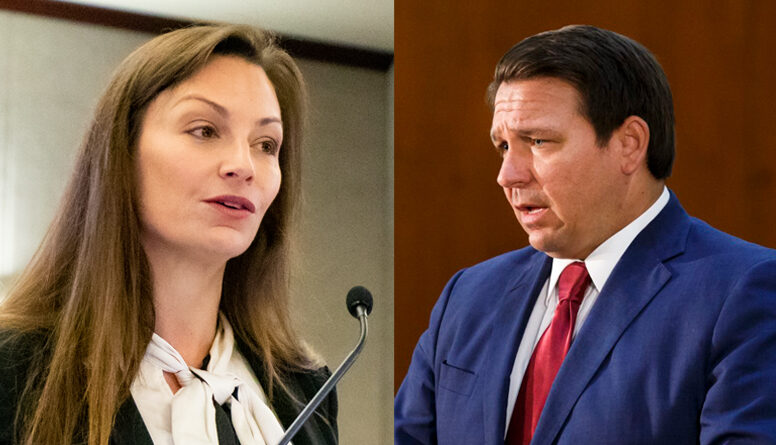 The Governor broke his silence on Fried on Wednesday.
Gov. Ron DeSantis in New Smyrna Beach Wednesday broke his public silence on Florida Agriculture Commissioner Nikki Fried.
In response to a question from Florida Politics' Scott Powers, the first-term Republican offered an unvarnished view of Fried, who is now officially running for Governor after an extended pre-candidacy, in which she spent much time dissing DeSantis.
On Wednesday, DeSantis had his take.
"Look, I think, here's what I'd say," he said. "Nikki Fried has done nothing in office. She does nothing."
"All she does is emote on social media, virtue signal to small dollar donors in California and New York. She put her face, spent millions of dollars to put her face on every gas pump across this state, purely to boost her own image at your expense as a taxpayer," DeSantis continued, referring to an inspections sticker program that briefly saw Fried put her portrait on the stickers.
"She's a lockdown lobbyist. She would have had our kids locked out of school for the entire year. She would have had this business shuttered for the whole year. They would be out of business if Fried were Governor," DeSantis added, referring to the restaurant where he decided to sign this year's budget.
"She's opposed us at every turn. All the good stuff we've been able to do as Governor, she opposed it. I've done more, I think, in my first week as Governor than she has in her entire time as Agriculture Commissioner," DeSantis said, closing his remarks to applause.
Fried, of course, has been attacking DeSantis since early in their respective tenures in office. While the "state over party" mantra was something she initially embraced, she never made much of a secret of her interest in DeSantis' job.
Fried, meanwhile, launched her campaign Tuesday morning. In an MSNBC appearance that evening, Fried made her case for change in the Governor's Office.
"The people of our state are tired," she said. "They're tired of this type of leadership in our state that is not listening to the people. And when we take that message to the people to try something new, they're going to buy it, because they know that the Republican Party only wants status quo and only to protect the top 1% and the corporations of our state and not listening to the people."
"When we get that message out, people will understand that Ron's only using them to get to the 2024 election," she added, saying people would rise up against a "corrupt system" that is "designed to keep them down."
Before any thought of the General Election, meanwhile, Fried will face at least one major opponent in the Primary: former Gov. Charlie Crist, who was more than 30 points ahead of a pre-candidacy Fried in a poll conducted last month.
Fried wasn't worried, she said.
"His time in statewide elected office has come and gone," she said on cable. "The people of our state want something new. They want something different and that is exactly what we're going to give to them."
____
Florida Politics' Scott Powers and Renzo Downey contributed to this post.