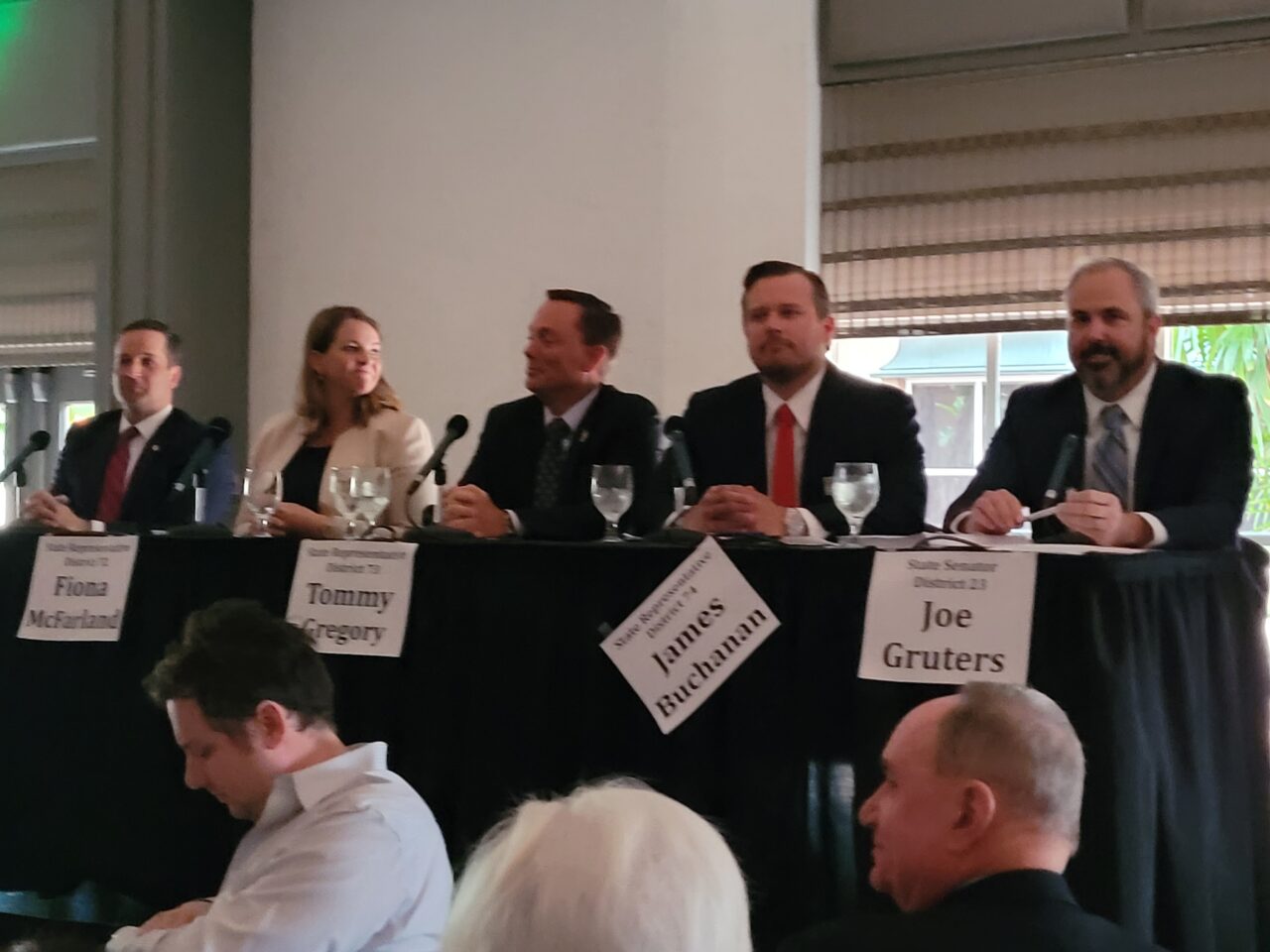 Sarasota County's Republican lawmakers boasted about a successful Session.
Tiger Bay Sarasota for the first time since before the pandemic hosted a full attendance event Thursday. There, lawmakers from the region talked about this year's Legislative Session, and wins on everything from sea level rise to sales tax.
Sen. Joe Gruters from the jump raised perhaps his most controversial legislative achievement. After working on the issue for three years, the Legislature passed his bill calling for online retailers to collect sales tax at the point of sale.
"Why would you as the chairman the Republican Party of Florida, and as a Senator, and as a CPA advocate for this new tax?" the Sarasota Republican said. "But I will tell you, that was a common misconception, but that tax was actually on the books since 1989."
He said the new law means the state will recoup $1 billion each year in taxes not voluntarily remitted through the Department of Revenue. It will also help retailers and allow the state to cut its business rent tax, he said. That hasn't stopped Democrats, notably Agriculture Commissioner and gubernatorial candidate Nikki Fried, from slamming the move as a tax hike.
Regionally, Rep. Will Robinson, a Bradenton Republican, said the biggest win had to be pulling in $100 million for cleaning up the Piney Point industrial site. That made it into the budget signed by Gov. Ron DeSantis on Wednesday. He noted the Manatee County delegation had listed the site as its top priority, even before a breach mid-Session drew the state's attention.
"I can't emphasize enough how scary of a situation that was," Robinson said. "People think it was focused primarily on Manatee County. It really wasn't. It was a Tampa Bay issue. Had the ponds fully breached, it would have released hundreds of millions of gallons of industrial wastewater into the bay. The state appropriation will allow the site to be closed down completely," Robinson said.
While the delegation's one Democrat, Rep. Michele Rayner-Goolsby of St. Petersburg, did not attend the Tiger Bay event, Robinson said she worked closely with himself and Rep. Tommy Gregroy, a Lakewood Ranch Republican, to ensure strong bipartisan support on Piney Point in the House.
Rep. James Buchanan, a Venice Republican, touted important legislation regarding resiliency. He chaired the Environment, Agriculture & Flooding Subcommittee in the House, where he said work was done to create more uniform data on flooding areas around the state.
"It's kind of a patchwork; different places are doing different things," he said. "What we're doing is we're making it more cognitive. We're creating a mapping system that will be granular in nature, so you could go down to a specific area. We will be using consistent modeling — NOAA modeling — across the state."
Work is being done to incentivize resilient homes in the state as well. Incentives will go to making homes compliant with flood zoning, which is critical in a coastal area like Sarasota County.
Gregory touted infrastructure investment in the region, which he said made it through the budget process very well. He also said a priority this year was COVID-19 liability protections.
"We needed to make sure that we are providing certainty for our business owners, and making sure that they're able to be successful," he said. "Especially if they're doing everything right, by way of their employees and their customers."
Rep. Fiona McFarland, a Sarasota Republican, said she felt accomplished in her first Session in Tallahassee. While she ultimately pulled a data privacy bill as Session wound down, she felt confident it will pass in the next Session with concerns from business leaders addressed.
"We're having the right conversations around the definitions," she said. "Are we inadvertently excluding industries or including ones that we shouldn't put in? That's why I think we need a second round."