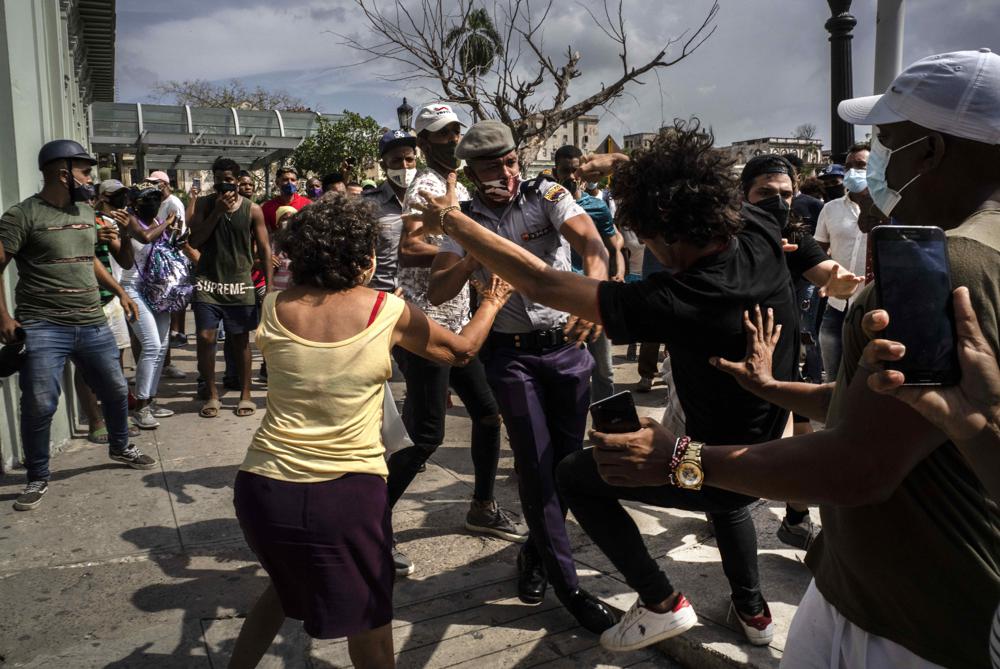 Florida stands with the Cuban people.
As some of the largest street protests seen in decades erupted in Cuba, Florida political leaders in both parties hailed the uprising and declared solidarity with the Cuban people.
Cuba is suffering through its worst economic crisis in decades, coupled with a resurgence of coronavirus cases. The circumstances erupted into massive street protests with thousands of Cubans demanding change.
U.S. Sen. Marco Rubio, a Cuban American and staunch opponent of the Cuban government, is offering running commentary as events unfold. Unlike some other political leaders, though, Rubio took opportunities to scattershot his grievances, aiming his ire as much toward American news organizations and the Biden administration as he did at the Cuban regime.
"The socialist goon squad is now on the street beating peaceful protestors. So far not seeing much interest from US National media outlets," Rubio tweeted.
He then extended his media critique to Twitter, for an objectionable framing of the events.
"Surreal but not surprising. Twitter says this all about COVID 'awareness' in #Cuba. Ignores this is really about how socialism is a disaster & always leads to tyranny, despair & suffering," Rubio noted.
The Senator was not done.
"It's 5:36 PM in the east. A historic day of unprecedented protests going on against socialism in #Cuba So far CNN in the U.S. says nothing to see here but gives coverage to the world's 'deepest pool' in Dubai," Rubio noted.
Rubio's greatest frustration arguably was from the White House, however.
This is a ridiculous tweet from @StateDept

People in #Cuba are protesting 62 years of socialism, lies,tyranny & misery not "expressing concern about rising COVID cases/deaths"

Why is it so hard for @potus & the people in his administration to say that? #SOSCuba #PatriaYVida https://t.co/vLt8SCUXeK pic.twitter.com/gP0KapjvnQ

— Marco Rubio (@marcorubio) July 12, 2021
Rubio tweeted throughout the night, warning of a state response that includes the abduction of opposition leaders and then an official response from the Cuban government that includes a scapegoat.
"Lots of behind the scenes whispering in the regime about the fake President of #Cuba Remember this system always needs a scapegoat. Expect him to appear tomorrow on National TV again with the entire "cabinet" to try & show he has it all under control," Rubio tweeted overnight.
While Rubio was the most outspoken on this issue as of early Monday morning, many from both parties share his position.
Florida Democratic Party Chair Manny A. Diaz, also Cuban American, condemned the Cuban government's response as "a call for bloodshed."
"As I write this, the Cuban government is showing the world that it is nothing more than a repressive tyranny, holding on to a failed and cruel economic and political model," Diaz said in a written statement. "Miguel Diaz Canel's orders to beat and arrest peaceful protesters, and his calls for confrontation between his supporters and the protesters are basically a call for a civil war within the island. Make no mistake, this is call for bloodshed, while the country suffers one of its worst humanitarian crises in decades.
"The courageous people of Cuba took to the streets determined to regain their freedom and demand the end of the dictatorship," asserted U.S. Sen. Rick Scott. "The people of Cuba are not afraid, your time is up!"
"The Biden administration should quickly denounce any detention or violence toward peaceful protestors in Cuba. America & every freedom-loving nation must fully support the brave Cuban people in their calls for liberty & human dignity. The world is watching," Scott added.
Rubio's likely opponent in the 2022 U.S. Senate election, Orlando Democratic Rep. Val Demings, declared that Cubans' future is being decided."
"The voices of the Cuban people must be paramount. It is their nation's future being decided. It is my hope that Cuba's path will be one of democracy and unalienable human rights," she said in a written statement. "I strongly support the peaceful protesters in Cuba as they struggle for their right to create their own future. I condemn all violent repression of the Cuban people by the current regime. Violence against protesters is unacceptable. The suppression of the free press is unacceptable. The Cuban people, like all people, deserve democracy, liberty, health, security, and prosperity. U.S. policy must support the protesters, their safety, and their right to self-determination."
U.S. Rep. Mike Waltz was succinct: "#CubaEsUnaDictadura Stand for freedom for its long-suffering people," the Daytona Republican tweeted. 
Gov. Ron DeSantis was unambiguous on Twitter Sunday afternoon.
"Florida supports the people of Cuba as they take to the streets against the tyrannical regime in Havana. The Cuban dictatorship has repressed the people of Cuba for decades & is now trying to silence those who have the courage to speak out against its disastrous policies," DeSantis tweeted.
At least one Florida Democrat marked the irony, noting DeSantis' own opposition to protest movements closer to home.
"Says the Governor who pushed through House Bill 1, a bill motivated as a means to silence racial justice protests," snarked Rep. Anna V. Eskamani on Twitter.
The Lieutenant Governor, meanwhile, delivered a video message.
#SOSCuba #PatriaYVida pic.twitter.com/tW3FFAkG8q

— Jeanette Nunez (@LtGovNunez) July 11, 2021
Senate President Wilton Simpson said "Floridians stand with the people of Cuba today."
"May their courage and action bring the freedom, dignity and human rights they have long been denied," the Trilby Republican added.
State Sen. Ileana Garcia offered an apt observation: "Freedom in Cuba is symbolized with the American flag."
"I stand with our brothers and sisters fighting for freedom against decades of tyranny, repression, misery and countless human rights violations under the communist Castro regime. I pray their courage and strength leads to a free Cuba.," said Rep. Bryan Avila. 
Miami-Dade Mayor Danielle Levine Cava was no less direct in support of the protests.
"We stand united with the Cuban people on the island and across our community at this historic moment in the struggle for freedom, dignity, and basic human rights – may their courageous actions bring about real change and move us closer to the dream of a free Cuba," Cava, also a Democrat, urged.
Democratic Tampa Councilman Luis Viera was likewise staunchly with the people protesting: "Here in West Tampa to stand in solidarity with Cubans protesting 90 miles from Florida for liberty, food & COVID vaccinations. I'm a proud son of Cuban refugees & am proud to use my voice to support change in Cuba."
___
Reporting from The Associated Press was used in this post.