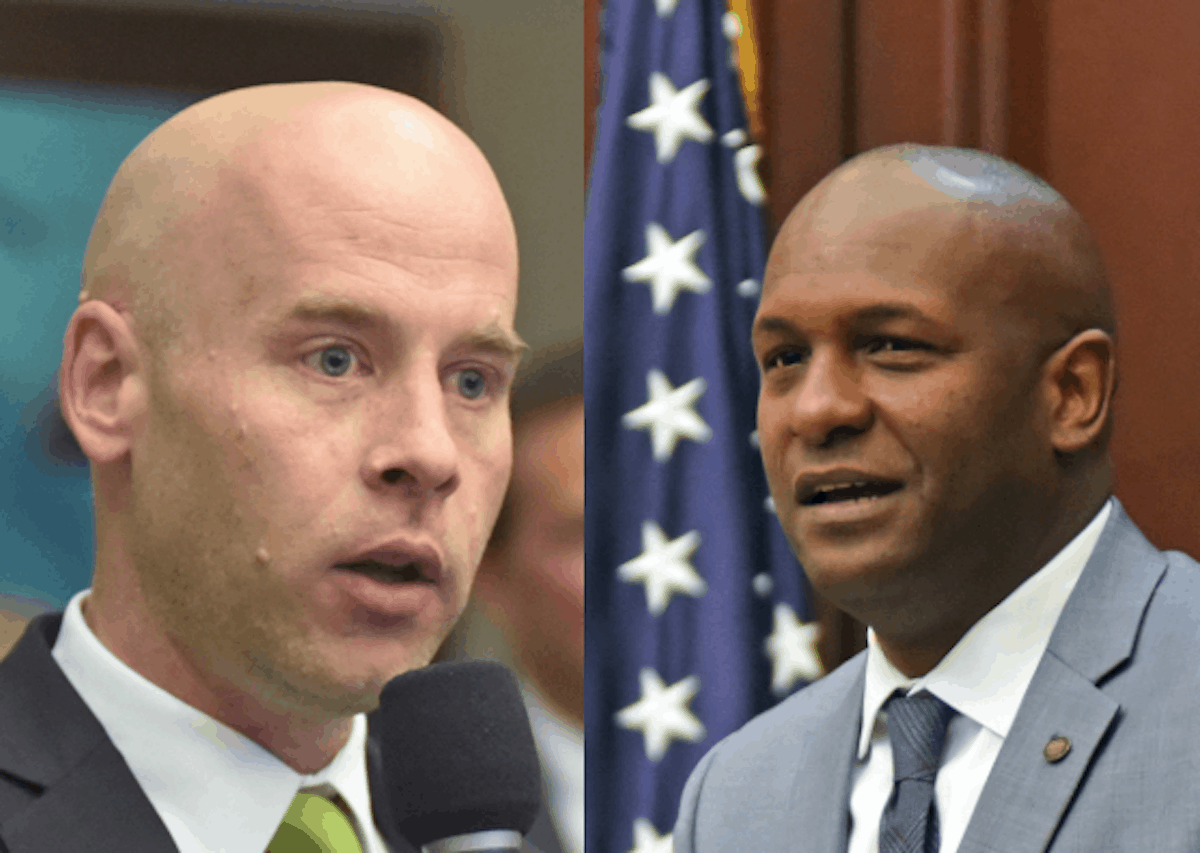 The major agenda item next Session: redistricting.
Democratic House Co-Leaders Bobby DuBose and Evan Jenne have named the minority party's leadership team for the House's various committees ahead of committees convening next week.
After a musical chairs of leadership positions, largely due to the three redistricting panels added for the 2022 Session, 25 Democrats will lead the party across 34 committees and subcommittees. Committee weeks for the upcoming Session begin Monday.
"The Florida House Democrats are ready to get back to work and help Floridians still struggling because of the pandemic," DuBose said. "From keeping our schools safe to fixing our broken health care system, Floridians need us to come up with real solutions to the problems making life in the Sunshine State difficult for so many. We will continue to be strong advocates of the people on the critical health and safety policies that the people deserve."
Jenne added he was excited to unveil their list of ranking members.
"The Florida House Democratic Caucus looks forward to advocating and fighting for all Floridians," Jenne said. "This is yet another important Session because of the ongoing COVID pandemic. We must help provide relief for so many Floridians that need it, ensure small businesses stay open, and continue to defend local governments' autonomy."
Last month, the U.S. Census Bureau released population and demographic data that lawmakers will use to draw the maps that will be used for the next 10 years — barring a mid-decade redistricting. House Speaker Chris Sprowls assigned a full fleet of members to three redistricting committees, necessitating a shift in leadership within both parties.
Rep. Joe Geller will be Democrats' ranking member on the Redistricting Committee. The Aventura Representative said he was honored to be trusted with the role.
"It's crucial that we draw the maps fairly and make sure all Floridians have proper representation in their government," Geller said. "I am committed to making sure that the Fair Districts process is respected, and that our maps are drawn in a constitutionally permissible manner."
Last Session, he was the ranking member on the Rules Committee, where he is now replaced with Wellington Rep. Matt Willhite. Willhite will be a ranking member on a high three committees.
"With the debate time procedures put in place last year while the House is in Session, the role of Rules Ranking member has grown in significance," Willhite said. "I am looking forward to working closely with Chair (Paul) Renner and advocating on behalf of the Democratic caucus."
Boca Raton Rep. Kelly Skidmore will be the ranking member on the new Congressional Redistricting Subcommittee. Skidmore, who was previously a Representative from 2006 to 2010, is serving her first term since returning to the House.
"The redistricting process will impact Floridians for at least the next 10 years and I take that responsibility very seriously," Skidmore said. "I echo Speaker Sprowls' commitment to ensuring that Floridians enjoy a fair and legal redistricting process and encourage every resident to stay informed, attend meetings throughout the state, and participate whenever possible."
Sunrise Rep. Dan Daley, who joined the House after a Special Election in 2019, will take Democrats' ranking role on the new State Legislative Redistricting Subcommittee.
DuBose navigated his role as co-leader and Appropriations ranking member during the recent Session. But that will change for 2021, with Miami Rep. Nicholas Duran becoming Democrats' chief budget negotiator.
"I am honored to be named to serve as Ranking Member on the 2022 Appropriations Committee. I look forward to working alongside Chairman Jay Trumbull and the committee as we set the state budget priorities for the next fiscal year," Duran said. "Florida's budget provides funding for essential state agencies and programs that are critically important to Floridians."
Duran was Democrats' ranking member on the Health and Human Services Committee for the 2021 Session. Jacksonville Rep. Tracie Davis is replacing Duran.
Davis doubled as Democrats' ranking member on the Early Learning and Elementary Education Subcommittee and the Public Integrity and Election Committee last Session. On Public Integrity and Elections, she is replaced by Windermere Rep. Geraldine Thompson.
"What we do will impact the future of Florida for the next decade and beyond," Thompson said. "I plan to advocate for the things that I believe in from my seat at the table."
Thompson doubled as the ranking member on the Higher Education Appropriations and the Secondary Education and Career Development subcommittees for the 2021 Session. Miami Rep. James Bush will take over as the ranking member on the latter subcommittee and leave behind the Post-Secondary Education & Lifelong Learning Subcommittee. Minority Whip Ramon Alexander, of Tallahassee, will replace Bush and retain his role as Environment, Agriculture & Flooding Subcommittee Ranking Member.
Boca Raton Rep. Emily Slosberg, who was the ranking member on the Government Operations Subcommittee, will replace Boynton Beach Rep. Joe Casello as ranking member on the Pandemics and Public Emergencies Committee, established last year. Replacing Slosberg on Government Operations will be freshman Rep. Kevin Chambliss, of Homestead.
Committee meetings for the 2022 Session begin Monday. The 60-day Legislative Session opens Jan. 11.
Below is Democrats' complete list of ranking members: