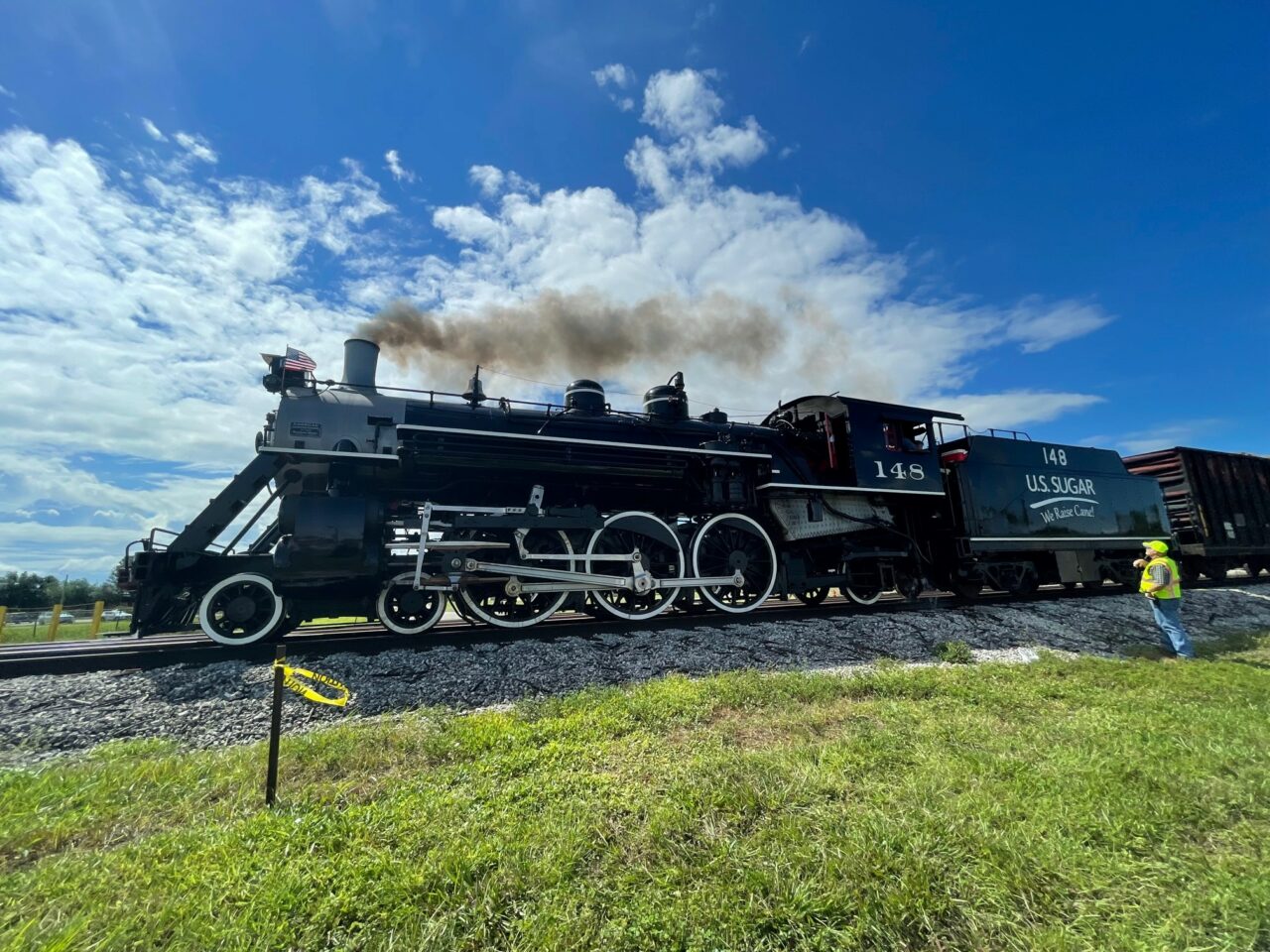 The company finished restoring the train in 2020.
U.S. Sugar sent out its recently restored Locomotive No. 148, also known as the "Sugar Express," to help ring in the 90th anniversary of its annual sugarcane harvest.
The organization relaunched the train last year after a years-long restoration process. Since then, Locomotive No. 148 has brought in the 2020 end-of-season sugar harvest and helped deliver toys to children in the Lake Okeechobee area after temporarily being redubbed the "Santa Express."
This past Friday, the steam engine delivered the first group of railcars containing sugarcane to the U.S. Sugar mill.
"Our farmers are eager to begin work on yet another harvest as the people of U.S. Sugar continue to sustainably grow millions of pounds of local food crops including sugarcane, citrus, sweet corn, green beans and other types of fresh produce for American families," said Brannan Thomas, U.S. Sugar's community relations manager.
"Last year was a challenging year due to COVID-19, and we are once again taking all of the proper precautions to ensure the safety and health of our employees, their families, and our community."
Pastors Jeff Smith of Clewiston's First United Methodist Church and Fred Gamble of Harlem's True Vine Church joined the event to pray for a full and safe harvest season on behalf of area farmers.
"We appreciate the contributions our local farmers make to our community and our nation's food supply, and offer our prayers for another safe and successful harvest," Pastor Smith said. "It is truly an honor to offer God's blessings to ensure our local communities can all share in yet another bountiful crop."
"We pray for God's blessings over everyone who depends on agriculture as a source of employment and nourishment."
U.S. Sugar also made the event available to the public, allowing for viewing and photo opportunities with the restored steam locomotive.
The train originally traveled on the Florida East Coast Railway before U.S. Sugar purchased it in 1952 to help transport harvested sugarcane to its mills. After about a decade of use, the company sold the train.
A half-century later, in 2016, U.S. Sugar CEO Robert H. Buker, Jr. pushed to repurchase the train. Partnering with FMW Solutions LLC, the company then restored the locomotive.