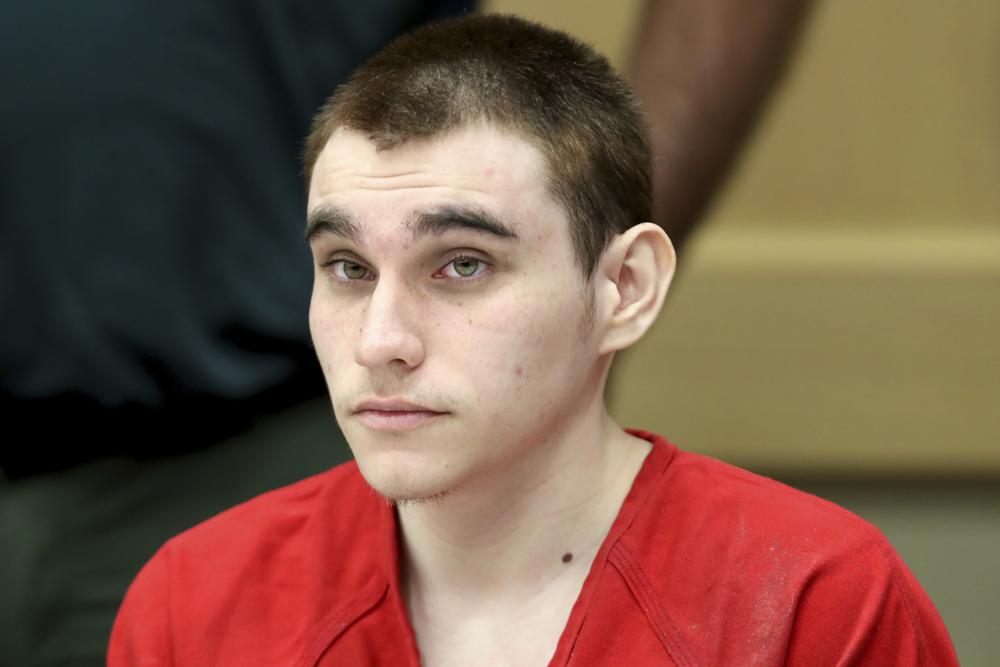 The death penalty phase of the trial is expected to begin in November.
Nikolas Cruz plans to plead guilty to all 17 murder counts and 17 counts of attempted murder in the 2018 Marjory Stoneman Douglas High School massacre, his defense team said Friday.
Cruz, 23, will face a hearing on whether he should be sentenced to death.
Cruz a former student at the Parkland school, had already confessed to the massacre, according to law enforcement, but Friday it became official that he plans to change his "not guilty" plea on Wednesday to the charges involved in Broward County's biggest crime in history.
Friday, Cruz officially pleaded guilty to charges involving a jailhouse assault on a Broward County detention officer. In that 2018 case, he faced charges that included aggravated assault with a deadly weapon; his guilty plea Friday could mean a sentence of 14 months to 15 years.
"Guilty," Cruz answered to each charge Circuit Court Judge Elizabeth Scherer recited.
The jury was scheduled to come in on Monday for the start of Cruz's trial for the jailhouse assault case, but a hearing was hastily scheduled Friday morning.
His attorneys have repeatedly offered to plead guilty to the school massacre in return for a guaranteed sentence of life in prison, but prosecutors have refused to take the death penalty off the table. Friday's guilty plea means avoiding a traumatic, lengthy trial and allowing a jury to decide Cruz's fate.
Florida requires all members of a jury in a death penalty case to agree on the final penalty if the defendant is to die.
Victims and survivors quickly responded.
"School shootings are a systemic and pervasive issue facing our country. As a society we should demand the perpetrators of these horrific acts be prosecuted to the fullest extent of the law. We must find ways to deter others from copying these attacks. We must ensure the victims are remembered and the media must work to deprive the attacker of any notoriety," said Tony Montalto, whose daughter, Gina, died in the attack.
"Everyday my family must deal with the devastation caused by the murder of our beloved daughter Gina. On days like today we also have to relive the tragedy that took her from us. Sadly, nothing will bring back Gina or the 16 other wonderful souls that died at the hands of this murderer but all Americans must come together and do everything in our power to ensure that not one more family has to deal with these tragedies in the future."
Hunter Pollack, whose sister, Meadow Pollack died in the mayhem, tweeted that it was time to sentence "this monster" — 1,338 days overdue.
"Our families need justice to be served," he wrote on Twitter.
Fred Guttenberg, father of Jaime Guttenberg, who was also killed in the massacre, tweeted a plea to remember the victims.
I have received messages today asking me to comment on the breaking murder trial news. My only comment is to remember the victims. Remember Jaime. Rather than talk about the murderer, please join us on Oct 23rd to celebrate Jaime's life by signing up at https://t.co/nNPMmsRd7R pic.twitter.com/gFuWctxzp2

— Fred Guttenberg (@fred_guttenberg) October 15, 2021
Preparations have been ongoing for years in what would have been the biggest murder trial in Broward County history. The hail of bullets shattered the peace in Parkland, long known as an exclusive suburb of Fort Lauderdale, and transfixed a nation as student survivors came forward to start a gun control movement that continues today.
In the wake of the shooting, the Florida Legislature passed new firearm restrictions that required a three-day waiting period for most purchases of long guns and raised the minimum age for purchasing those weapons to 21.
Cruz was arrested about an hour after the attack with an AR-15 semiautomatic rifle on Valentine's Day 2018.
The judge said she planned to bring in a jury for the penalty phase of this case starting Nov. 8. David Wheeler, lead defense attorney for Cruz, said his side may not be ready by then.
Scherer responded sharply.
"There shouldn't be any need for any kind of continuances, everyone knew what was happening," she said.
WSVN showed footage of the parents of Nicholas Dworet, an MSD senior slain in the massacre, entering the courtroom. They told the Sun-Sentinel they wanted Cruz to die.
Ryan Deitsch, one of the student survivors, pleaded on Twitter to stop showing the murderer's picture.
Was already under intense ptsd all week, this verdict has worsened my state of being. It was bound to happen but so many years, that building still up while memorials were torn down, breaks my heart.

Please if you work in media: stop flashing headlines & pics of mass murderers!

— Ryan Deitsch (@Ryan_Deitsch) October 15, 2021
________
The Associated Press contributed to this report.