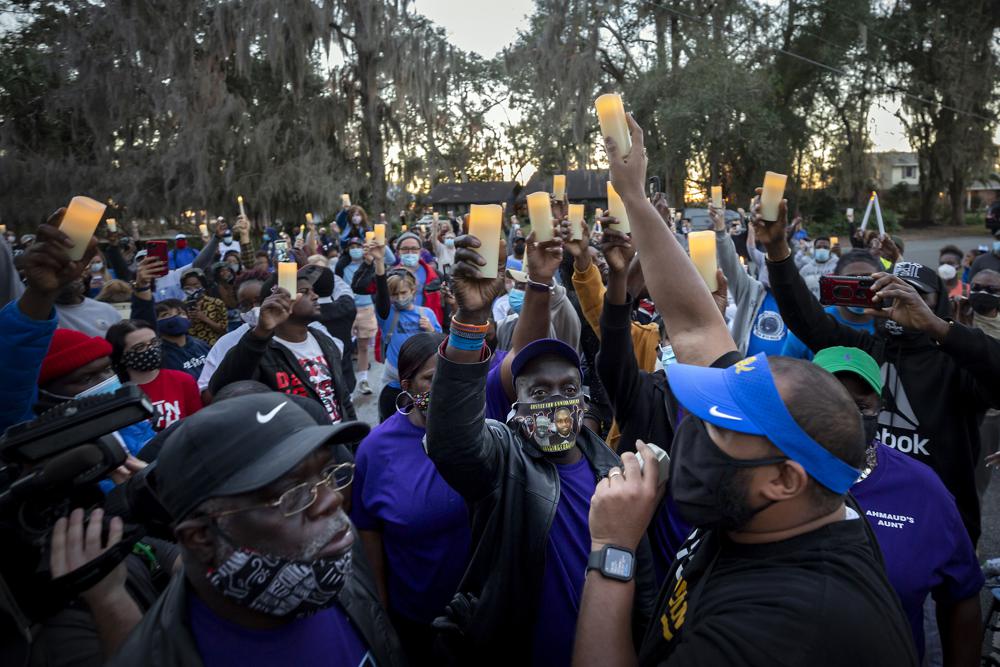 The slaying of the 25-year-old Black man sparked a national outcry fueled by graphic video of the shooting.
Hundreds of people were ordered to report for jury duty Monday in Georgia for what could be a long, laborious effort to find jurors to hear the trial of three white men charged with fatally shooting Ahmaud Arbery as he was running in their neighborhood.
The slaying of the 25-year-old Black man sparked a national outcry fueled by graphic video of the shooting. Father and son Greg and Travis McMichael and their neighbor William "Roddie" Bryan are charged with murder and other crimes in Arbery's death on Feb. 23, 2020, just outside the port city of Brunswick.
Jury selection could last two weeks or more. Arbery's father said he's praying for an impartial panel and a fair trial, saying Black crime victims too often have been denied justice. For many, it's not just the three white defendants on trial, but rather a justice system that allowed them to remain free for weeks after they pursued and killed a Black man.
The McMichaels and Bryan are charged with nine counts each, including malice murder, felony murder, aggravated assault and other crimes. The men told police they used pickup trucks to keep Arbery from fleeing the Satilla Shores neighborhood. Security cameras in an open-framed house under construction had previously recorded him on the site, and they suspected he was stealing.
Greg McMichael, a retired investigator for the area district attorney, can be seen playing up his law enforcement ties on recordings taken by police body cameras of officers dispatched to the scene after the shooting.
Prosecutors contend Arbery was merely jogging on a street just 2 miles from his home. They say he was unarmed and police found no evidence he had stolen anything.
What remains to be seen is how much prosecutors emphasize evidence of racism in Arbery's killing. At a court hearing last year, a Georgia Bureau of Investigation agent testified that Bryan told investigators he witnessed Travis McMichael stand over Arbery and utter a racist slur — "f – – – ing n – – – er" — while Arbery bled in the street from three shotgun blasts.
Travis McMichael's attorneys deny that.
Investigators also found text messages on Travis McMichael's cellphone from a year before the shooting in which he used the N-word twice in one exchange. Prosecutors included the texts in evidence filed in the public court record, but haven't requested to use them during the trial.
Meanwhile, defense attorneys want the judge to block prosecutors from showing the jury photos of the truck the McMichaels used to chase Arbery, which show a front bumper vanity plate of Georgia's former state flag with the Confederate battle emblem.
Attorneys for the McMichaels and Bryan have insisted they committed no crimes, saying they had reason to suspect Arbery was a burglar and were legally trying to stop him. At the time, Georgia law allowed arrests by private citizens. They contend Travis McMichael shot Arbery in self-defense after Arbery attacked him with his fists and grappled for his gun.
"The jury will see this case is simply about protecting one's neighbors and oneself," Jason Sheffield, an attorney for Travis McMichael, said in an email to The Associated Press.
Arbery's family has long said he was targeted because of his race. His relatives cheered when the U.S. Justice Department brought federal hate crimes charges against the McMichaels and Bryan in April. A separate trial in that case is scheduled for February.
Republished with permission from the Associated Press.