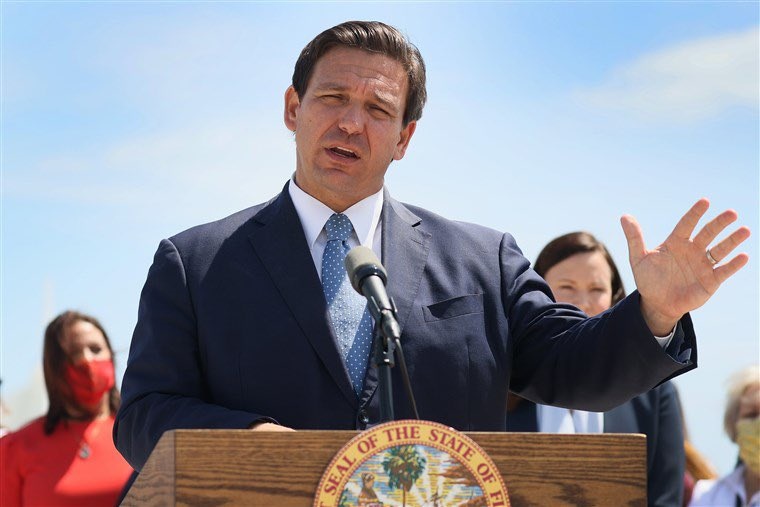 The Governor continues to hammer the inflation message. Will proposed solutions help?
Inflation is taking a bite out of Florida families' budgets, and the Governor says he might have some ways to help.
Gov. Ron DeSantis was in Brooksville Monday, where he suggested potential "relief" for high gas prices and a Florida-based solution for supply chain snags.
DeSantis has focused on inflation on a recurrent basis in recent remarks, but Monday offered an outline for potential help for those feeling the bite of rising prices and a collapsing greenback.
"I think that will be something that we'll be working on and potentially could even work with the Legislature to see what we can do on that," DeSantis teased, regarding pressures at the pump.
"So we're actually working on some things. Particularly when you look at the increase in gas prices, to have gas prices go up almost 50%. That absolutely hammers people because that's a fixed cost for a lot of folks who are commuting to work every day," DeSantis said, slightly overstating the gas price increase, which is only 42% year over year.
"There's inflation across the board. But there are certain things that go up that you can substitute that people can make those decisions. It's hard to get to work if you can't get in your car and go. So they're having to do it. They're having to eat the price of the gas, and we're going to look at what we can do to maybe provide relief to some of our consumers, some of our commuters," DeSantis added.
DeSantis also pledged to "have an announcement soon" about how Florida can be part of the solution for stalled ports out west, such as the Port of Los Angeles where cargo is piling up with no offload in sight.
"We're going to be working on the supply chain," DeSantis said. "You see these boats, these ships — they're just sitting there off these coasts. The stuff's not getting here."
"You see these shortages developing. That's not something that we've really experienced, certainly not in my adult lifetime that I can remember. And so you're seeing all this stuff with the supply chain. What can Florida do to make sure these goods can come to market more efficiently? I think we may be able to do some things. So we're going to do whatever we can. We're probably going to have some announcements soon along these lines," DeSantis said, before ending the media availability.
The Governor has focused on inflation, supply issues, and other related macroeconomic woes of late, and he set up the policy teases with familiar rhetoric about the "concerning" problem of higher costs for most consumer goods.
DeSantis said inflation, an "invisible tax," is "going to kneecap a lot of folks." He also described the White House as "begging OPEC" to offer price relief, another talking point similar in spirit to those issued earlier this month.
DeSantis' take on inflation is not universally shared in Tallahassee.
Even the Legislature's chief economist, Amy Baker, called the inflation transitory during remarks to the Senate Budget Committee earlier this month. But while Baker expects a return to "normal" levels over the natural course of the economic cycle, DeSantis has been more doom-and-gloom during the current inflation crisis, albeit with one eye on the political future.
Last week for example, DeSantis predicted that children might not get toys for Christmas because of supply chain issues. His political committee then sent out a fundraising letter saying President Joe Biden could be "the Grinch who stole Christmas."
___
Florida Politics' Capitol Correspondent Renzo Downey contributed to this post.