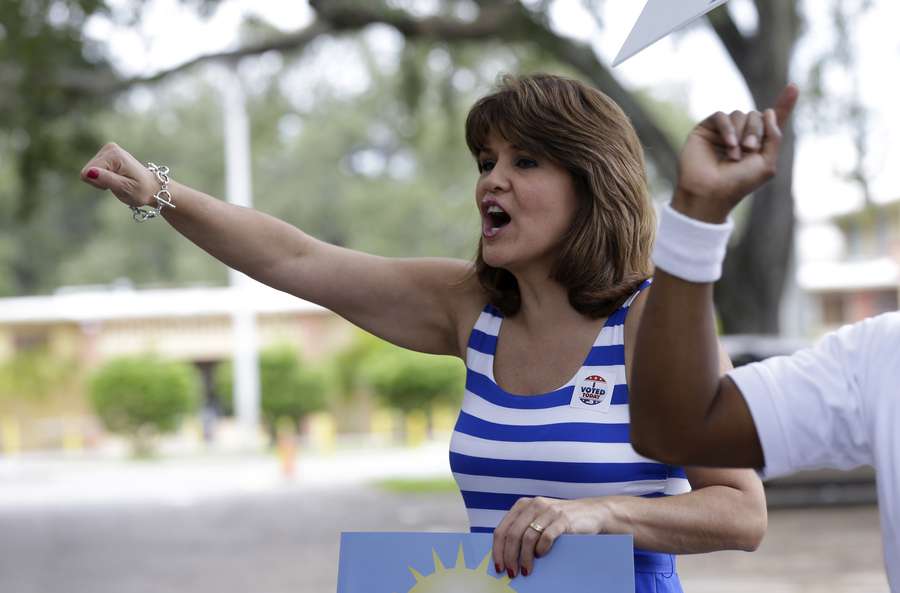 Taddeo joins a Democratic Primary field which includes former Gov. Charlie Crist and Agriculture Commissioner Nikki Fried.
Democratic state Sen. Annette Taddeo formally announced her candidacy for the 2022 Governor's race Monday morning during a news conference in Tallahassee.
Taddeo joins a Democratic Primary field which already includes U.S. Rep. Charlie Crist, a former Governor, and Agriculture Commissioner Nikki Fried. Taddeo is the 10th Democrat to file paperwork in the Democratic Primary, as Democrats attempt to oust first-term Republican Gov. Ron DeSantis.
Taddeo held a news conference at 9:15 a.m. outside the R.A. Gray Building, which is home to the Department of State, where she made her run official. She also released a video Monday morning where she looked to speak with Florida voters.
"I believe we can inspire Floridians to raise their sights and elect a Governor to represent all Floridians," Taddeo said. "I am a lifelong Democrat and I am running for Governor because Florida, I believe in us. With our fighting spirit, there is no limit to how high or how far we can fly."
Taddeo served as the Democratic Lieutenant Governor candidate in 2014. That year, Crist was the Democratic nominee for Governor. The Democrats lost by one point to former Gov. Rick Scott. Taddeo's announcement will now pit her against her former running mate.
Taddeo's mention of being a lifelong Democrat is an allusion to the fact that Crist served as a Republican during his one term as Governor before switching parties. During Monday morning's news conference, Taddeo was more clear about that connection.
Early on, reporters asked Taddeo about running against her former Democratic running mate.
"I actually have tremendous respect for Charlie. I love Charlie and I know he has a huge heart. But this race is not about Charlie, or about me. This race is about the future of Floridians and who is going to be the best person to create the coalition, and to create excitement from the ground up for us to win in Florida."
But later on, she turned back to the issue when asked about policy differences between the Democratic candidates.
"I don't think most of us disagree on many of the policies," Taddeo said. "Although I will tell you, those people across the state that have been really outspoken to me about running are very aware that I am a lifelong Democrat and somebody who has never stood down to our Democratic values."
Crist had nothing but praise for Taddeo following her announcement, as he again tried to keep his focus on Gov. DeSantis.
"I know and respect Annette Taddeo," Crist said in a written statement Monday. "We share a common goal of moving Florida forward and away from the negative and divisive politics damaging our state today under the failed leadership of Gov. DeSantis. We, like most Floridians, know we can and must do better. Time and time again, Annette has stood up for her community, and that's why I asked her to be my Lieutenant Governor in 2014. Annette will bring spirit, heart, and important perspective to this race."
The Republican Governors Association (RGA) also added a statement targeting the now three main Democratic candidates for Governor.
"Florida Democrats in the gubernatorial primary were already are a disaster, and adding a third candidate to the mix will surely make things even worse for them," said RGA spokesperson Joanna Rodriguez.
"Annette Taddeo, Nikki Fried, and Charlie Crist are in a race to the left to shore up the Democratic base. As Florida Democrats continue to fight with each other, they're making the case all on their own how out of touch they are with a majority of Floridians."
Late last week, Taddeo forecast a potential announcement when her political committee, Fight Back Florida, hired a new, all-female leadership team. That included bringing on Jackie Lee as a senior adviser, Allison Clark as a senior campaign coordinator, and Millie Raphael and Stephanie Bromfield as senior coalitions advisers.
"This group of talented professionals are laying the groundwork to build strong coalitions across Florida that reflect the new generation of leadership that can ensure our state continues to be one of the leading battlegrounds in the nation," Clark said in a Friday release announcing the moves.
"The coming days and weeks will show why we've come together at this pivotal moment."
In May, Taddeo confirmed she was weighing a possible run for Governor. In the months since, Taddeo has increasingly directed criticism toward Gov. DeSantis and ramped up her fundraising operation. Her PC also brought on additional staff in early October.
Taddeo also mounted a 2016 run for Congress. She was pursuing a General Election matchup with then-GOP U.S. Rep. Carlos Curbelo, but Taddeo narrowly lost in the Democratic primary to Joe Garcia.
She has served in the Senate since winning a 2017 Special Election for the Senate District 40 seat. In 2018, she earned reelection to her first full term.
On the Democratic side, David Freeman, Ivan Graham, Jonathan Karns, Amaro Lionheart, Alexander Lundmark, Timothy Mosley and Robert Willis are also pursuing the gubernatorial nomination.