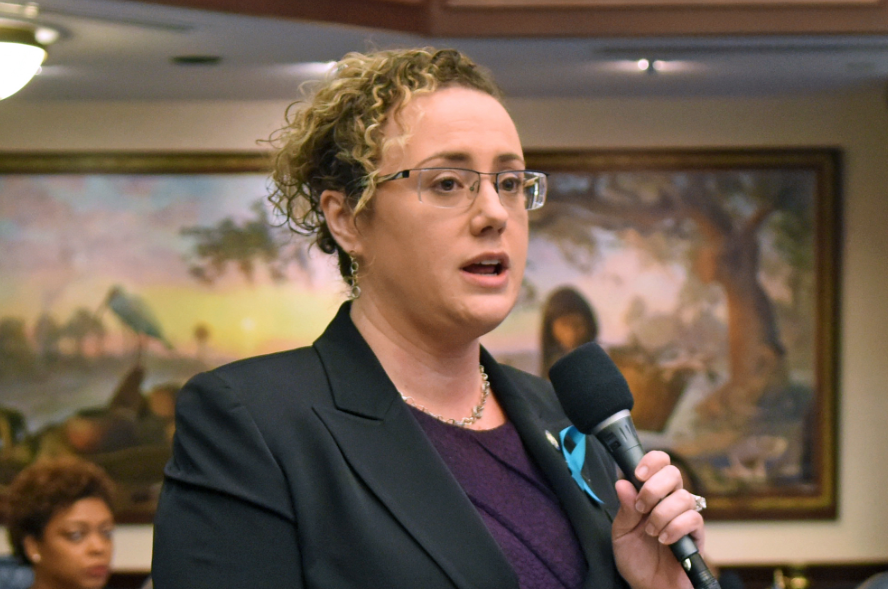 'I've worked on it too long to give up.'
As the Florida Legislature considers bills to limit civil actions, a leading House Republican said the chamber will once again consider repealing personal injury protection law, but it is not likely to advance a proposal to eliminate so-called "phantom medical bills."
House Judiciary Committee Chair Erin Grall said she will continue to work on repealing Florida's no-fault automobile insurance law known as personal injury protection. She passed a bill to repeal PIP last year but it was vetoed by Gov. Ron DeSantis.
"I have been working on PIP for my first five years (in the House) and I'm looking for the solution of how we get the Governor on board. So I am not giving up yet. I've worked on it too long to give up on it yet."
Grall said she has been trying to understand what DeSantis's primary concerns with her bill were and that she has not yet had detailed conversations with the administration.
"But I do believe, and I am optimistic, there is a landing space," she said. "I stay optimistic."
Grall is less optimistic, though, that the House will consider legislation business interests and insurance lobbyists have pushed for more than a decade to allow juries to see what insurance companies pay for required medical care, which currently isn't allowed. The groups also want to eliminate the use of so-called letters of protection, which allow physicians who are willing to provide health care services to uninsured or underinsured residents.
Business interests argue letters of protection enable physicians to provide care at inflated costs, which drives up jury awards. Publix Supermarkets has testified in the past that 60% of the personal injury claims against the supermarket receive medical treatment under letters of protection, even though the plaintiffs have health insurance.
Under letters of protection, physicians agree to provide the care so long as the patient and their attorney agree to keep the medical bills out of recovery.
Grall told Florida Politics she doesn't see the need to move forward with legislation to address the issue. She said letters of protection are admissible in court and juries are aware of what occurs.
"I don't think there is a need for a change in how they operate right now," she said.
Grall's comments come on the heels of Judge Donald Myers' calls to discuss torts and the assignment of economic and noneconomic damages in civil cases.
And, for the most part, Myers told committee members Florida's tort system isn't broken or the judicial hell hole that some claim.
"Are there bad verdicts? It happens. It is so rare, I just can't tell you. I have only one time in 11 years taken a verdict away from a jury," he said. "We don't get plaintiffs' juries. We don't get defense juries. If you've ever watched jury selection you'll know, it's not about getting to pick who you want, it's getting to pick who you don't want on the panel. Right? It's a process of exclusion, not necessarily a process of inclusion."
Myers told panel members that medical bills, records, employment records, expert medical and financial testimony and the claimant's testimony can be introduced to the jury by either the plaintiff or the defendant.
State law, though, prohibits insurance status from being introduced to the jury. Myers said the goal was to ensure the jury is not swayed by whether the party was insured.
The law is implemented through what's known as the "enjoinder rule," which prohibits the jury from hearing whether the claimant had insurance. Myers said the goal is to ensure insurance status has no influence on a jury's determination of the insured's liability and damages.
The other law, implemented through what's known as the "collateral source rule," precludes third-party payments made to the claimant from being introduced to a jury.
Collateral sources include private health insurance; auto insurance payments for medical or disability coverage; Social Security payments; employee salary; and continuation plans.
Myers said the collateral source rule applies to both the rules of evidence, or what can be introduced to a jury, as well as to the amount of damages that ultimately are awarded.
Medicare, Medicaid, worker's compensation and life insurance, all benefits for which a right of subrogation, or reimbursement, exists, are not collateral sources. Therefore, those amounts aren't deducted from jury awards. Myers told the panel, though, that the Florida Supreme Court has agreed to consider a case that touches on whether Medicare payments should be considered collateral sources of payments. The court has not yet heard the case.
Meanwhile, Myers said following a jury verdict either party can request what he called a "set off meeting" where a judge reviews damages and subsequently eliminates from the awarded amount collateral payments made in order to prevent "windfalls."
Myers still is a sitting judge. As such he avoided directly answering Rep. Mike Beltran's question as to whether the state was "doing the right thing" with the rules and whether there were "holes" in either the statues or the rules.
"What I think I can say is that the system manages well these issues, with rare exceptions. So I think the vast majority of time rules we have in place are helpful and get us through trial and to a post-verdict set-off situation if necessary."
But Myers said it's a rare occasion that a post-verdict meeting with a judge is required because attorneys, who understand the rules, are able to reach an agreement without having to rely on a judge.
Insurance lobbyist Mark Delegal paints a different picture.
Delegal said Tuesday that injustices resulting from the system weren't really discussed. So the standpoint is that people know the rules of the road.
"But the rules of the road are everyone is driving 180 miles an hour. That's the rule. And it needs to be fixed to 70 miles an hour," he said.
But Grall said she wasn't surprised by Myers' comments. And like him, she maintains that the legal system works for those who use it.
"The purpose of the presentation was to educate our members on the panel of these issues that come up every year, to have a more robust conversation about the actual statutes and the way in which our system works in regards to some of these issues," she said. "We rarely unpack how things actually work. And we can sometimes see policies move on sound bites rather than on the actual legal system, and the statues the way they exist."