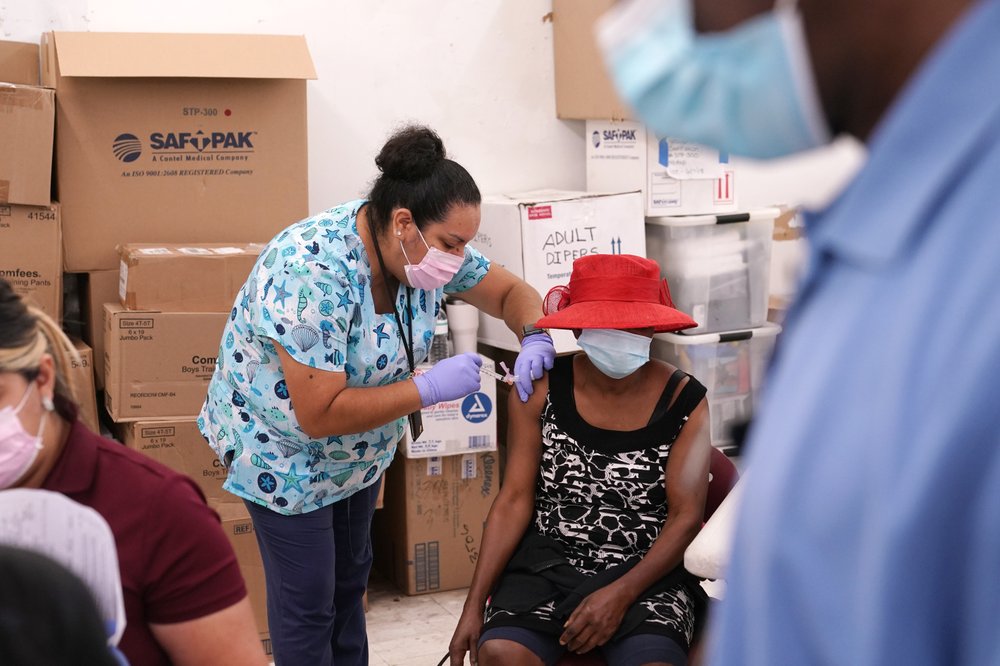 The Senate Judiciary Committee rejected three amendments filed by Sen. Tina Polksy.
House and Senate legislative panels Monday moved identical bills that ban businesses from firing staff for refusing to get vaccinated without offering them an opportunity to opt out and that bar local governments from mandating COVID-19 vaccines.
The move hands Florida Gov. Ron DeSantis what appears will be an easy and victorious Special Session.
The House Commerce Committee spent four hours debating amendments and taking public testimony, mostly from people who oppose the mandates, before agreeing to pass HB 1B along a mostly partisan vote.
Rep. Dotie Joseph, a Democrat, voted for the bill in the committee but said she won't support the measure for final vote. The other Democrats on the panel opposed the bill.
Committee member Rep. Angie Nixon contracted COVID-19 while she was pregnant. As a result, she said, she has takes her daughter to a cardiologist several times a year. Noting that the House has in recent history passed bills from the chamber that limit a woman's choice to have an abortion, she said she was confused that the chamber wouldn't require pregnant women to be advised on the negative impacts COVID-19 can have on infants.
But her criticisms didn't end there.
"I'm really concerned that we're up here saying a horse dewormer is real science. I'm scared at some of the debate, or the testimony, that came from members of the public today," she said adding. "I know what it was like to barely breathe. I wish I would have had the vaccine at the time."
Nixon, a Jacksonville Democrat, was referencing public testimony from someone who claimed to have been given Ivermectin, a drug meant for animals. The Food and Drug Administration has advised people not to take the drug for the treatment or prevention of COVID-19. 
In addition to addressing the vaccine mandates, the bill beefs up a 2021 law meant to give parents more control over their children at school.
DeSantis called lawmakers into a surprise Special Session to pass policy that makes it illegal for employers to require vaccines for employment. After behind the scenes negotiations, the House and Senate released four identical bills to address the Governor's concerns.
The Session has been criticized by Democrats who claim DeSantis is playing politics to appease his Republican base. A group of physicians has criticized DeSantis, saying his policies put Floridians at risk.
The House Commerce Committee vote on HB 1B and HB 3B, an accompanying public records exemption, came hours after the Florida Senate Judiciary Committee voted 7-3 to approve its version of the bill, SB 2B.
"What we are seeking here is to make sure employees are not getting fired," said bill sponsor Sen. Danny Burgess. 
Sen. Dennis Baxley said it was "time to act" so that Floridians "are not subjects of a totalitarian national government."
President Joe Biden's administration is moving forward with vaccine mandates for health care providers, federal contractors and large employers.
Democrats, like Sen. Audrey Gibson, criticized the bill as unnecessary, arguing it strips local control and is a "politically motivated piece of legislation."
"The last thing we want to see is another takeover of a virus we can control," Gibson said.
Before moving SB 2B to its next committee, the panel shot down three amendments proposed by Senate Judiciary Committee member Sen. Tina Polsky who asked Burgess how the proposal impacts Florida employment law. Polksy, a lawyer, noted Florida is a right-to-work state.
Polksy offered one amendment that would have excluded from the prohibition a broad group of health care providers that lawmakers earlier this year agreed to protect from COVID-19 lawsuits. The amendment would have exempted hospitals, doctors offices, nursing homes, home health agencies, federally qualified health centers and scores of other health care providers regulated by the state Agency for Health Care Administration from the proposed vaccine mandate ban.
"We should not be worried about catching COVID-19 when receiving medical services," Polsky said.
Another amendment would have tightened a provision in the bill regarding exemptions employees can seek to avoid employer vaccine mandates. Under the bill, employers can issue a mandate, but only if they provide five qualifying reasons employees could opt out. Polsky's amendment would have allowed employers the opportunity to question an employee's religious exemption.
Burgess asserted such questioning was intrusive and would risk legal scrutiny. Another Polsky amendment would have made clear the law does not preclude employers from offering workers incentives to get vaccinated.
SB 2B is one of four proposals state lawmakers are debating during a Special Session on vaccine mandates, called by Florida's Republican Governor. The bill would prohibit private employers from mandating COVID-19 vaccinations for their employees unless they offer their employees one of five ways to opt out of the mandate, including exemptions for religious reasons and health reasons, such as pregnancy.
Private employers that violate the law would face steep fines and investigations by the state Department of Legal Affairs.
SB 2B is not as far reaching as what DeSantis said he wanted to see the Legislature consider. The Governor initially suggested lawmakers should strip COVID-19 liability protections from businesses that enact mandates. But lawmakers didn't go along with that idea.
Additionally, lawmakers limited the lifespan of the ban. It would expire June 2023 if passed.