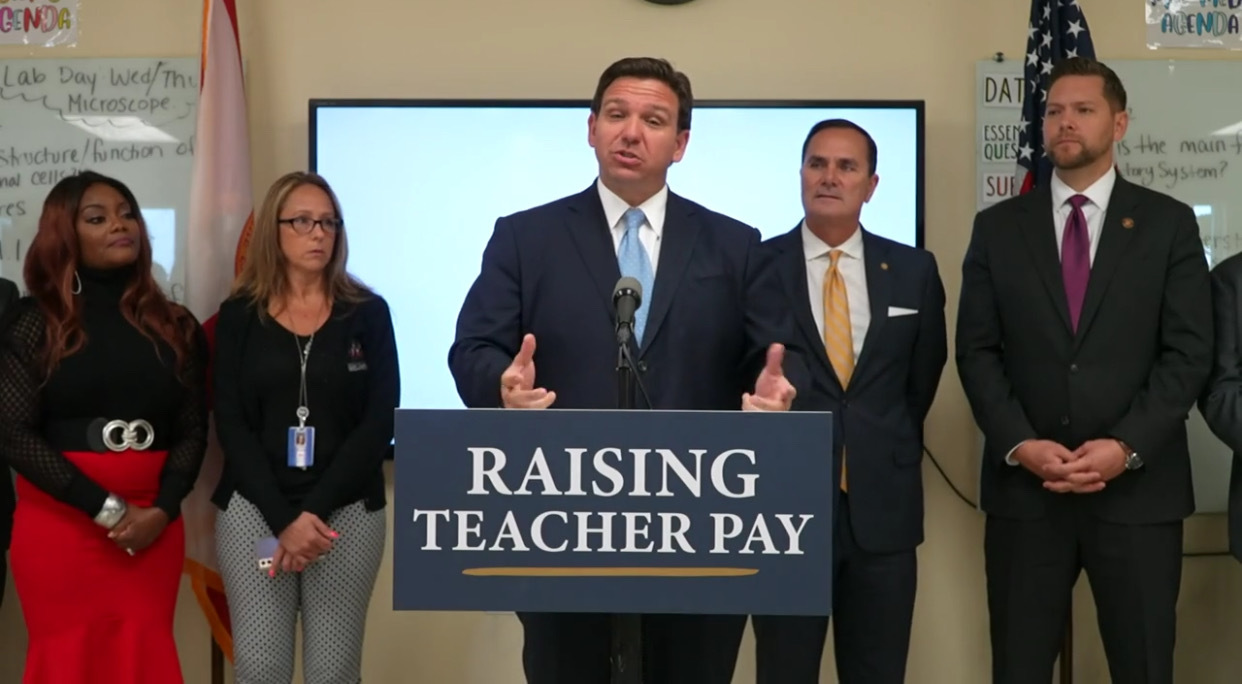 'You are, by definition, putting yourself in favor of injecting sexual instruction to five-, six- and seven-year-old kids.'
As Disney cast members and employees staged a walkout over how the company handled Florida's controversial parental rights in education bill, Gov. Ron DeSantis took another jab at the company, but also protesters.
Walt Disney Company CEO Bob Chapek took a public stand against the bill (HB 1557) earlier this month after internal pressure forced his hand. However, employees still planned a walkout Tuesday morning, saying the company should have acted sooner.
When asked about the planned walkout, which has received national media attention this week, the Republican Governor said protesters weren't on the same side of the issue as parents.
"It's a free country, do what you believe in. But understand, if you are out protesting this bill, you are, by definition, putting yourself in favor of injecting sexual instruction to five-, six- and seven-year-old kids," DeSantis told reporters. "I think most people think that's wrong. I think parents especially think that's wrong."
The measure limits instruction about "sexual orientation and gender identity" at all grade levels but explicitly prohibits those topics from kindergarten to third grade. GOP Sen. Jeff Brandes aligned with Democrats in an attempt to amend the bill to regulate discussions on "human sexuality" in general rather than target talks on sexual orientation and gender identity. But Republicans blocked that amendment, leaving in the original language.
"The classroom instruction they're getting should not be involving these issues involving sexuality, particularly things like transgenderism, where they're being taught that they may be able to change genders," DeSantis said. "That's something that parents do not want. That's something that a parent would want to be engaging with their student in."
Critics have dubbed the legislation the "Don't Say Gay" bill, a moniker that has drawn consternation from proponents who say those words aren't in the bill. DeSantis, who says opponents are misinformed, encouraged critics to read the bill text before articulating their concerns.
"What I don't do are narratives and slogans and people just putting things out that are basically false narratives, and I think that's what happened. I think, unfortunately, Disney's leadership bought into a lot of the false narratives," DeSantis told reporters in Pasco County.
It's not the first time the Governor has taken aim at Disney over the legislation. The day after Chapek held a phone call with DeSantis two weeks ago, Fox News Digital obtained a video of DeSantis saying he would sign the bill in opposition to the "musings of woke corporations."
Disney has long been influential in Florida politics, tending to be conservative and supporting Republicans who have been in control of Tallahassee for two decades. But The company is also being more open on social issues, Patricia Campos-Medina, co-director of the Worker Institute at Cornell University, told the Associated Press.