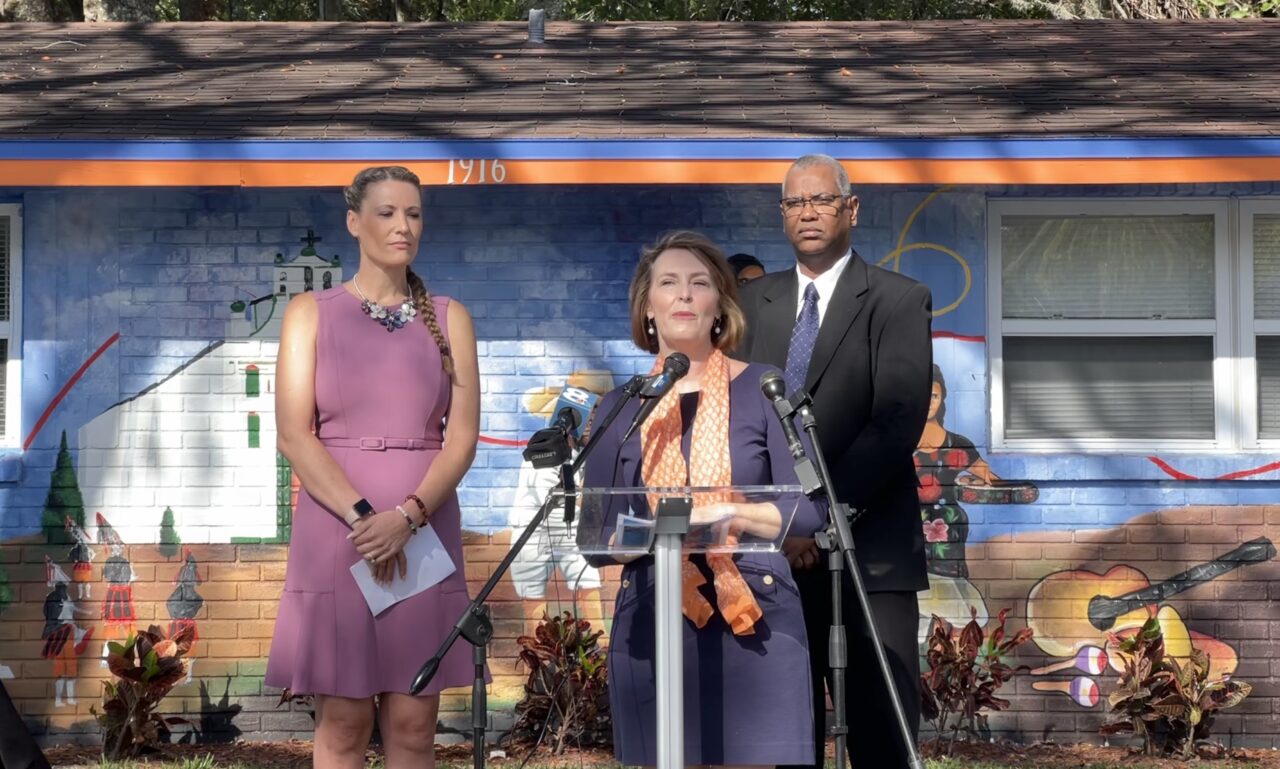 The campus will be a one-stop-shop for educational services, housing and entertainment.
Twenty years ago, Sandra Román was a 19-year-old woman living in San Juan, Puerto Rico when her mother needed a liver transplant.
The family came to Tampa's University Area to start anew. But Román had a few setbacks. She couldn't drive, and ended up walking or taking a two-hour bus ride to get to school. Román, though, found the University Area Community Development Corporation (UACDC). The organization helped her learn to speak English and find a job.
Now an outreach coordinator with the UACDC, Román was on hand Tuesday morning as U.S. Rep Kathy Castor highlighted $2 million she helped secure in funding through the omnibus funding package President Joe Biden signed into law last week. The money will go toward the construction of a sprawling cultural campus just off Fletcher Avenue in the heart of Tampa's University Area.
"This is epic," Román said. "We are transforming into a vibrant community now. This is going to open so many opportunities for young people. And it's going to be more accessible because 80% of this community doesn't have a car. They walk. It's amazing having resources all right here a few blocks apart in one area."
The University Area CDC Cultural Campus recently finished its first phase, converting two apartments into offices for the Caribbean American National Development Organization (CANDO) and Casa Chiapas. Both are organizations that provide education opportunities for underserved migrant communities. CANDO President Frances Joseph said the four-phase project will result in a self-contained multicultural center and walkable community featuring offices, outreach centers, space for educational seminars and affordable housing and even room outdoors for festivals and entertainment.
Joseph said it's important for marginalized and splintered communities to have a gathering place.
"We don't have a physical footprint presence. All of our community in the different groups are independent, meeting at different locations," Joseph said. "By now having a space that we can say, 'Hey, this is our base in which we work from,' people can come here knowing they can get information they need to address whatever the challenges they have begun working on."
Castor said she was hopeful for the funding but had to battle a competitive grant process and slow-moving Senate. But, she said, the UACDC community has been long overdue for significant investment.
"This is a part of Tampa that hasn't received investments over time, over decades and decades," Castor said. If you look at past years there were higher crime rates, really tough housing situations. They (UACDC) have come together to say, 'No, we want better. We deserve better.' That really captured my heart."
The money Castor helped capture funds phase two of the project. That will help renovate an existing warehouse on the site to become a 4,800 square-foot community gathering space.
"This is extremely significant to allow us to really make and change and spur the development that's happening in the area," UACDC Director of Operations Erica Moody said. "This specifically will expand UACDC's programmatic reach to serve 25% more people."
The renovated warehouse will feature two stories of space with offices on the second floor. The first floor will have a series of folding wood partitions to separate or extend areas for workshops and events. There will also be a fitness center with an exercise studio.
Phases one and two incorporate existing structures. Moody said it was important the UACDC keep the community in as much of its natural state as possible. Phases three and four will feature new construction. Moody said the project is expected to be completed by 2026.
But residents seeking service don't have to wait. CANDO and Casa Chiapas have already been working to help their respective communities out of the campus.
Sara Quezada works with Casa Chiapas, an organization that provides outreach to the Spanish-speaking community. They help with translating documents, enrolling children in school, tutoring and navigating the bureaucratic processes to get to citizenship.
Quezada herself was born in Mexico but moved to the United States at the age of seven. She's been able to maintain her immigration status through the Deferred Action for Childhood Arrival program, or DACA. She's what's known as a Dreamer. The 26-year-old Clearwater resident is studying for a master's degree in social work. But as a DACA recipient, doesn't know if she'd be able to get a license to practice.
Quezada said it's been difficult growing up as a Dreamer with controversy surrounding her immigration status and the program's future. She said that can send a harmful and scary message to immigrants seeking a legal immigration status and other support services. 
"It's hard," Quezada said. "I'm hoping we can bring more people together because a lot of people fear reaching out for assistance. Even if nothing will happen, they still have that fear in them. … Hopefully we can get people to open their minds more."