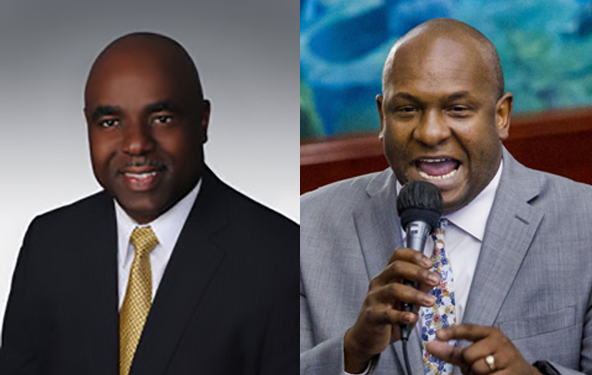 Bobby DuBose is facing Robert McKinzie, who, like DuBose, is a veteran of the Fort Lauderdale City Commission.
A former state Representative who gave up his seat to run for Congress is now pursuing a seat on the Broward County Commission.
Former Rep. Bobby DuBose, who had been representing Broward's House District 94 since 2014 until he resigned last year to run for Congress, will be facing Fort Lauderdale Commissioner Robert McKinzie. The two are vying for the Commission seat formerly occupied by Barbara Sharief, now being filled by Ron DeSantis appointee Jared Moskowitz.
DuBose said he sees an opportunity to contribute to his community and stay close to home in the open seat.
"Local government is where my heart is," DuBose said, noting that he has two young sons.
McKinzie did not respond to a request for comment.
County records show DuBose made a splash in his first month of fundraising, raising a total of $36,311.
Those giving the maximum $1,000 donation to DuBose's campaign in February were Hillary Cassel, Hollywood attorney and candidate for House District 101; Focused on Florida's Future PC in Tallahassee; Greater Florida Leadership PC in Tallahassee; Voters for Economic Growth PC in Tallahassee; Swati Patel of Atlanta; Daniele Wilson of Washington; Sarasota attorney Edward DuBose; the Jacksonville law firm Driver, McAfee, Hawthorne & Diebenow; and McMullen Law Group in Fort Lauderdale.
In February, McKinzie added $4,290 to his campaign coffers. Even though McKinzie didn't raise as much as DuBose in February, records show he is the overall leader in the money race in this campaign.
After spending $2,000 on website management and hosting with C & I Studios in Fort Lauderdale and nearly $2,000 on printing with National Campaign Branding Co. in Hollywood, DuBose has $32,402 cash to spend on the race.
McKinzie, meanwhile, has a total of $154,736 to spend.
In February, McKinzie drew the support of one of DuBose's former rivals for the Democratic nomination in the Special Democratic Primary for Congress. Sen. Perry Thurston Jr. gave McKinzie's campaign $200.
McKinzie also collected the maximum $1,000 donation from William Derrer Jr., a Fort Lauderdale contractor. Cameron Benson of Miami Gardens contributed $150.
McKinzie spent $5,308 in February, with most of it — $3,690 — going to Emblem Marketing Solutions LLC in Miami for marketing strategy.
Another candidate, Aude Sicard, added $10,570 to her campaign in February. The bulk of it — $10,000 — came from a loan she made to her campaign. She has a total of $16,570 to spend.
The campaigns were facing a March 10 deadline to report all campaign finance activity through the end of February.
McKinzie now occupies a seat on the Fort Lauderdale City Commission that DuBose vacated to go to the Legislature.