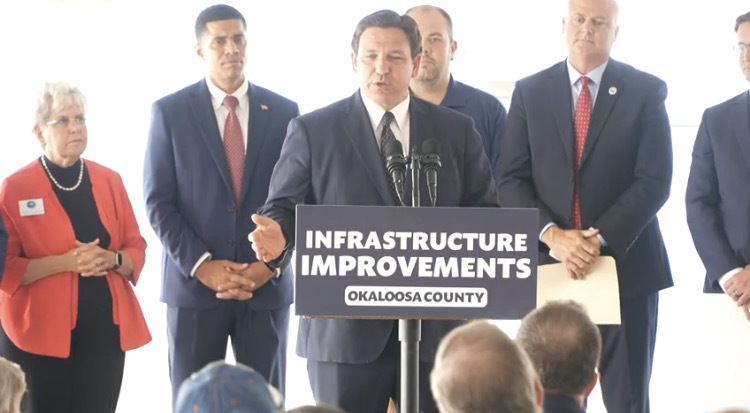 Musk likened Biden to Ron Burgundy in Anchorman in a recent interview.
In Okaloosa County Wednesday, Gov. Ron DeSantis offered his latest tip of the hat to billionaire entrepreneur Elon Musk, saying he is right about President Joe Biden.
DeSantis referenced "what Elon Musk said the other day" before quipping, "Whoever puts that stuff into the teleprompter is kind of who the President is."
The Musk musing on Biden has been widely reported on the right. "The real President is whoever controls the teleprompter. The path to power is the path to the teleprompter," Musk, the CEO of Tesla, said.
"I do feel like if somebody were to accidentally lean on the teleprompter, it's going to be like Anchorman," Musk said, referencing a movie character who absent-mindedly read anything written on a teleprompter.
The Governor made the remarks in front of a crowd in Crestview, where he was rolling out an infrastructure announcement. DeSantis paid homage to Musk amid an extended and otherwise familiar listing of grievances, including observations about gas prices going up as a "huge failure" of the Biden White House.
"You're going to see it over $5 a gallon for unleaded," DeSantis said, maligning the administration for "major inflation" and currency expansion by "printing all this money."
Musk has sounded the same inflationary warnings.
"I mean, the obvious reason for inflation is that the government printed a zillion amount of more money than it had, obviously," Musk said in the same interview where he said Biden leaned on the teleprompter.
DeSantis has been enthusiastic about Musk for some time. The Governor lauded his effort to acquire Twitter, suggesting Musk could "liberate" Twitter from being the government's "agent of censorship."
"I'm very supportive of what Elon Musk is doing," DeSantis said, "because I think that platform has been used really as a tool to enforce narratives and to stifle dissent when it was born to be an open platform."
Musk had been interested in buying Twitter at $54.20 a share, but has since cast doubt on his intentions to follow through, and the social media company's share price has declined. As of this writing Wednesday, it is under $38 a share.