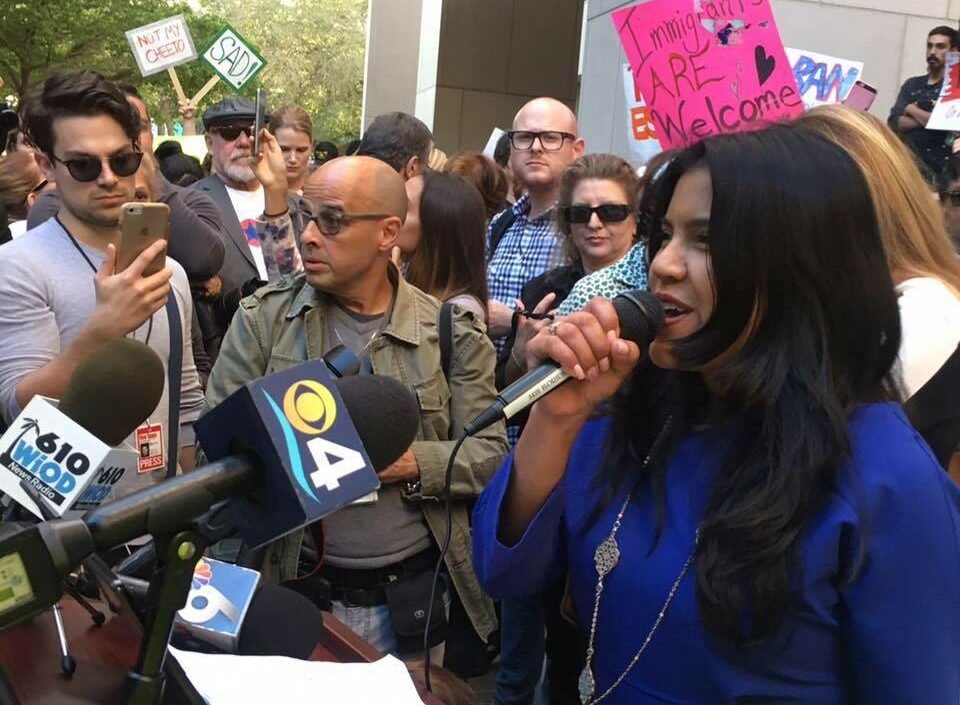 The second half of the Democratic ticket was once affiliated with the pro-abortion rights group.
Ruth's List Florida is celebrating in anticipation of U.S. Rep. Charlie Crist's decision to name former board member Karla Hernández-Mats as his running mate.
Crist announced Saturday that Hernández-Mats, president of United Teachers of Dade, will join him on November's Democratic ticket against Gov. Ron DeSantis and Lt. Gov. Jeanette Nuñez. Hernández-Mats is also a former member of the board of Ruth's List Florida, an organization dedicated to electing Democratic women who support abortion rights.
"It is an absolute honor for Ruth's List to endorse former board member Karla Hernandez for Lieutenant Governor," Emma Collum, Board Chair of Ruth's List Florida, said in a statement to Florida Politics.
"Karla is an outstanding public servant, who has devoted her time and treasure to the most urgent challenges facing women today, and we are excited to see her make history as the first Democratic woman Lieutenant Governor in Florida."
Ruth's List Florida first came out with a statement in support of Hernández-Mats on Friday, when news broke of Crist's impending choice. Saturday's statements marked the organization's official endorsement.
"Karla is an exceptionally effective leader and I've been fortunate to see her in action as a member of our board," said Lucy Sedgwick, president and CEO of Ruth's List Florida. "Her commitment to our communities, to championing equality, and to protecting reproductive freedom stands in stark contrast to our current state leadership under the DeSantis regime. There could not be more at stake in this election, and the only way we're going to stop Florida from sliding further backward — and from women from becoming second-class citizens — is to vote for the Crist-Hernandez ticket in November."
While Hernández-Mats' background in education and union leadership marks a stark contrast from DeSantis' education agenda, the Ruth's List support highlights a new angle against the incumbent Republican Governor.
"Ruth's List is unmatched when it comes to investing in women candidates in Florida," Hernández-Mats said. "They understand the importance of building a deep bench of Democratic pro-choice women who can rise through the ranks to the highest levels of government. I was proud to serve on their board, and now I'm proud to have their support in this race."
Agriculture Commissioner Nikki Fried, who lost to Crist Tuesday in the contest for the Democratic gubernatorial nomination, had attacked Crist for his past comments that he is "pro-life." However, Crist has attempted to prove his pro-abortion rights track record, is another chit in his favor.
"Ruth's List endorsement of my running mate shows just how committed the Crist-Hernandez ticket is to defending reproductive freedom, and that includes signing an executive order on day one to protect abortion in Florida, said Crist. "This election is a fight for women's autonomy and the power to make their own reproductive health care decisions. We must stop Ron DeSantis and his dangerous political agenda."
Florida Republicans have started drilling into Hernández-Mats' record already. The Republican Party of Florida issued a statement Friday railing Crist for picking her, calling it "another slap in the face to Florida parents."
In the past 24 hours, Christina Pushaw, the DeSantis campaign's director of rapid response, shared Hernández-Mats' comments on former Cuban dictator Fidel Castro, school board meeting protesters and COVID-19 lockdowns, obvious signs of the coming attack lines against the Democratic ticket.