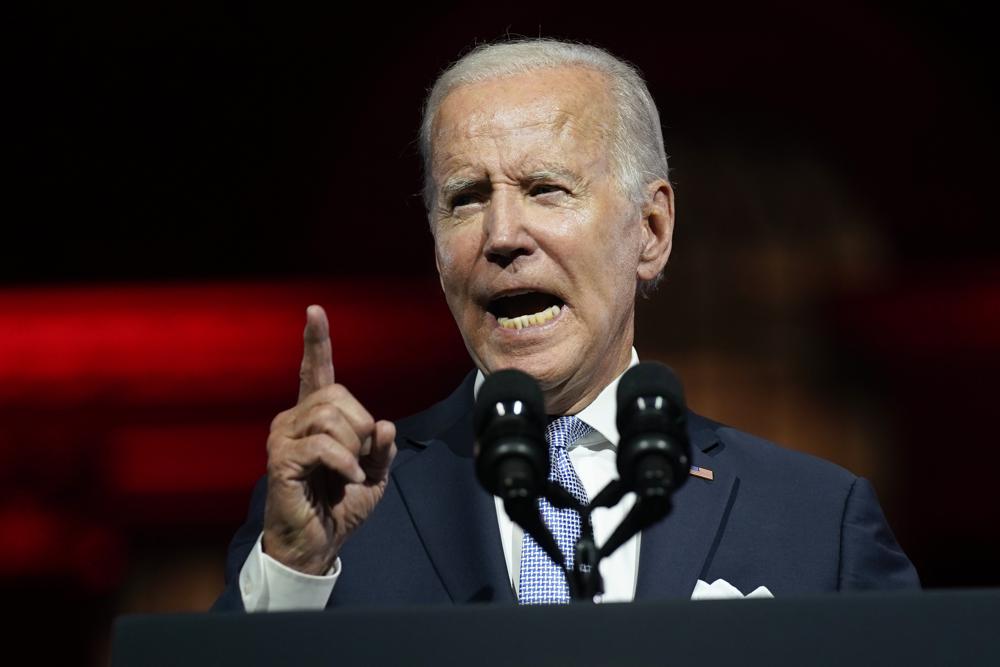 The explicit effort to marginalize Donald Trump and his followers marks a sharp recent turn for Biden.
President Joe Biden charged in a prime-time address that the "extreme ideology" of Donald Trump and his adherents "threatens the very foundation of our republic," as he summoned Americans of all stripes to help counter what he sketched as dark forces within the Republican Party trying to subvert democracy.
In his speech Thursday at Philadelphia's Independence Hall, Biden unleashed the trappings of the presidency in an unusually strong and sweeping indictment of Trump and what he said has become the dominant strain of the opposition party. His broadside came barely two months before Americans head to the polls in bitterly contested midterm elections that Biden calls a crossroads for the nation.
"Too much of what's happening in our country today is not normal," he said before an audience of hundreds, raising his voice over pro-Trump hecklers outside the building where the nation's founding was debated. He said he wasn't condemning the 74 million people who voted for Trump in 2020, but added, "There's no question that the Republican Party today is dominated by Donald Trump and the MAGA Republicans," using the acronym for Trump's "Make America Great Again" campaign slogan.
The explicit effort by Biden to marginalize Trump and his followers marks a sharp recent turn for the President, who preached his desire to bring about national unity in his Inaugural address.
Biden, who largely avoided even referring to "the former guy" by name during his first year in office, has grown increasingly vocal in calling out Trump personally. Now, emboldened by his party's summertime legislative wins and wary of Trump's return to the headlines, he has sharpened his attacks, last week likening the "MAGA philosophy" to "semi-fascism."
Wading into risky political terrain, Biden strained to balance his criticism with an appeal to more traditional Republicans to make their voices heard. Meanwhile, GOP leaders swiftly accused him of only furthering political divisions.
Delivering a preemptive rebuttal from Scranton, Pennsylvania, where Biden was born, House Republican Leader Kevin McCarthy said it is the Democratic President, not Republicans, trying to divide Americans.
"In the past two years, Joe Biden has launched an assault on the soul of America, on its people, on its laws, on its most sacred values," McCarthy said. "He has launched an assault on our democracy. His policies have severely wounded America's soul, diminished America's spirit and betrayed America's trust."
Asked about McCarthy's criticism, White House Press Secretary Karine Jean-Pierre said earlier Thursday that "we understand we hit a nerve" with the GOP leader, and quoted the Republican's prior statements saying Trump bore responsibility for the Jan. 6, 2021, attack on the U.S. Capitol.
Trump plans a rally this weekend in the Scranton area.

White House officials said the sharp tenor of Biden's remarks reflected his mounting concern about Trump allies' ideological proposals and relentless denial of the nation's 2020 election results.
"Equality and democracy are under assault" in the U.S., Biden charged, casting Trump and his backers in the GOP as a menace to the nation's system of government, its standing abroad and its citizens' way of life.
___
Republished with permission of The Associated Press.