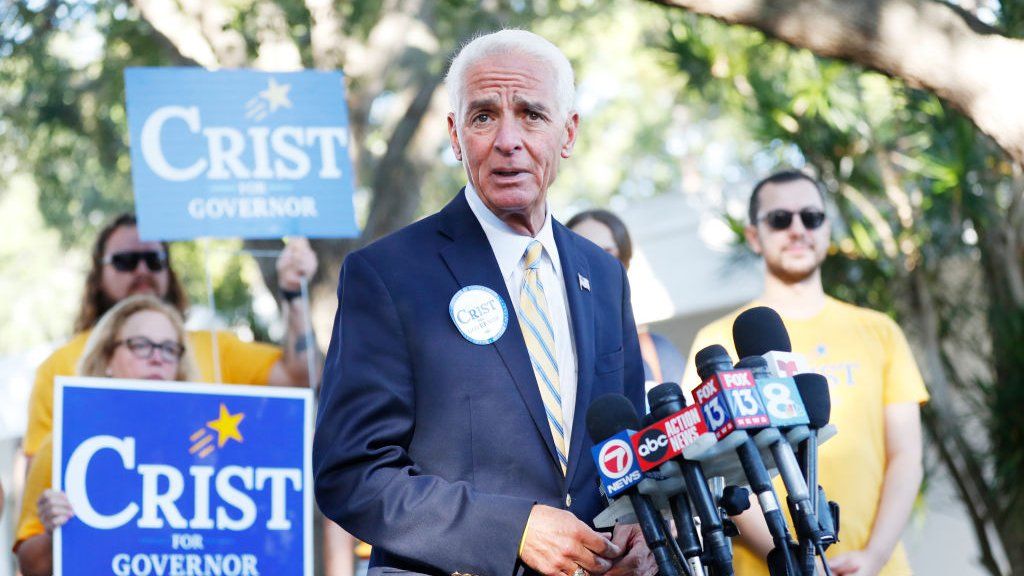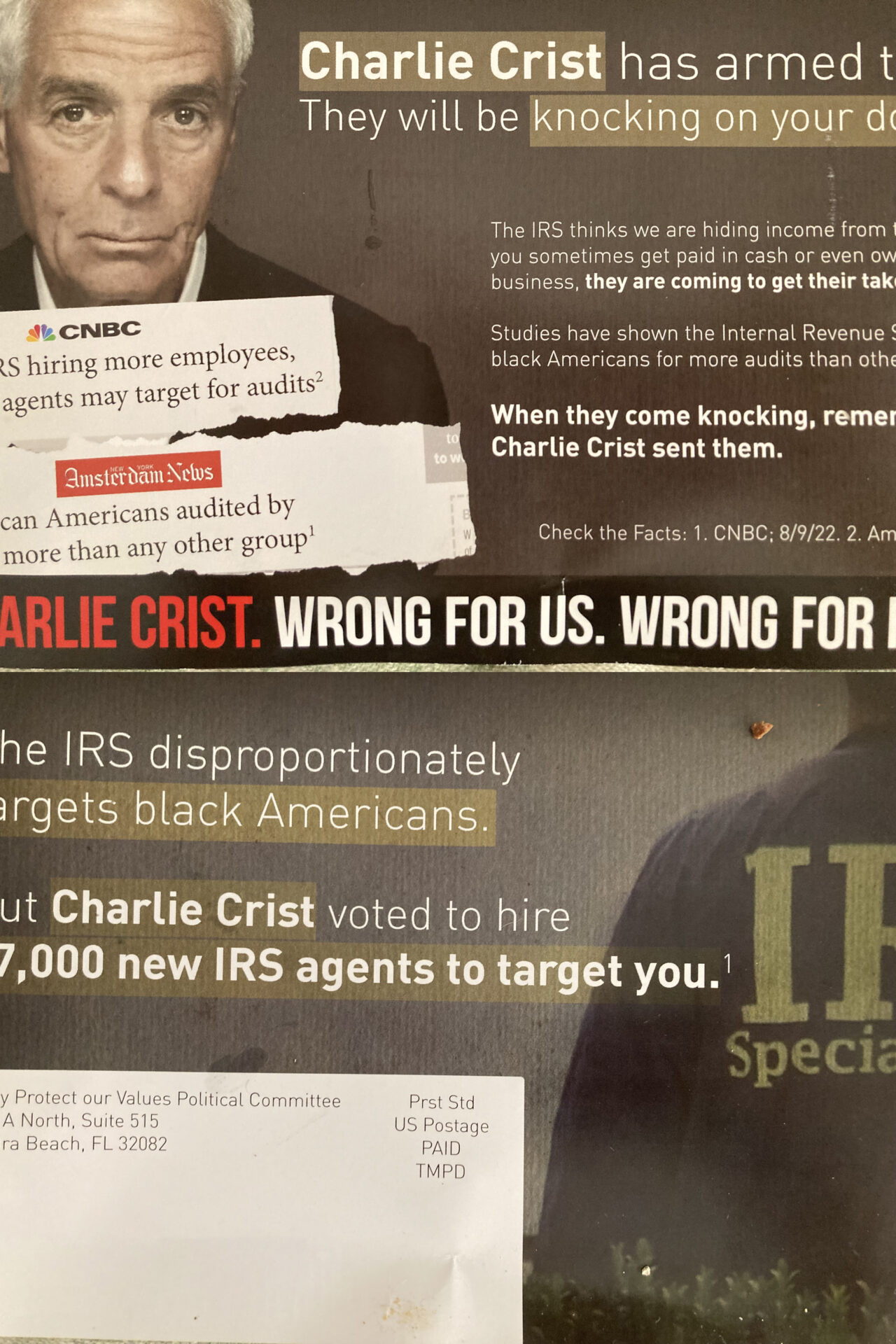 Six-figure mailer buy raises fears about beefed-up IRS: 'When they come knocking, remember Charlie Crist sent them.'
Mailers targeting Black voters are arriving in mailboxes with warnings about who Democratic gubernatorial candidate Charlie Crist has "armed" to come knocking for "their take."
The Seminole Tribe of Florida is the main money behind a political committee now dropping mailers featuring Crist, with a grim face, along with largely debunked claims about what 87,000 more IRS employees will mean. It's going to affect small businesses and those who get paid in cash, the mailer says.
"Charlie Crist has armed the IRS. They will be knocking on your door soon," the mailer reads, with smaller print about how the IRS has targeted Black Americans more than any other group, based on a 2019 news article.
Crist is the underdog in the Governor's race, trying to unseat Republican Gov. Ron DeSantis. But it's Crist's vote for the Inflation Reduction Act in the U.S. House that the mailer aims to portray in a negative light.
"When they come knocking, remember Charlie Crist sent them," the mailer says, positioned above justified type reading in all caps, "Charlie Crist. Wrong for us. Wrong for Florida."
Protect Our Values Political Committee, which paid for the mailers, is based in Ponte Vedra and came into existence in August. Financial records show that the Seminole Tribe, based in Hollywood, gave the committee $1 million Sept. 27. Its next-biggest donor, Damien LeMendola, a Tampa entrepreneur, wrote the committee a check for $100,000 the same day. GEO Corp., a Boca Raton-based prison company, chipped in $25,000 earlier this month.
All but $32 of the $176,000 the committee has spent so far has gone to political advertisement, presumably financing this mailer.
The Crist campaign dismissed the mailer's contents as a "distraction" and said quite the opposite of the mailer is true.
"Unlike Ron, Charlie Crist fights for the rights of women and Black Floridians," said Sam Ramirez, a spokeswoman for the Crist campaign. "Charlie has tackled racial discrimination from the IRS head on."
A 2019 ProPublica article includes an exchange between Crist and IRS Commissioner Charles Rettig in which Crist unrolled a map that shows how the IRS has targeted rural, mostly Black counties in the Deep South. That hearing was held after a ProPublica series detailed how a defanged IRS workforce was going after easier targets: people who file earned income tax credits.
Part of the Inflation Reduction Act passed in August provides for the IRS workforce to increase by 87,000 people. But the mailer's assertions are based on Republican House Leader Kevin McCarthy's largely debunked claims, according to PolitiFact.
The planned 86,852 new hires, for example, will also be IT workers and taxpayer services, in addition to enforcement, according to Congressional Research Service. Today, the IRS has about 80,000 employees, but many of them are nearing retirement age, PolitiFact reports.