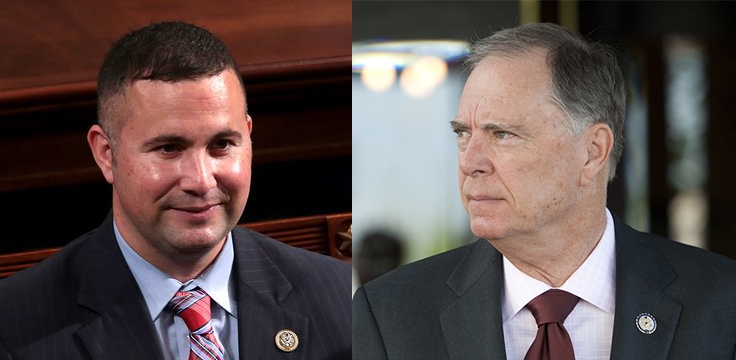 Soto won over Scotty Moore. Posey defeated JoAnne Terry.
Two Central Florida members of Congress have handily won re-election. U.S. Reps. Bill Posey, a Rockledge Republican, and Darren Soto, a Kissimmee Democrat, both easily won their respective races Tuesday night.
Posey won another term representing Florida's 8th Congressional District, defeating Democratic challenger JoAnne Terry.
In all three CD 8 counties, Posey held a dominating lead with a majority of precincts reporting. He had about 65% of the vote to Terry's 35%.
The incumbent expended more than $529,000 on his re-election effort, but still closed a federal reporting period on Oct. 19 with more than $580,000 in cash on hand. By comparison, Terry only ever raised $85,019 for the longshot bid.
Meanwhile, Soto won another term in Washington after spending upward of $1.1 million on his race. He fended off Scotty Moore, who managed to raise a handsome sum on the longshot bid and spent more than $490,000 in his attempt to unseat the three-term House incumbent.
Soto was also leading in all three counties in CD 9, with about a 54% majority to Moore's 46%.
Soto briefly came into the sights of the National Republican Congressional Committee earlier in the cycle. But attention dimmed after a redistricting process ultimately left Soto in a heavily Democratic, majority Hispanic seat.
Under the new lines, about 58.1% of voters in Soto's CD 9 voted for Democrat Joe Biden in the 2020 Presidential Election, while just 40.71% supported Republican Donald Trump.
Posey's district turned out almost exactly as red as Soto's is blue. About 58.12% of voters under the new lines voted for Trump in 2020, and 40.52% backed Biden.
In that sense, a comparison of results in the region offers an indication of the mood of the electorate. In a politically neutral year, a Republican candidate in CD 8 should win by the same margin as a Democrat in CD 9, based on voter behavior in 2020.