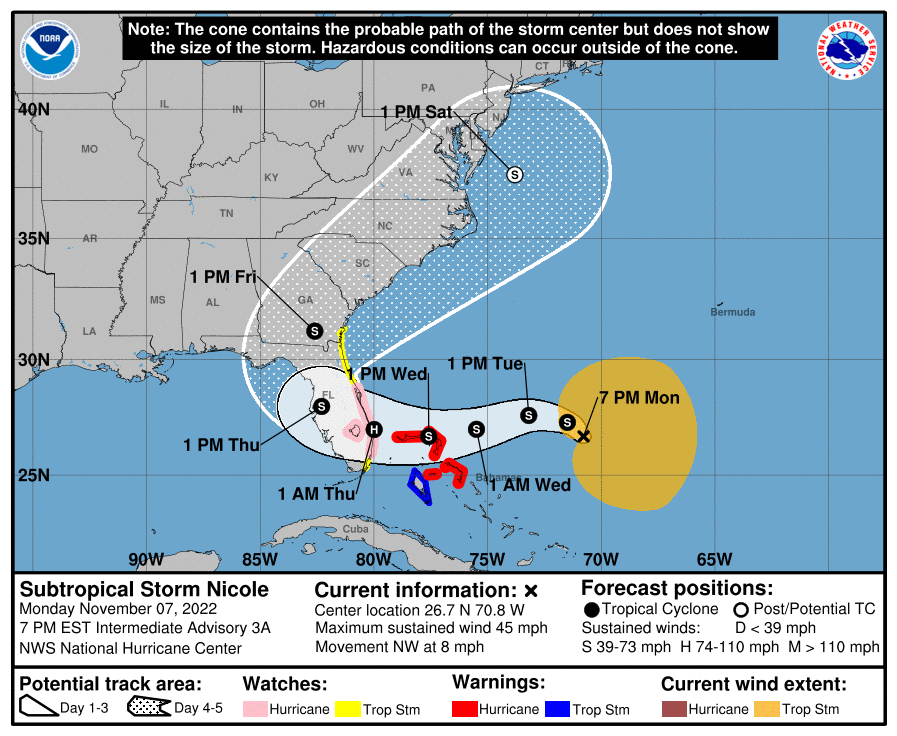 The groups noted that allowances were made for voting due to Hurricane Ian.
With hurricane warnings in effect for 240 miles of Florida's east coast, a national, nonpartisan voting rights group called on the Governor and Secretary of State Tuesday to extend the deadline for fixing problems with mail-in or provisional ballots.
Tropical Storm Nicole is scheduled to make landfall by late Wednesday or early Thursday, possibly coming ashore as a hurricane. So Mother Nature could be throwing up a barrier for someone to make the 5 p.m., Thursday deadline for fixing a mismatched signature. These cures must be done either by mail, email, fax or in person.
All Voting is Local — which has offices in eight states, including Florida — the Campaign Legal Center, and a host of other organizations are undersigned on a letter to Gov. Ron DeSantis and Secretary of State Cord Byrd to extend the cure deadline to 5 p.m. Monday.
"Subtropical Storm Nicole is poised to cause significant damage to Florida's east coast, threatening to displace voters from their homes, including voters in some of the state's most vulnerable communities," says the letter, that has 17 other organizations signed on, including the League of Women Voters Florida, Black Votes Matter, the American Civil Liberties Union of Florida and the Anti-Defamation League.
"The storm system could erect substantial barriers to voters' ability to timely submit cure documentation by making travel to county election centers difficult or dangerous, or inhibiting internet access necessary to submit cure forms online."
Neither office issued any response Tuesday to an inquiry about the request.
The National Hurricane Center put out hurricane warnings Tuesday morning extending from Boca Raton to the Volusia-Flagler County line, which means hurricane conditions were expected to hit somewhere in that area within the next 36 hours. Storm surge warnings were also put into effect for North Palm Beach to Georgia.
By late afternoon Tuesday, cancellations were already piling up: schools, airports and attractions like the Brevard Zoo and the Kennedy Space Center Visitors Complex, both planning to close Wednesday and Thursday.
The letter notes that DeSantis has already declared a state of emergency in 34 counties, without addressing the time-sensitive Midterm Elections tasks that are required in the next 48 hours.
It also notes that DeSantis made allowances to help voting in response to Hurricane Ian.
That executive emergency order, "granted authority to several counties severely impacted by Hurricane Ian to extend voting hours, modify requests for vote by mail, and other changes," the letter says. "We ask now that you take action again to protect Florida's elections as another potentially devastating storm approaches the state," the letter said.