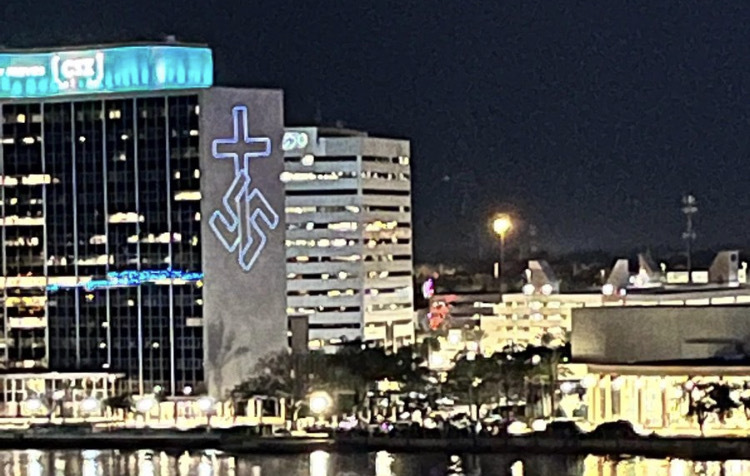 The bill will be filed on an emergency basis.
The Jacksonville Jaguars' Saturday night playoff victory was not without controversy outside the stadium.
A swastika and a cross were projected on the CSX building downtown, the latest message in a series of white supremacist provocations displayed on local structures during high-profile football games.
Currently, local ordinance lacks a mechanism to impose criminal penalties on responsible parties. But change is coming.
District 13 Republican Rory Diamond said Monday he would sponsor legislation that would impose penalties on parties responsible for messages, including the swastika and the cross projected Saturday night, and similar messages that marred last year's Florida-Georgia football game held in Jacksonville.
But it turns out Diamond was beaten to the punch, with District 5 Republican LeAnna Gutierrez Cumber set to introduce legislation targeting this "awful antisemitism."
"To make sure that this does not continue to happen, and businesses are not subjected to this, but most importantly, the Jewish community and this city is not subjected to this just awful antisemitism," Cumber told Action News Jax on Monday.
Cumber has been drafting the bill since Sunday, and she expects to introduce it on an emergency basis, she told Florida Politics on Tuesday.
The legislation would remedy an apparent gap in local ordinance that has, at least up until now, allowed people to project hate speech with legal impunity.
"At this time, the Sheriff's Office has not identified any crimes having been committed; the comments displayed do not include any type of threat and are protected by the First Amendment," Jacksonville Sheriff's Office Public Information Officer T.N. Dash said in an email to CNN after the incident last October. "We will continue to monitor any reports of this nature to determine if they rise to level of a criminal nature."
CSX offered a statement condemning the messages displayed on its building.
"The increased acts of antisemitism in Jacksonville are unacceptable. They are an appalling display of intolerance, which sows hatred and undermines our greatest strength — our diversity," CSX said in a statement to Action News Jax.
While the lack of a local enforcement mechanism has thus far been a sticking point in stopping this activity, new legislation may finally offer recourse to city leaders increasingly frustrated by this troubling trend.