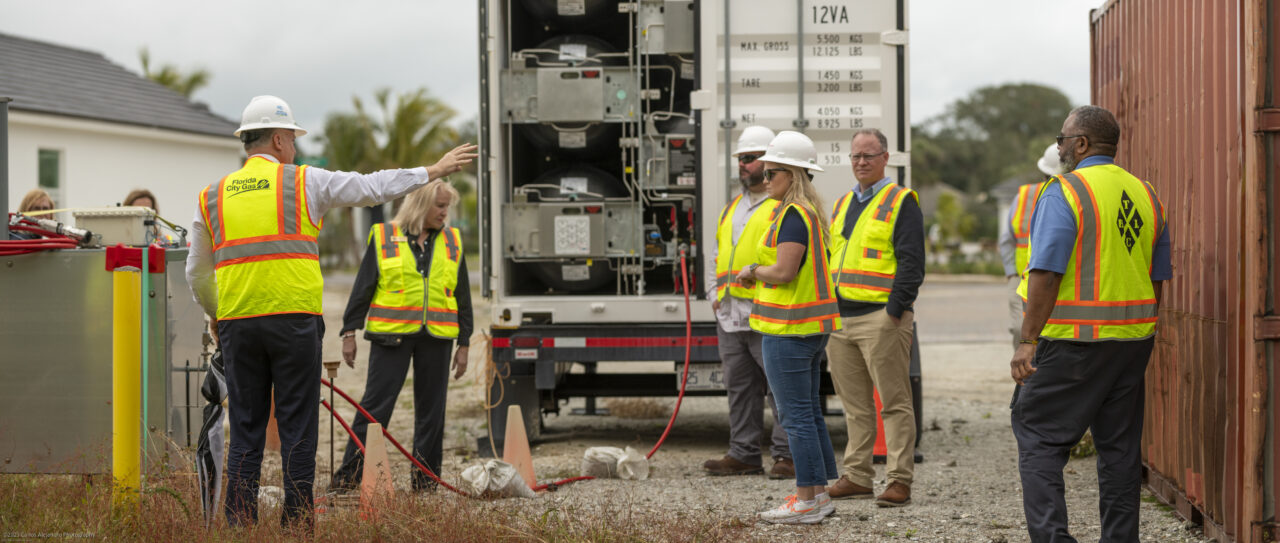 Florida officials visit a new pipeline bringing natural gas to residents of Vero Beach.
Chesapeake Utilities Corporation's Peninsula Pipeline Company began boring natural gas pipelines Tuesday, Jan. 10, to bring natural gas to residents in the Vero Beach area.
To understand this new project, elected officials joined Peninsula Pipeline and Florida City Gas for a site visit on Friday, Jan. 13.
In attendance were Congressman Bill Posey's Director of Community Relations, David Jackson; state Rep. Robert Brackett; Town of Orchid Mayor Bob Gibbons; Town of Orchid Town Manager Cherry Stowe; Indian River County Commissioner Laura Moss; and Indian River County Legislative Affairs and Communication Manager Kathy Copeland.
"Natural gas is a desirable energy source that provides numerous benefits to consumers. I am thrilled that residents in the Vero Beach area will soon have the option to utilize natural gas in their homes and businesses," said Brackett. "My biggest takeaway from today's site visit was how environmentally friendly this energy infrastructure project is. The staff working on this project are remarkable professionals and understand the importance of supplying residents with natural gas while protecting our coast and keeping our environment safe and beautiful."
The site visit highlighted existing and new infrastructure from Peninsula Pipeline and Florida City Gas and how natural gas supports Florida's growing population by providing residents with a clean, safe, reliable, and affordable choice to power home appliances.
Over the next year and a half, energy infrastructure will continue to be laid to bring natural gas to residents as far south as the Vero Beach oceanside business district and as north as Windsor. The estimated cost to hook up natural gas to a home will be $80.
Friday's site visit celebrates the expansion of natural gas in the Sunshine State on the heels of a week when Gov. Ron DeSantis championed natural gas and Floridians' right to choose their energy source.
"You're not taking our gas stoves away from us, that is your choice, and I know many people who cook a lot do not want to part with their gas stoves, and so we're gonna stand up for that," DeSantis said in The Villages on Jan. 12.
DeSantis' remarks put him at odds with the Joe Biden administration, which recently found itself at the center of a growing nationwide debate about city and state gas bans.
Natural gas is desirable for its cost efficiency, which has collectively saved American families $143 billion over 10 years. Households that use natural gas for heating, cooking, and clothes drying save an average of $1,041 per year compared to homes using electricity for those applications.
What's more, in a state prone to hurricanes, many Floridians enjoy the reliability of natural gas to cook food and power generators when all other power sources are out. The pipelines that deliver natural gas to homes are protected underground and often undisturbed by hurricanes.
Currently, more than 700,000 homes throughout Florida rely on natural gas, and nearly 70,000 businesses are powered by natural gas. That figure is expected to double during the next 10 years.
Now, Vero Beach residents will soon benefit from the cost-efficiency and reliability of natural gas.