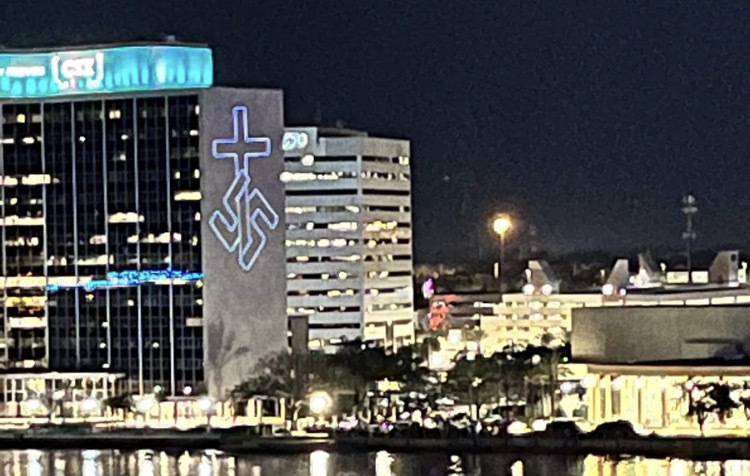 This 'blight or graffiti' would lead to fines, forfeiture and potential jail time for malefactors.
Jacksonville city leaders are coming together with a legal remedy intended to stop the recent trend of antisemitic displays on buildings, an issue that has recurred in recent months.
Images projected on structures downtown during the Georgia-Florida game last year and the recent Jaguars' home playoff game this month have led to legislation, with city leaders convening at City Hall Thursday to show support.
The ordinance, introduced by Council President Terrance Freeman, bans "projection" of "light, laser beams … text, graphics, artwork" upon exterior surfaces of buildings unless the ownership consents.
Otherwise, these constitute "blight or graffiti" and warrant second-degree misdemeanor penalties that could include 60 days in jail and would include $2,000 in fines, with equipment or vehicles used to be seized by and forfeited to the Jacksonville Sheriff's Office.
"Hate has no place in our city," said President Freeman. "This is what unified, consolidated government looks like. Our Mayor, our Sheriff, the officers, the City Council all coming together to support legislation with over half of the Council members co-introducing or co-sponsoring."
The bill "won't change the hearts and minds of those who spew hate," Freeman added, but it will "add a clear and commonsense guardrail" blocking these expressions.
The legislation is being introduced on an emergency basis. At this writing, 10 City Council members are co-sponsors, more than half of the 19-member body. Local leaders had their say Thursday in support.
Mayor Lenny Curry said he was "so tired of a handful of people who are full of hate projecting images onto our city, particularly when we are having big national events."
"We're stronger when we stand together," Curry said.
Sheriff T.K. Waters affirmed the message, saying the legislation meant the issue can finally be "addressed effectively" and that there's no room for "hateful speech or hateful anything" in Jacksonville.
"We know who these people are," he said. "We know the people who are doing it."
Council member LeAnna Gutierrez Cumber, who filed this legislation, billed it as an attempt to "stop this anti-semitism," noting these aren't "isolated incidents."
"This is nothing new. But we need and we must find every legal avenue to stop it. These evil anti-semitic messages that are being displayed here in Jacksonville are starting to spread throughout the state of Florida. We need to be the leader in the state and in the country to stop these messages."
The bill comes after Jacksonville found itself in the unsavory spotlight after neo-Nazi iconography was displayed during numerous sporting events, as recently as last Saturday, when a swastika and the cross were projected on the CSX building. Similar messages also marred last year's Florida-Georgia football game.
To quell concerns about suppression of free speech and potential constitutional conflicts, the legislation is deliberately "content neutral," in the words of Republican City Councilman Rory Diamond.
While the lack of a local enforcement mechanism has thus far been a sticking point in stopping this activity, new legislation may finally offer recourse to city leaders increasingly frustrated by the troubling trend.