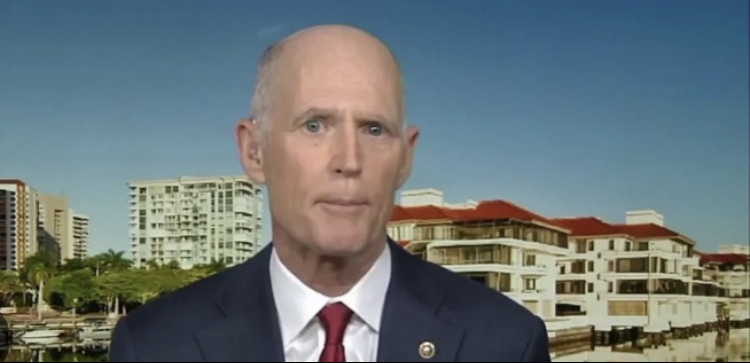 'We need to get to the bottom of this.'
U.S. Sen. Rick Scott is speaking out against "censorship" of conservative voices, urging the Senate to "get to the bottom of this" after DirecTV announced they would drop Newsmax.
During an interview on Newsmax, Scott was asked about DirecTV removing the channel from its lineup, and he said he wanted Senate "hearings" to explore how that happened.
"Absolutely. We've got to get to the bottom of this. This is censorship by companies like AT&T of conservative voices … this has got to stop," Scott said. "So we need to hold hearings here. We need to get to the bottom of this. I'm going to do everything I can."
DirecTV announced the decision to drop Newsmax after the conservative outlet demanded carriage fees, which other carriers like Verizon and Dish Network have agreed to.
Scott said "they already got rid of another conservative network sometime last year," presumably referring to cable carriers dropping the hard-right One America News Network, which lost its cable outlets.
"That's what they're trying to do. They're trying to shut down our voices. And we've got to fight for this. The American public has to show up."
Scott urged viewers to "call AT&T" and say, "Don't kick Newsmax off of Direct TV. It doesn't make any sense."
The Senator's appeal to keep Newsmax on the air comes after 41 GOP members of the U.S. House called for hearings. Republicans hold a House majority, so those hearings may actually happen on the House side.
"We've discussed with Newsmax on several occasions that we'd like to offer their programming, however, the network is now seeking significant fees that we cannot pass on to our broad customer base," a DirecTV representative claimed in a statement reported by Newsmax. For its part, Newsmax said their fee was a 75% discount to its "market value."
Despite the alleged "deplatforming," Newsmax continues to stream live, including on YouTube, so fans will not be deprived despite the lack of Direct TV carriage.