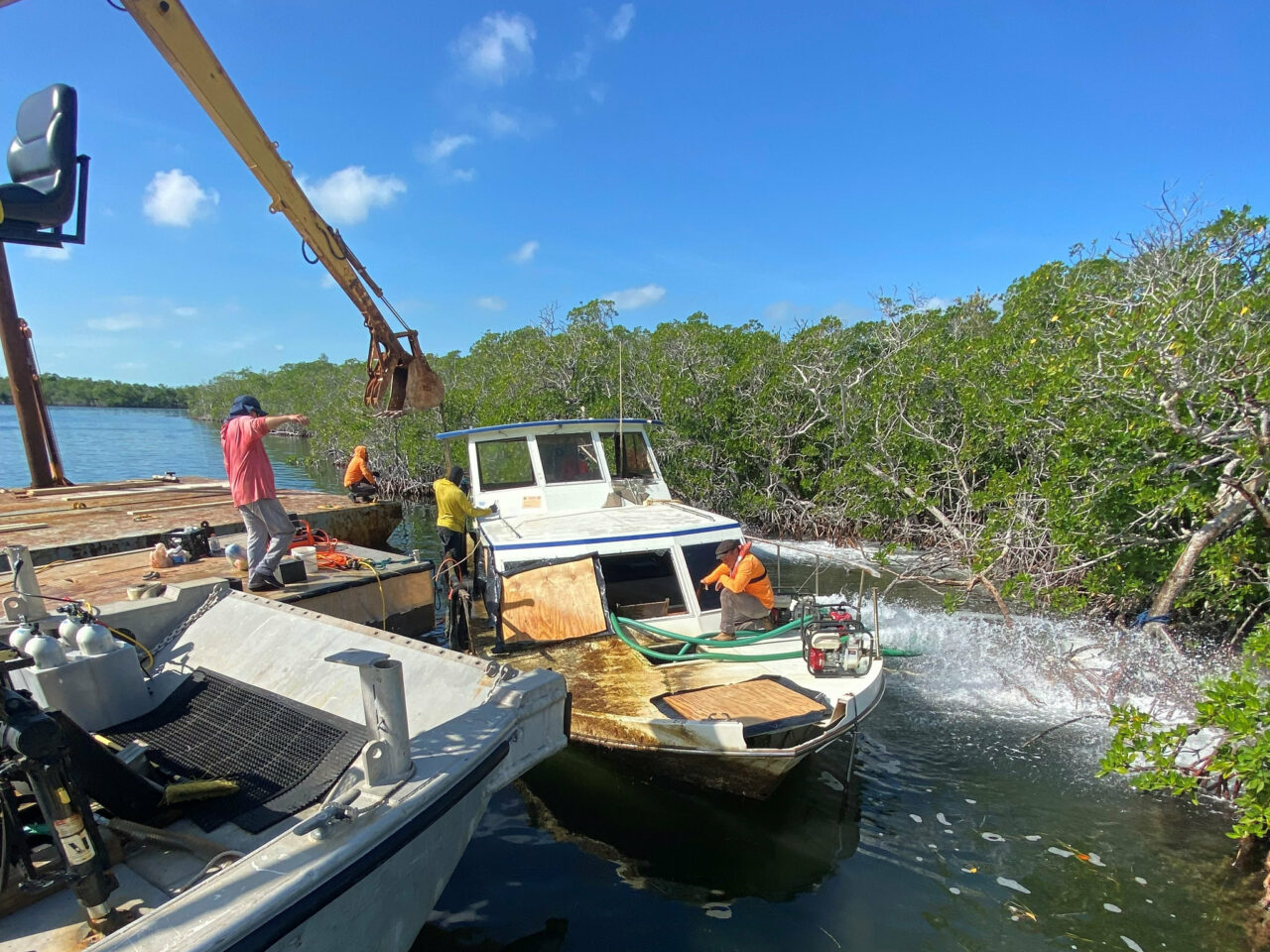 Local governments can receive a 100% reimbursement.
Derelict vessels are a serious problem. Left along Florida's coasts, in its estuaries and other bodies of water, abandoned boats present an environmental issue through leaking fluids and deteriorating materials, along with a navigation obstacle for other vessels and being simply unsightly.
Removing these vessels is a priority for the state government, the House Agriculture, Conservation and Resiliency Subcommittee heard this week. Ranking Member Kelly Skidmore sought to see how people on the water can help.
"I think that boaters are really great stewards of our waterways, and I know that my husband and I, when we're out, we see boats underwater — for years, sitting in some of our waterways," the Boca Raton Democrat said.
"And they don't seem to be getting any attention. What can we, the public, the boating community do to help you in this effort? Is there a hotline we could have to report vessels, as opposed to the hotline that you have that is for boat owners."
Any help provided will be accepted, said Lt. Col. Brian Smith of the Florida Fish and Wildlife Conservation Commission (FWC) Law Enforcement Division.
"Many of the tips that we do get, and our attention is called to derelict vessels from the boating public, as well as business owners and others," Smith said.
He suggested calling the FWC dispatch number — 888-404-FWCC — if a person finds and needs to report a derelict vessel.
"There's a lot of reasons you see vessels sit for long periods of time," Smith said. "Hopefully it's not so much the case anymore. Many times it's because we're not aware that it's there. A lot of times they're in areas officers may not normally patrol, in backwaters, bayous, things of that nature, that we just don't see.
"Other times, vessels have sat for long periods of time before several legislative changes that allowed us to change how we do the grants, for instance."
Buying into the effort from local governments is key, as FWC doesn't have the staff or other resources to be everywhere it's needed. There used to be a 50% funding match from the local government to remove a vessel, which led some areas to decline to participate because they didn't have or want to spend the money. Now, local governments can receive a 100% reimbursement.
Sometimes, if a few boats are in a group, the local government will wait until all boats are cleared through the process and can be removed at once.
"On average, a derelict vessel typically costs between $400 and $800 per foot to remove," Smith said. "So, a 30-foot vessel, barring any extraordinary circumstances, is likely to cost between $12,000 and $24,000 to remove."
Funding for vessel removal has gone from $1 million in 2020 to $8.2 million this year, with boat extractions following along. There were 104 vessel removals in 2020 from state waters, 154 in 2021 and 229 last year.
There is work underway to prevent at-risk vessels from becoming derelict, and a process to remove them from the water before the vessel's abandoned. The hope is that vessel owners bring their vessels back into compliance after receiving an FWC citation.
"Since Jan. 1, 2022, FWC has issued 543 citations and 168 warnings for at-risk vessels," Smith said. "Violations of these at-risk conditions are non-criminal infractions with an increasing fine amount for repeat violations."
The first fine is $100, the second fine is $250, with the third being $500. If the owner gets fined three times in 18 months for the same condition on the same boat, the vessel can be declared a public nuisance and removed, usually at less cost than if the vessel was allowed to become derelict.