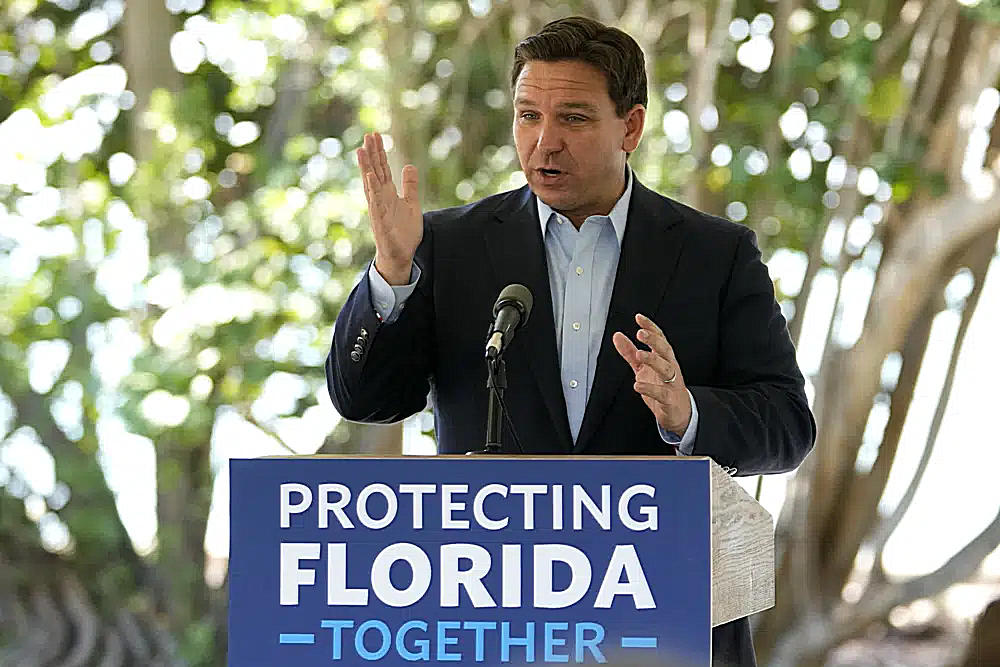 'We are a law-and-order-state.'
Gov. Ron DeSantis is rolling out death penalty and public safety proposals he maintains will "cement our reputation as a law-and-order state."
At the top of the list is an already hinted-at change to the state's death penalty law to eliminate a requirement that a jury make a unanimous recommendation. DeSantis is pushing that change in the wake of a jury being unable to agree on whether to recommend a death sentence for the Parkland shooter, who killed 17 students and school employees.
DeSantis also is recommending additional penalties for the sale of fentanyl, broadening the state's capital punishment laws to include human traffickers and sexual predators, and preventing the immediate release of people arrested for crimes.
To that end, DeSantis said he will petition the state Supreme Court, asking it to establish what he called a "uniform bond schedule that all state courts must follow."
DeSantis' remarks on bail come at a time that there is a push in Miami-Dade County to let certain low-level offenders be released from jail, relying on computer software to determine if someone should be detained or released immediately. The proposal has already drawn opposition from some Miami-Dade officials as well as U.S. Rep. Carlos Gimenez, who is the former Miami-Dade Mayor.
DeSantis was joined at the press conference by Attorney General Ashley Moody and Florida Department of Law Enforcement Commissioner Mark Glass, as well as law enforcement from two South Florida police departments and state Reps. David Borrero and Tom Fabricio.
"We are very proud that we are a law-and-order state. We've seen a lot of jurisdictions around this country indulge in what I would say are faddish thinking: attacking law enforcement, thinking that you can solve some of these problems through things like social services instead of police on the street when you have dangerous people," the Republican Governor said.
"So there's been some experiments done and I think it's been really disastrous in far too many parts of the country. … But what have we done in the state of Florida?  You never saw us defund police in the state of Florida. Not on my watch," DeSantis added, to a rousing round of applause.
DeSantis noted that not only did the state reject "defunding the police," but the Legislature passed a law at his urging that prevents local municipalities from cutting funding for law enforcement.
DeSantis also bragged the state has given law enforcement officers $1,000 bonuses for the last two years.
This is the second time this week the Governor has talked about changing the requirement that a jury be unanimous in its decision to recommend the death penalty. DeSantis noted Thursday that a previous state Supreme Court ruling requiring a unanimous vote of a 12-person jury was overturned by the court after it was reshaped by the addition of DeSantis appointees. 
The Governor's Office didn't say exactly what would constitute a "supermajority," but in his remarks, DeSantis, said one juror shouldn't be able to prevent a death sentence.
"If you need three or four to scuttle, it makes it much more difficult," he said.
DeSantis also wants the Legislature to consider making it a first-degree felony to possess or sell fentanyl or other controlled substances that are manufactured to resemble candy. The Governor also wants to add a $1 million penalty and a mandatory life sentence if a dealer is targeting children.
"This is really targeting our youngest and most vulnerable kids," DeSantis said, adding that fentanyl is not something that people should play with.
"The lights can go out with these fentanyl overdoses," DeSantis said.
In addition to changing criminal statutes, DeSantis said he was going to include an additional $20 million in his recommended fiscal year 2023-24 budget for local law enforcement agencies to increase law enforcement's efforts to crack down on fentanyl.
"I know that that money will be very, very well spent," he said.
Meanwhile AG Moody said she had a partner in DeSantis.
"Certainly I have the best Attorney General job in the nation," Moody said, praising the Governor for being at the forefront of public safety issues.
"He doesn't just sit back and wait to see if it gets fixed. He doesn't just sit back and wait to see what happens to us in Florida. He goes there, he is proactive," Moody said. "He starts talking to people about, how do we fix it? I really wish this country was run the same way."